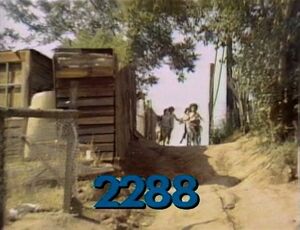 Picture
Segment
Description

SCENE 1
Bob introduces the viewer to his friend T.J., who is deaf, and communicates with sign language. Elmo wants to meet him, but feels like he can't, because he is deaf. Bob teaches him how to say "hello" in sign language, which is so simple for him that he and T.J. do it over and over again.

Cartoon
"Signing Alphabet," an animated film by Steve Finkin. Music for voice and electronics by Joan La Barbara.
(First: Episode 1056)

Muppets
The Two-Headed Monster finds a TELEPHONE, and reads the word.
(First: Episode 1569)

Cartoon
Q for Quarter
Artist: Bud Luckey
(First: Episode 1176)

Song
"Frog Kick"
(EKA: Episode 2155)

Muppets
Simon Soundman has the viewers guess what sound he is making. He makes the sound of a train, car, and a horse. When Simon makes the sound of the horse, a cowboy uses his lasso to capture Simon, mistaking him for a real horse.
(First: Episode 0294)

Cartoon
Passengers on a crowded subway illustrate between.
(First: Episode 0795)




SCENE 2
While Gordon plays his flute inside his apartment, Barkley plays ball with T.J. and some other kids. Elmo asks Bob what it means to be deaf, since T.J. appears to be a normal kid in every other way. He explains that T.J. can't hear, and tells Elmo to imagine what the world would be like without any sound. He does so, and is relieved when he comes back to reality. He observes that T.J. is a really good ball player, and also that Sesame Street is a very noisy place.

Cartoon
Cloud blows things FFFFFFFF
(First: Episode 0387)

Muppets
"Listen to the Bells"
(First: Episode 1955)

Cartoon
Seven piglets
Artist: Owe Gustafson
(First: Episode 1546)

Song
"Sawmill" - Folk singers detail how lumber is made into usable wood. (beginning edited)
(First: Episode 0657)

Muppets
Ernie has four apples, and wants to draw the number 4, showing that he has four apples. However, Cookie Monster wants to eat an apple, so Ernie crosses out the 4 and draws a 3. Then Cookie Monster decides not to eat the apple, causing Ernie to have to cross out the 4 again and draw another 3, over and over again.
(First: Episode 0140)

Cartoon
A man (Jim Thurman) is told that his dog looks thirsty, and says that his dog is a hot dog.
Artist: Paul Fierlinger
(First: Episode 1180)




SCENE 3
Big Bird runs into Elmo and T.J., and Elmo invites him to play a feelings guessing game with them. First they pretend to be sad, then happy, then angry. Finally, they point to Hooper's and rub their tummies, which confuses him, until he finds out they're hungry. He decides to follow them, since he is too.

Cartoon
An orange ball tries to pet a green ball, which growls, scaring him away.
(First: Episode 2118)

Song
"Old Button Hole"
(First: Episode 1727)

Cartoon
Teeny Little Super Guy explains to Eugene why going to school is important.
Artist: Paul Fierlinger
(First: Episode 1966)

Muppets
Grover's rowboat - part 1
Grover and a group of monsters, including Herry Monster, Fenwick and Billy, get into a rowboat. The monsters all gather at one end, causing the boat to tip over and sink.
(First: Episode 0281)

Cartoon
A mouse is squashed between two elephants.
(First: Episode 0779)

Muppets
Grover's rowboat - part 2
The monsters gather on the other end of the boat, and it sinks again.
(First: Episode 0281)

Cartoon
Q-quiet! (tree chopping)
(First: Episode 0675)

Muppets
Grover's rowboat - part 3
The monsters finally spread out over the boat evenly, and row away.
(First: Episode 0281)

Cartoon
A hand is asked to underline the word BUS.
Artist: Fred Garbers
(First: Episode 1883)

SCENE 4
Oscar likes listening to Gordon play his flute, because he sounds flat. He warns Bob that if he goes up to help him with his flute playing, it will result in a lot of screaming and yelling. He ignores Oscar's warning and helps Gordon out, and soon afterwards, Oscar himself starts screaming and yelling.

Film
"Seven Song (Song of Seven)"
(First: Episode 0011)

Cartoon
A man blows 7 bubbles.
(First: Episode 0639)




Muppets
Guy Smiley hosts the game show "What's My Part?". The contestant is Mr. Nose. The panelists -- Bennett Snerf, Arlene Frantic and Cookie Monster -- don't know what a nose is, because none of them have noses.
(First: Episode 0131)

Cartoon
F/f (Gordon voiceover)

Muppets
Muppet & Kid Moment — Kermit talks with Chris about teaching his little sister, Stephanie, to talk. Chris practices the alphabet.
(First: Episode 0495)

Cartoon
A construction worker explains the uses of a folding ruler.
(First: Episode 0572)




SCENE 5
Oscar is looking for someone to sing with his dance-band, "The Out of Tuners." He asks Gordon and Bob if they know anyone who can take the position, and Gordon suggests that Bob would be perfect for the job, but Oscar thinks it would be better if they both did it. He watches as they both sing "Mad About You," but it doesn't sound good to him until Barkley joins in. Bob, a professional singer, refuses to sing in a trio with a dog, but Oscar uses the old "cooperation defense" in order to get him to comply. He comes up with a new name for their group: "The Woof-and-Poofs."

Animation
Two small stripes watch as two circles play with each other. The stripes try to bend themselves into circles, but soon find that they can both cooperate to make one big circle.
(First: Episode 0762)

Muppets
The Count counts seven flowers, and then explains that he loves to count flowers because then he gets to count sneezes.
(First: Episode 0433)

Film
Seashells form various patterns in the sand.
(First: Episode 2031)

Cartoon
Es un perro
(First: Episode 1969)

Cast
David, Luis and Maria illustrate between while ballet dancing.
(First: Episode 1223)

Animation
Sand F/f
(First: Episode 0629)

Cartoon
Dot Bridge (last dot is late and travels through the others)
(First: Episode 0001)




SCENE 6
Oscar introduces Bob and Gordon to his band, which consists of Fluffy on trumpet, Slimey on drums, and the Forty Flying Flea Brothers on keyboard. They all do the Sesame Street Theme, and he announces the sponsors.
Community content is available under
CC-BY-SA
unless otherwise noted.