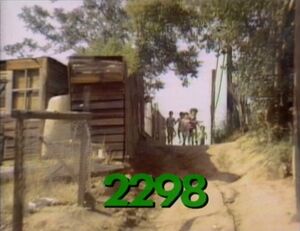 Picture
Segment
Description

SCENE 1
As Big Bird and Snuffy color, a young girl approaches them and says something in Spanish, but the two can't understand her. A Honker arrives and knows how to speak Spanish. Fortunately, Big Bird can understand "honk," so the Honker is able to translate for the girl, and Big Bird for the Honker. They learn she wants to play with them, so they let her and the Honker join in.

Song
"Spanish Foods Song"
(First: Episode 1111)

Muppets
Gladys the Cow helps Kermit direct the dance scene of his movie. Her task is to count backwards from four and yell "action", but she counts forwards instead. Kermit shows her the right way to count and yells "Action!", which Gladys uses as an excuse to begin her dance scene.

Animation
Four genies carry the number 4 into a castle.
Artist: Ishu Patel
(First: Episode 2244)

Film
Three dolphins jump together.
(First: Episode 0222)

Muppets
The Two-Headed Monster sounds out "feet," and then the camera pans back to reveal a pair of live feet on some grass.
(First: Episode 1289)

Cartoon
Speech Balloon: F for Fly
(First: Episode 0032)

Cast
Luis gets annoyed when Barkley keeps barking to go "In and Out" of the Fix-It Shop.
(First: Episode 1936)

Cartoon
Fleas have fun in fur!
Artist: Bruce Cayard
(First: Episode 0630)

Film
Kids climb in and out of a tire.
Music: Joe Raposo
(First: Episode 0450)

Cartoon
"Ten Pins"
Artist: Michael Sporn
(First: Episode 2267)

Muppets
The Twiddlebugs get a new postage stamp portrait of George Washington, but have trouble getting it to stick to the wall. They finally get it to work, but it is upside down.
(First: Episode 0776)

Cartoon
F for fire, fountain, face, farmer, etc.
(First: Episode 1614)

SCENE 2
Gladys the Cow comes to Hooper's Store and orders a hay sandwich. David isn't sure how to prepare such a thing, so Gladys gives him instructions. He doesn't think anyone else will ever order this, when Buster and a fellow horse catch a whiff of it. They come in to get their own, while Gladys recommends other hay-centric dishes David could try to make.

Film
A boy talks about feeding sheep in the winter.
Music: Robert Dennis
(First: Episode 0786)

Insert
Three of These Kids are playing policeman, but the other one is playing fireman.
(First: Episode 0408)

Cartoon
Kids on a bench wait for the bus: "Here comes the bus!"
(First: Episode 0632)

Muppets
The Anything Muppets cheer about the letter F. (version 2)
(First: Episode 0093)

Cartoon
A boy puts together a fishbowl, and watches his fish swim around in it.
(First: Episode 2030)

Film
The Mad Painter #4
(First: Episode 0344)

Muppets
Caveman Days
King Ernie needs to clean his yucky teeth. The Royal Smart Person brings a big brush (used for sweeping), then a middle-sized brush (used for brushing hair), then a smaller brush (used for painting), and finally a really small brush (a toothbrush). Just as Ernie proclaims that he'll "brush every tooth in the entire kingdom," a saber-toothed tiger comes in, seizes the toothbrush, and begins to use it himself!
(First: Episode 1388)

Cartoon
Two lines intersect at the middle of the screen and have an argument; they cooperate by making a cross.
(First: Episode 0276)

Muppets
The Count finds three Honkers and counts 20 of their honks. They then want him to honk his nose, but he ends up hurting it.
(First: Episode 1569)

Film
A film shows parts of a flower.
Music: Vivaldi's Concerto for lute, 2 violins and continuo in D Major II - Largo
(First: Episode 0008)

Cartoon
Frances Fairy displays several F words.
(First: Episode 0335)

Muppets
Old West: Clementine breaks the bad news to everyone: Bad Bart is coming to town to "give someone what they deserve"! She says he will come when the cow moos four times. They listen for it, and first hear a train toot four times, then a dog bark four times, and finally the cow. Bad Bart steps into the saloon, looks for the bartender, and reminds him that last week, he ordered sarsaparilla, but the bartender didn't have it, so he went to another town to get it, and kept him waiting. Bad Bart forgot to pay the bartender for it, so he gives the bartender what he deserves: some coins.
(First: Episode 1940)

Film
Bus trip around town (guitar soundtrack)
(First: Episode 0926)

Cartoon
B ... US! We're on the bus!
(First: Episode 0785)

Muppets
Olivia reads "Katie and the King."
(First: Episode 1660)

Cartoon
K-kick
(First: Episode 0463)

Muppets / Celebrity
Celia Cruz tells Big Bird about a hummingbird, and sings "Zunzun."

Film
In time-lapse footage, a construction crew builds a house and paints it green, and a family moves into it.
(First: Episode 1171)

Muppets
Ernie & Bert — Ernie is sad, because it's raining and he can't play baseball. Bert encourages him to imagine that he's playing instead. In Ernie's imagination, he hits a high fly ball that lands in the ocean. Bert tells Ernie that the sun is out, and he can go out and play now. Ernie says that he can't play -- his ball fell in the ocean.
(First: Episode 0410)

Film
Kid voiceovers identify a horse's body parts (shown one at a time), then the complete animal.
Music: Joe Raposo
(First: Episode 0428)




Muppets
Ferlinghetti Donizetti delivers "The Easy Rhythm Rappin' Alphabet" while Grover displays his super smooth break-dance moves.
(First: Episode 2033)

Cartoon
K - Kangaroo
Artist: Jeff Hale
(First: Episode 1160)

SCENE 3
Maria has been watching Irvine, who is now napping. When Oscar returns, Maria tells him about all the trouble Irvine was, with all her crying, yelling, and snorting. Oscar is disappointed he missed all this, citing how precious these moments are with young Grouches before they grow up.
Community content is available under
CC-BY-SA
unless otherwise noted.