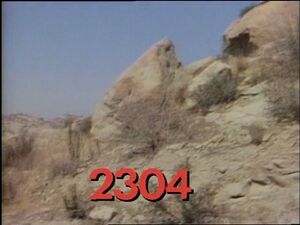 Picture
Segment
Description

SCENE 1
Hoots the Owl plays some jazz for Athena before they must leave to open Birdland. Athena wants to hear more and begs for one last note. She becomes very particular of how it should sound. He eventually proposes a "Thazzall" note and exits singing, "Thaaaat's all."

Cartoon
Snacks on Parade - The Raisin
Artist: Bruce Cayard
(First: Episode 1171)

Film
Two kids watch as a veterinarian fixes a baby robin's wing, then lets it go.
Music: Joe Raposo
(First: Episode 2292)




Cast
The Heartstrongs, Part 1

In this soap opera parody, Mr. Heartstrong (Gordon) fusses over the loss of his red shoelace along with Mrs. Heartstrong (Susan). They both feel sad until their son Barnaby (David) comes downstairs! What a surprise! But that feeling doesn't last long, as he soon learns of the lost shoelace. As it turns out, he came downstairs to change shoelaces in order to play baseball.

Could this be a clue to the whereabouts of Mr. Heartstrong's lost one?
(First: Episode 2163)

Animation
E / e (elephant / jazzy trumpet)
(First: Episode 2222)




Cast
The Heartstrongs, Part 2

In the thrilling conclusion, the doorbell rings! Who could it be at the door?

It's Cousin Henry (Uncle Wally), who drops in for a surprise visit, which quickly becomes somber when the lost shoelace issue is brought up again.

Just then, Mr. Heartstrong remembers what Barnaby said about a shoelace that didn't match, and as luck would have it, the missing shoelace is in Barnaby's left sneaker! This makes everyone happy!

Cousin Henry pulls the snake-in-the-can trick on Barnaby, which gives everyone another nice surprise! "Woo woo!"
(First: Episode 2163)

Animation
It's a giraffe
Artist: Ishu Patel
(First: Episode 1752)




SCENE 2
Before Birdland opens, Hoots shows Athena and Olivia (tonight's performer) some of the photos on the wall and how they detail his life. He previously toured with the Rhythm School, then met his wife, performed jazz downtown and finally moved to Sesame Street.

Cartoon
"I'm six years old today!"
(First: Episode 0357)

Muppets
"Do De Rubber Duck"

Cartoon
E for elephant, eat, eagle, everybody, empty, and egg.
Voice: Casey Kasem
(First: Episode 0002)

Muppets
The Two-Headed Monster tries on different pairs of shoes, but can't agree on one pair. They end up agreeing to wear shoe boxes instead.
(First: Episode 2142)

Film
A bulldozer moves dirt up a construction site.
(First: Episode 0799)

Cast
Maria as Chaplin falls in love with a painting (Linda) at the art museum.
(First: Episode 2033)

Cartoon
A detective follows a path on the street which consists of a straight line, followed by dots. He finds out that the truck that paints the dividing road lines happens to sputter every few feet, which is where the dots come from.
(First: Episode 2248)

Muppets / Celebrity
Vincent Van Grouch (Danny DeVito), curator of the Museum of Trash, has a look at Oscar the Grouch's pieces of Grouch art, and is always finding reasons why they are not grouchy or rotten enough for the museum.
(First: Episode 2156)

Cartoon
ADVENTURE! A man and woman escape a boulder, a crocodile, and other obstacles.
(First: Episode 2080)

Film
Wheelchair races at the Special Olympics
(First: Episode 0898)

Muppets
Monsterpiece Theater: Grover is sitting on a hill, which moves to the sound of music.
(First: Episode 1814)

Cartoon
A pig sings "Pig's Love Song."
(First: Episode 0462)

SCENE 3
Patrons begin arriving as Hoots welcomes them. Olivia prepares in her dressing room. Athena admires everything around the room and hopes to perform at Birdland one day.

Cartoon
A white boy hangs out with his Latino friend.
(First: Episode 1471)

Muppets
Sesame Street News Flash: Kermit witnesses as Old King Cole calls for his pipe and bowl (both of which he rejects), followed by his fiddlers three (along with a drummer, a saxophone player, and a bass player).
(First: Episode 0922)

Cartoon
A clam tells a fisherman why he's not catching any fish: he pulled all the plants out of the pond.
(First: Episode 0408)

Song
Joe Raposo sings "Touch, Hold, Feel."
(First: Episode 0504)

Cartoon
A door opens behind a mouse, who shrieks when she sees the E.
Artist: Bruce Cayard
(First: Episode 0616)

SCENE 4
Hoots introduces Olivia, who performs "Birdland."

Cartoon
A heart that says "I love you" is drawn.
(First: Episode 1971)

Muppets
Clementine and Buster get on a train, and try to tell Forgetful Jones that he's supposed to get on the train with them, but Forgetful Jones would much rather remember on his own why he's at the train station. The train leaves just as Forgetful remembers why he's there.
(First: Episode 1654)

Cartoon
A red man tries to think of words that begin with H, but a yellow man keeps spewing them out until Red draws a hole under Yellow, who yells "HELP!!"
(First: Episode 0020)

Film
A flower opens and closes.
(First: Episode 0441)

SCENE 5
Olivia tells Hoots her next song is a duet with a special guest: Athena! The two scat a jazz-version of the theme song as Luis announces the sponsors.
Notes
Community content is available under
CC-BY-SA
unless otherwise noted.