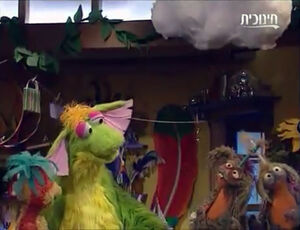 Mopatop opens the episode by offering a bird nest, a net vest, or a gorilla beating its chest.
Puppyduck swings in like Tarzan on a vine and says hi to Mopatop. At that moment, a monster comes in the shop with a horn full of holes on his head. The monster is named Flootle Toot and he doesn't like the holes in his horn. Puppyduck and Mopatop try to cover the holes with various objects, but Flootle Toot doesn't like it. They learn that Flootle Toot can use his horn like a flute and make wonderful music. The Flootle Toot meets another Flootle Toot who can also play music on her horn. They both happily leave the shop together.
In the Mouse Family's loft, the family is playing musical instruments.
Notes
Performers
| | |
| --- | --- |
| Previous episode: | Next episode: |
| One of Those Days | Ears |