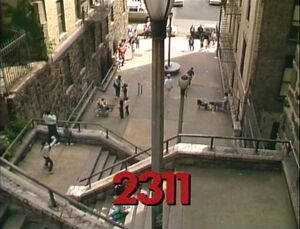 Picture
Segment
Description




Insert
Gordon goes through a stretching routine in the arbor during the early morning and explains to the camera that he like so get up this early because there's very little traffic and it's a pretty time of the day. He invites the viewer along for a jog, which is set to a spoof of the Chariots of Fire music, and consists of a montage of Gordon running through the city.
(First: Episode 1727)

Cartoon
A man saws out a letter E.
(First: Episode 0370)

Muppets
Ernie & Bert — Bert and Ernie go fishing. Ernie catches fish by yelling "Heeeeere fishy, fishy, fishy!", and they come flying into the boat. Bert tries it, but only catches a shark.
(First: Episode 1641)

Film
Footage of a city neighborhood; includes shots of a sno-cone vendor.
Singer: "¡Linda paloma!"
(First: Episode 0426)

Cartoon
A gorilla names "G" words.
(First: Episode 1831)




Insert
While fixing Big Bird's record player, Luis tells him of a story he's reading about Captain Swashbuckle, a pirate. He tells Big Bird a synopsis of what he's read so far, but Big Bird throws several ideas what happens next, such as Swashbuckle having run-ins with a giant fish and bird. Luis reads him the remainder of the story: Captain Swashbuckle is sailing in a storm, when Luis' phone rings, and he must put the story on hold. Big Bird then thinks up the obvious ending - the bad guys call Swashbuckle and call off the fight because of rain.
(First: Episode 2173)

Cartoon
A little girl sings "There Is Only One Me."
(First: Episode 1942)

Muppets
Muppet & Kid Moment — Herry and John-John demonstrate loud and soft.
(First: Episode 0432)

Cartoon
Snacks on Parade: Peanut Butter
Artist: Bruce Cayard
(First: Episode 1301)

Muppets
Kermit the Frog sings "When I Listen".
(First: Episode 1760)

Film
A man makes a shadow puppet of a camel
(First: Episode 0593)

Cartoon
G For Giggle (voice of Allen Swift)
(First: Episode 0357)




Insert
Maria and Olivia find Slimey about to watch his favorite show on his tiny, worm television set. He tunes into "Sneak Peek Previews," where Telly and Oscar watch a film of ostriches. After the show, Maria wonders why the two would argue over a film like that, finding she and Olivia having opposing views as well.
(First: Episode 1964)

Cartoon
A goose and gander visit the land of the G's.
Artist: Jeff Hale
(First: Episode 1141)

Film
Kids compare animals and human tools and technology.
(First: Episode 0491)

Muppets
Cookie Monster sings "Me Gotta Be Blue."
(First: Episode 1828)

Cartoon
A troll draws different faces on herself in front of a mirror.
(First: Episode 0800)

Video
Scanimate kids intro
(First: Episode 0798)

Insert
Count von Count and the kids practice brushing their teeth.
(First: Episode 1028)

Cartoon
The story of an old woman who lived in a nine.
Artist: Bud Luckey
(First: Episode 0512)

Muppets
Marshal Grover and Fred the Wonder Horse spot a kitty stuck in a tree. Grover tries to find ways to get the kitty down such as shaking the tree trunk. He finally came to the conclusion that to get the kitty down, he would climb up the tree to bring it down. However, Fred has another idea to bring the kitty down by calling the kitty by saying "Kitty" and the kitty comes down. Now that the kitty is down, they now have another problem - how is Grover going to get down?
(First: Episode 1639)

Film
The Mad Painter #9
(First: Episode 0338)
Insert
R2-D2 falls in love with a fire hydrant.
(First: Episode 1396)

Cartoon
What's missing? (parrot)
(First: Episode 2103)

Muppets
Anything Muppets sing "Oh, G" in praise of the letter G.
(First: Episode 1167)

Film
Squares are shown in close-up.
(First: Episode 0420)

Muppets
The Two-Headed Monster looks at different shapes.
(First: Episode 1629)

Cartoon
What if we celebrate Valentine's Day with chickens instead of hearts?
(First: Episode 0488)

Celebrity
Carly Simon sings "Be With Me" with Telly and some kids.
(First: Episode 2039)

Cartoon
Three little men climb up the three flower stems.
(First: Episode 0634)

Cast
Via split-screen, two Lindas sign letters of the alphabet: one is no-nonsense, and the other is very playful. A male voiceover narrates the letters with the same demeanor Linda signs them in.
(First: Episode 1354)

Animation
Match the word HOT.
(First: Episode 2055)

Muppets
"One Banana"
(First: Episode 1941)

Film
A scuba diver collects shells, which some kids count in voice-over.
Music: Joe Raposo
(First: Episode 0474)




SCENE 1
At the Sesame Street Library, Micki tries to find Telly Monster a book to read. He declines books about cowboys, football, and trains, believing that they will be too noisy for a quiet library. Micki explains the book won't make any such noise and Telly quietly reads the book about trains. Maria announces the sponsors.
Notes
Sources
↑ script documents provided by trusted source
Community content is available under
CC-BY-SA
unless otherwise noted.