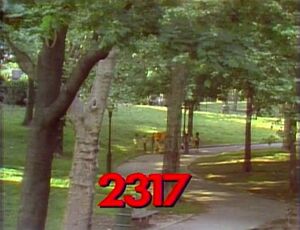 Picture
Segment
Description

SCENE 1
Olivia welcomes the viewer and invites them to go shopping with her, but then Placido Flamingo appears and presents her with the new opera he's written. He explains what an opera is in song. His opera is titled La Villa Sesamia and features a flamingo and woman wandering the street, meeting their friends, with a special solo for Olivia.

Cartoon
zip, zoom, zoom, zig, zag, zany, zoo.
(First: Episode 0359)

Film / Animation
Oranges are peeled and sliced in stop-motion, and some kids eat them.
(First: Episode 1802)

Cartoon
Vaudeville duo Herman Happy and Stanley Sad sing a song about how they live up to their names.
(First: Episode 0772)

Muppets
Gladys the Cow helps Kermit direct the dance scene of his movie. Her task is to count backwards from four and yell "action", but she counts forwards instead. Kermit shows her the right way to count and yells "Action!", which Gladys uses as an excuse to begin her dance scene.
(First: Episode 2298)

Cartoon
A black cat chases after a white one, until a white lion steps in.
Artists: The Hubleys
(First: Episode 0255)




SCENE 2
While Maria and Luis tend to their work, an announcer introduces the opera. In Act I, Plaicido visits the Fix-It Shop where he sings about the sounds he hears in there. Olivia brings in his toaster, which needs fixing. They tell him it will be done tomorrow and they sing about what awaits "Tomorrow." After the applause, Olivia does her best to try to explain why she's doing this. After they exit, Luis remarks, "Ya' know, living here can sometimes be very strange." "Yeah, I've noticed," Maria replies.

Cartoon
Five feet stick out from a barrel, all belonging to a strange five-legged being.
(First: Episode 0859)

Film
Kids talk about how many things they can do now that they're five years old.
(First: Episode 1403)

Cartoon
Counting eight figures
(First: Episode 2253)

Muppets
Ernie & Bert — Ernie wants to go outside and play catch, but Bert gets him interested in watching his goldfish.
(First: Episode 1422)

Cartoon
A mysterious little box on a tightrope entraps a bird, a train, and a cat, which can still be heard. A large frog eats the box, and makes all of the sounds inside..
(First: Episode 1518)

SCENE 3
In Act II, Placido and Olivia visit Big Bird, who is sad because Mr. Snuffleupagus is away, but Big Bird isn't as sad as Placido's song is making it out to be. He tells them Snuffy will be back tomorrow, leading to a reprise of their "Tomorrow" song. Plaicido still bawls, wishing Snuffy would return sooner.

Cartoon
Which legs belong on the man?
(First: Episode 1691)




Film
A montage of the evolution of mechanical technology, from wind-up toys, to robots that can spell "SESAME STREET" with blocks, to satellite transmitters.
(First: Episode 2226)

Muppets / Celebrity
Sesame Street News Flash
Kermit watches as Suzanne Farrell does some jumping. He joins in until he collapses.
(First: Episode 1390)
Cartoon
Z for zebra and zoo
(First: Episode 0281)

Muppets
Over the Top, a ZZ Top-like band, sings "ZZ Blues."

Animation
Yellow drops don't want to play with a red ball at first, but they make a good flower together.
(First: Episode 1895)




SCENE 4
In Act III, the two singers visit Oscar's trash can to get him to cooperate with them. Oscar hears the announcer and decides to sit and do nothing, which turns out to be exactly what they wanted him to do. He goes back into his can, saying he won't come back out until tomorrow, cuing another reprise of "Tomorrow."

Cartoon
Z for zigzag, zero, zoo, and zebra
(First: Episode 1763)

Song
"Summer Song" - A singer describes what happens in the summertime.
(First: Episode 1304)

Cartoon
Jive Five
(First: Episode 1664)

Muppets
Grover demonstrates how a phone booth is used, but it becomes crowded when he receives a call asking for "Monderporg."
(First: Episode 0654)

Film
George the Farmer demonstrates empty and full.
(First: Episode 0257)

Cartoon
A crocodile, snake, and kangaroo all cooperate to escape from the zoo and get ice cream.
(First: Episode 1577)

Muppets
Alien Alphabet
(First: Episode 0277)

Cartoon
R for Rhinoceros (poem)
Artist: Jeff Hale
(First: Episode 1151)




SCENE 5
In Act IV, Placido sings with a quartet of Honkers (including Mr. Honker), but only three are there. Placido puts Olivia in the fourth Honker's place and Placido sings about the quartet to the tune of the "Toreador Song" from Carmen.

Cartoon
Uncle Al tells his nephew a story about a dog he had, but gets mixed up with the details.
Artist: Marv Newland
(First: Episode 0510)

Insert
Big Bird watches the shape dancers make a rectangle.
(First: Episode 1276)

Film
Human and animal babies learn to walk.
(First: Episode 1728)

Muppets
Juanita looks for "YO", asking, "¿Esto es yo?" Nope, it's a toy car, and a tomato, and a mirror. Looking in the mirror, she finds herself. "¡Hola, yo!" she cries.
(First: Episode 0454)

Cartoon
"Yo Soy Un ..."
(First: Episode 0777)

Muppets
Ernie & Bert — Ernie tells Bert to stand still in front of the camera so that he can "trace" Bert's face on the screen.
(First: Episode 0536)

Song
"Five Onstage Dancers"
(First: Episode 0539)

Muppets
Sesame Street News Flash: Kermit is interviewing Cinderella and Prince Charming, who are dancing at the ball. After Cinderella leaves, she leaves one glass slipper behind. The prince wants to find Cinderella...so he can have the other glass slipper.
(First: Episode 0516)

Cartoon
A boy learns to play his violin by practicing.
(First: Episode 1513)

SCENE 6
When the announcer announces the last act, Olivia gets upset that she hasn't done her solo yet. Placido assures her she will get to do it and points her to 123 Sesame Street, where her costume will be.




SCENE 6 cont'd
Olivia emerges from the brownstone, wearing a flamingo-inspired outfit. Her solo is singing the sponsors and says they'll see the viewer tomorrow, leading to a finale reprise of "Tomorrow."
Notes
Throughout the episode, Olivia refers to Placido as "Maestro Flamingo."
Community content is available under
CC-BY-SA
unless otherwise noted.