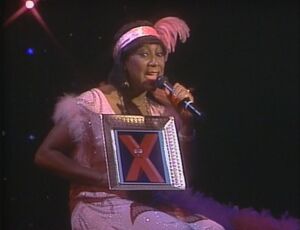 Picture
Segment
Description

SCENE 1
Elmo pretends to mail a package, with Oscar acting as representatives of both the Grouch Post Office and the information booth. After visiting both windows to get the information he needs, Oscar tells him they can't send his package - the post office is closed.

Film
A girl in the city mails a letter to her grandfather in the country in Maine, and we watch its journey through the postal service.
(First: Episode 1873)

Cartoon
A man assembles the word LOVE, and a bird pecks the O into the shape of a heart.
(First: Episode 0791)

Muppets
Prairie Dawn presents a pageant about feelings. Bert dresses as Cupid to represent love, but his lines don't ring true. Instead, he sings his own song — "That's Love" — expressing that, to him, love means pigeons, oatmeal... and Ernie.
(First: Episode 1731)

Film
Apes play at the zoo. (edited)
(First: Episode 0045)

Insert
Piri breakdances while demonstrating various body parts, with Maria, Olivia, David and the children looking on.
(First: Episode 2062)

Cartoon
Everything you need to know about cats.
Artist: Bruce Cayard
(First: Episode 1179)

Celebrity
Patti LaBelle sings "Oh, How I Miss My X."
(First: Episode 2168)

Cartoon
The letter X
(First: Episode 0482)

Muppets
Cookie Monster explains the purpose of the Bus Stop sign, however the bus zooms pasts him. Resulting in Cookie Monster ripping the part of the sign mentioning STOP.
(First: Episode 0192)

Cartoon
A man sets up a bus stop sign so that a giant can eat the buses that come.
(First: Episode 1176)

Muppets
Ernie and Elmo sing about the parts that make up "One Fine Face."
(First: Episode 2220)

Cartoon
A man explains the letter R with a radio. Once he starts singing, the radio decides to turn him off by tweaking his nose.
(First: Episode 0011)

Muppets
Telly, Monster on the Spot reporter, interviews Nicole on being a big sister. He doesn't get too far interviewing her little brother though.
(First: Episode 1963)

Cartoon
They'd play with me if I had...
(First: Episode 0815)

Film
A kindergarten class takes a field trip to the fire station.
(First: Episode 1217)

Animation
First leaf, last leaf
(First: Episode 0794)

Muppets / Cast
"Sing Your Synonyms"

Cartoon
Don't cross the street alone.
(First: Episode 1942)

Film
A beekeeper extracts honey from a honeycomb.
(First: Episode 1117)




Muppets
Oscar the Grouch hosts "The Trash is Right", in which contestant Grundgetta has to match each pile of trash with the picture of the person who threw it away.
(First: Episode 2258)

Cartoon
A drowsy wagoner gets across a clearing by building a bridge out of his ox-cart, and converting it back again.
Artist: Bruce Cayard
(First: Episode 0616)

Cast
Linda signs the word disappear - which David does.
(First: Episode 1330)

Cartoon
R is for Rooster, and Robber, and Rake ...
Artist: Fred Calvert
(First: Episode 0011)

Muppets
Kermit demonstrates his "What Happens Next" machine, which is designed to turn on his radio. None of the parts of the machine work properly.
(First: Episode 0089)




Muppets
Snuffy shows Big Bird the cloud costume he's going to wear in his Snufflegarten class's upcoming pageant about the sky, and even sings the song that accompanies it, while Big Bird imagines him as a cloud.
(First: Episode 2082)

Animation
Draw a line from the dog to the bowl and underline the hen.
(First: Episode 2178)

Muppets
A group of Muppets (including Herry Monster) split into two separate teams for a game based on whether they have letters or numbers printed on their shirts. However, one of the small ones points out that they've split into one team of big players and one team of small players. They eventually agree to play Tiddly-Winks.
(First: Episode 0298)

Cast
Linda signs "rain," as David gets soaked.
(First: Episode 1325)

Film
The Mad Painter #9
(First: Episode 0338)




Muppets
Prairie Dawn and The Count are contestants on "Squeal of Fortune."

Cartoon
Nine sheep jump over a fence.
Artist: Owe Gustafson
(First: Episode 1501)

SCENE 2
The kids play on the tire swing as Luis announces the sponsors.