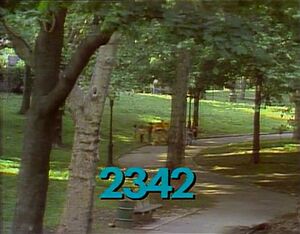 Picture
Segment
Description




Insert
While Oscar looks for some Grouch literature at the library, Gilbert and Sullivan and the cast sing about what else he can find "At Your Library".
(First: Episode 1908)

Film
Squares are shown in close-up.
(First: Episode 0420)

Muppets
The Two-Headed Monster shares a bathtub and help each other get clean. They are discouraged when they are finished and drain the tub, but find joy in drying.
(First: Episode 1449)

Animation
Sand W/w
(First: Episode 0641)

Muppets
Ernie & Bert — Ernie won't stop saying how thirsty he is, no matter how many glasses of water Bert brings him. Even after he's finished, he still won't stop saying "Boy, was I thirsty."
(First: Episode 1144)

Cartoon
9 Ants
Owe Gustafson
(First: Episode 1485)

Insert
Big Bird uses a grown-up's hand to cross the street -- don't leave home without one.
(First: Episode 1595)

Cartoon
I have all, I have none (men w/ grapes)
Artist: Bruce Cayard
(First: Episode 0624)

Muppets
Kermit the Frog sings "This Frog".
(First: Episode 0944)

Cartoon
Q for Quiet
Artist: John Korty
(First: Episode 0441)

Film
A girl catches a lobster.
(First: Episode 1125)

Cartoon
The word entrada tries to run through a wall, then runs through the entrance.
(First: Episode 0939)

Muppets
Monsterpiece Theater: "The 39 Stairs"

Cartoon
A woodpecker drills through a tree to demonstrate entrada and salida.
(First: Episode 0808)




Insert
Gordon reads the kids Home Run on the Range starring Forgetful Jones.
(First: Episode 1964)

Cartoon
A bass player (Major Holley) counts to 6.
(First: Episode 2229)

Animation
Slide puzzle - elephant
(First: Episode 0389)

Animation
The mountains make a snack for a bird, but he forgets to brush his teeth afterward.
(First: Episode 1429)

Muppets
The Count croons "Count Up to Nine."
(First: Episode 1134)

Cartoon
Children and animals numbered 1-12 race in a marathon. The #9 runner wins.
(First: Episode 0926)

Insert
Oscar reads a love "trash poem" to Maria.
(First: Episode 2140)

Cartoon
W for Willamina
(First: Episode 0512)

Film
Kids narrate a film of themselves at home with their younger siblings.
(First: Episode 1722)

Cartoon
Jazz #9
(First: Episode 0137)

Muppets
Super Grover tries to stop a fight between Sammy and Frankie, who are fighting over an apple.
(First: Episode 0786)

Cartoon
Q-quiet! (tree chopping)
(First: Episode 0675)

Insert
Bobby McFerrin performs his version of "The Alphabet Song" for Hoots, David, and the kids.

Animation
Red and yellow dots play "Twinkle Twinkle Little Star."
(First: Episode 1979)




Muppets
A series of trailers for school-related dramas are shown on WCTW's "School in the Afternoon" block.
(First: Episode 2223)

Film
Marching band forms a square
(First: Episode 0514)

Cast
Maria and Linda sew quilts with a Q on them.
(First: Episode 1508)

Film
Stacy gets an examination at the eye doctor's and receives a new pair of glasses.
(First: Episode 1129)

Cartoon
Q -- that funny looking thing.
(First: Episode 0131)




SCENE 1
Gordon spots Big Bird and the kids preparing a present for Granny Bird's birthday. Big Bird shows off a birdhouse that Maria made for him, and the kids wrap it with wrapping paper. Maria announces the sponsors.