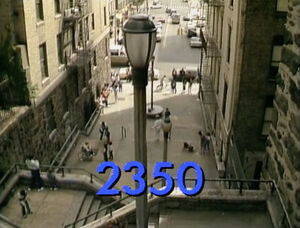 Picture
Segment
Description

Muppets
"Old MacDonald Cantata"

Cartoon
Three men in a horse costume want three cups of coffee.
(First: Episode 0473)

Muppets
Kermit sings to the titular tadpole about the life awaiting it when it grows up to be a frog, but tells it to take its time growing up.
(First: Episode 2327)

Animation
D / d (drums and drumsticks)
(First: Episode 2188)

Film
Footage of a Chinese noodle factory.
(First: Episode 0984)

Cartoon
Geronimo 10-0: The parachute becomes a large mattress.
(First: Episode 2245)

Muppets
Grover climbs a tree and finds a bird's nest with some eggs in it. The eggs hatch, and the baby birds think Grover is their mommy. When the real mother bird arrives, she mistakes Grover for one of her babies. She gives them all a flying lesson, but Grover promptly falls to the ground.
(First: Episode 0570)

Cartoon
A man illustrates 'between' in various situations throughout his work day.
(First: Episode 0779)

Song
David sings "Just Ask" with Susan, Maria, and Olivia on backup.
(First: Episode 1909)

Cartoon
Small b is a boy with a belly who walks a small d, a dog with a belly turned around.
Paul Fierlinger
(First: Episode 1186)

Film
Kid voiceovers identify a horse's body parts (shown one at a time), then the complete animal.
Music: Joe Raposo
(First: Episode 0428)

Muppets
Sesame Street Game Show: Where Do I Belong?
Guy Smiley hosts a show which helps its contestants figure out where they belong.
(First: Episode 2318)

Cartoon
A man in a bowler hat examines what's behind each door.
(First: Episode 1409)

Muppets / Celebrity
Mookie Wilson and Keith Hernandez of the New York Mets try to play baseball with The Count, but he would rather swing the bat and count strikes.
(First: Episode 2333)

Cartoon
The rabbit and the turtle race to the top of a building. The rabbit goes up 40 steps, but the turtle takes the elevator.
(First: Episode 2258)

Song
Luis sings "Three of These Kids" -- three kids are playing basketball, and one is playing baseball.
(First: Episode 0418)

Animation
Teeny Little Super Guy: Robert W. Shipshape gets a hat for his birthday, and it blows into the street. R.W. remembers not to cross the street without an adult; Teeny Little Superguy helps him across.
Artist: Paul Fierlinger
(First: Episode 1924)

Film
Kids take swimming lessons in a pool.
(First: Episode 1232)

Muppets
The Two-Headed Monster acts out different feelings.
(First: Episode 1982)

Cartoon
A boy does an addition problem in his head: 2 + 1 = 3.
(First: Episode 0516)




SCENE 1
Elmo comes across Oscar and Grundgetta pretending they're flying an airplane on Grouch Airlines. Elmo wants to play and despite the Grouches' protests, he manages to find a way on their plane anyhow.

Cartoon
A girl has trouble closing her suitcase after she's packed it, but has help from her four-legged friend.
(First: Episode 1469)




Cast
Gordon hosts "What Happens Next," in which the viewer has to guess what kind of humiliation Maria as Chaplin is going to face before Gordon rings the Dinger's ding-dong bell. First, the tramp slips on a banana peel, then collapses when sitting on a three-legged bench. Finally, when a rain cloud is about to rain on him, he shifts the cloud over to the left of the screen so it rains on Gordon instead.
(First: Episode 2328)

Film
Footage of a baby learning to walk.
Music: Joe Raposo
(First: Episode 0427)

SCENE 2
Elmo is ready for take off, but the Grouches inform him they can't go anywhere while he has his pretend suitcase on his lap. Elmo tries to put it in the pretend overhead compartment, but that's where the elephants are kept. It can't be put under his seat either, as there are pigs there. Elmo solves the issue by moving the elephant under his seat so there's space for his suitcase.

Animation
Four airplanes take off one by one.
(First: Episode 1242)

Muppets
"Muppets Rhyme in School"
(First: Episode 2291)

Film
Marching Band #3
(First: Episode 0517)
Muppets
Ernie & Bert — (Part 1) Bert tells Ernie to clean up the messy apartment. (First: Episode 0010)

Cartoon
Q -- that funny looking thing.
(First: Episode 0131)
Muppets
Ernie & Bert — (Part 2) Ernie has finished cleaning up the apartment, but the toy chest is still a mess, so he throws toys all over the place. (First: Episode 0010)

Cartoon
Hypnotic "Q" Rainbow
(First: Episode 0440)

SCENE 3
Grundgetta tries to get rid of Elmo by offering some of the in-flight meals, which are tailored to Grouch diets. Elmo still wants to play, but can't decide on what to eat. He instead chooses an imaginary tuna fish sandwich he's brought in his imaginary lunch box.

Song
Joe Raposo sings "Everybody Eats."
(First: Episode 0407)

Muppets
Muppet & Kid Moment — Herry & John-John observe a letter Q.
(First: Episode 0571)

Animation
Sand Q/q
(First: Episode 0623)

Cast
Big Bird watches the shape dancers make a triangle.
(First: Episode 1265)

Cartoon
Jazz Alphabet: male vocalists shout each letter.
(First: Episode 0619)

SCENE 4
Elmo notices Oscar and Grundgetta aren't feeling peppy because his nice presence has ruined their pretend flight. Elmo makes things better by pretending he's a Grouch. Telly announces the sponsors, and the credits roll.
Community content is available under
CC-BY-SA
unless otherwise noted.