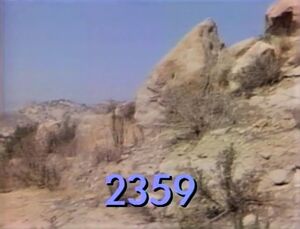 Picture
Segment
Description

SCENE 1
On today's edition of Ask Oscar, the Count fills in as co-host (Telly is at the dentist). Oscar, however, is not up to answering any questions today. The Count proceeds to read a letter, asking how many ways there are of getting rid of somebody. Oscar inadvertently provides an answer as he keeps telling the Count to beat it.




Animation
2 farmers
(First: Episode 1599)

Film
In a gymnasium, a teacher and some kids play catch with a balloon.
(First: Episode 1088)

Cartoon
Big, bigger, biggest (balloons and blackbirds).
(First: Episode 1393)

Muppets
Kermit is a casting director, holding auditions for a performance of "The Three Little Pigs". The pigs who initially try out get the part of the three little pigs, but three different wolves of different sizes try out for the part of the Big Bad Wolf.
(First: Episode 1283)

Cartoon
A pig sings "Pig's Love Song."
(First: Episode 0462)

Muppets
Telly, Monster on the Spot reporter, interviews Nicole on being a big sister. He doesn't get too far interviewing her little brother though.
(First: Episode 1963)

Animation
A ball looks for its match on a brick wall.
(First: Episode 1470)

Film
Sesame Street Animal Films: Elk feeding.
Music: Robert Dennis
(First: Episode 0793)

Animation
A/a (Gordon voice-over)
(EKA: Episode 2240)

Muppets
Super Grover: Judy Finstermacher has broken her bag of groceries, and Super Grover tries to find a way for her to get the groceries to her home.
(First: Episode 1289)

Cartoon
What kind of print does a hand make?
(First: Episode 0776)

Song
Joe Raposo sings "Look a Little Closer." (hand)
(EKA: Episode 1118)




SCENE 2
Big Bird greets Simon Soundman, who is waiting for three friends to join him for lunch. Big Bird offers to take his lunch order and bring it to Gina. Simon doesn't have any preference, trusting Gina's judgement and cooking abilities. While Big Bird is inside Hooper's Store, Simon's friends, three kids, arrive and he tells them about his trip to the Bronx Zoo. Big Bird hears Simon's imitations of an elephant, lion and seal and thinks the animals are Simon's friends. He tells Gina to prepare some peanuts, raw meat and fish for the group. Upon bringing the food out, Big Bird wonders, "Gee, Gina. Which one do you think is the elephant?"

Cartoon
"Daddy Dear"
(First: Episode 0367)

Muppets
Cookie Monster and Ernie: Ernie and Cookie Monster discuss hope. Ernie has something in a brown paper bag, and asks Cookie Monster what he hopes it is. Cookie Monster hopes that it is a cookie. It turns out that Ernie has ten cookies in the bag.
(First: Episode 0233)

Animation
Draw a line from the dog to the bowl and underline the hen.
(EKA: Episode 2178)

Muppets
"It's Funny"
(First: Episode 0897)

Film
A man makes a shadow puppet of a camel
(First: Episode 0593)

Muppets / Celebrity
Big Bird and Snuffy have a question for the football players: If they are big, but Big Bird is bigger, and Snuffy is the biggest, then why are they called the Giants?

Cartoon
Big, bigger, biggest (strongmen)
(First: Episode 0792)

Muppets
Hill Street Twos
A frustrated police chief tries to get officers Ernie, Grover, and others into groups of two for their beat.

Cartoon
Train #2
(First: Episode 0353)

Film
You can clean almost anything.
Music: Bach's "Gavotte" performed by the Swingle Singers.
(First: Episode 0001)

Cartoon
Round and angled pegs fit into their respective holes.
(First: Episode 1452)

Insert
Bob and Olivia talk with two kids about names, then sing "I Like My Name."
(First: Episode 1169)

Cartoon
A for Acorn
(First: Episode 1626)

Film
Two kids watch as a veterinarian fixes a baby robin's wing, then lets it go.
Music: Joe Raposo
(First: Episode 2292)

Cartoon
A magician performs a trick that makes birds appear, and fish can be glimpsed between them.
Artist: Vince Collins
(First: Episode 1614)




SCENE 3
Gordon and Susan tell the Amazing Mumford that Miles is now three-years old, which they can hardly believe. They wonder what he'll look like when he's older, which Mumford can make a reality. He does a magic trick that gives Miles a real mustache. The parents find it amusing at first, until they see it's real and protest that Mumford return Miles to normal.

SCENE 3 cont'd
Mumford reverses the trick and heads off, with an unintended consequence left behind...

Cartoon
A little girl sings "There Is Only One Me."
(First: Episode 1942)

Muppets / Cast
Professor David lectures his class on trees. He says they are only good for looking at and leaning against, but they mention other uses for them.
(First: Episode 1584)

Cartoon
A boy sits in a forest and plays the flute along with the birds' songs, but becomes sad when woodsmen demolish the forest. He plants more trees for the birds to live in.
Artist: Richard Condie
(First: Episode 1879)




SCENE 4
Gordon and Susan, concealing her face, check if Luis has seen Mumford around. They spot him going by and drag him into the Fix-It Shop to fix his mistake. Mumford removes Susan's mustache and assures them he hasn't place it back on Miles' face. Susan and Gordon go to check on him and see that Mumford's magic has now put mustaches on all the kids in the area. Gina announces the sponsors.
Community content is available under
CC-BY-SA
unless otherwise noted.