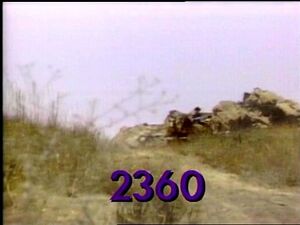 Picture
Segment
Description

Cast
Luis sings "Baa Baa Bamba."

Cartoon
Gordon's Voiceover 'T/t': Two caterpillars form T and t.
(First: Episode 2223)

Film
"Operation Playground" Kids at a school come up with ideas for a new playground, and raise money for the effort. Together with their parents and other people from the neighborhood, they build the playground.

Cartoon
A cat desperately tries to open a can of cat food by himself while his mistress is on the phone.
Artist: Dan Haskett
(First: Episode 2151)

Muppets
Ernie & Bert — Ernie gets Bert to participate in a rhyming game, but Ernie ends the game just as Bert is starting to enjoy it.
(First: Episode 0798)

Song
Joe Raposo sings "There's a Bird On Me."
(First: Episode 0416)




Muppets
Snuffy brings his TV over to Big Bird's nest so that he, Big Bird, and some kids can work out along with Jane Snuffleupagus.
(First: Episode 2076)

Cartoon
The letter X
(First: Episode 0482)

Muppets
"African Alphabet Song"

Cartoon
A caveman sits on what he thinks is a rock, not realizing that it's a dinosaur, which is alive.
(First: Episode 1737)




Muppets
Dicky Tick hosts "In, On and Under." He interviews Paul Pencil in a drawer, Vivian Vase on a mantle, and Jacques Shoesteau under a chair.

Song
"Me and My Chair"
(First: Episode 1706)




SCENE 1
Big Bird comes across the Amazing Mumford in the midst of perfecting his latest trick - getting his portable radio to sound like his duck and vice versa (with the magic words "A la peanut butter sandwiches on AM/FM quackers!"). He plans on performing the trick at the Magicians' Convention in Las Vegas and rushes off to his travel agent to claim his ticket, asking Big Bird to look after his duck. Big Bird sees that Mumford has left his wand behind. Maria comes by and Big Bird tries showing her the trick himself. He messes up the magic words, which still cause the duck to sound like the radio, but now Maria speaks in duck (and the radio sounds like her).

SCENE 1
cont'd
Big Bird tries to turn up Maria's voice on the radio, but winds up shorting the circuit. Loud music comes out of the duck, bothering Susan. Maria promptly shuts the duck's beak.

Cartoon
The Alligator King
Artist: Bud Luckey
(First: Episode 0411)

Muppets
Muppet & Kid Moment — Herry Monster and John-John demonstrate loud and soft.
(First: Episode 0432)

Cartoon
T is for Trash and Ticket
Artist: Cliff Roberts
(First: Episode 0020)

Muppets
"Do De Rubber Duck"
(First: Episode 2304)

Cartoon
The Story of Cowboy X, with the voices of Jean Shepherd
(First: Episode 0325)

SCENE 2
Oscar comes into the Fix-It Shop to get his discarded flashlight de-lighted, when Maria writes down that the store is closed.

Cartoon
An army of ants gets to the bakery, only to find that it's closed.
(First: Episode 2088)

Celebrity
Pee-Wee Herman recites his own version of the alphabet.
(First: Episode 2356)

Song
"Ookyook Song," a Joe Raposo song with the Alaskan words for all the things you need to put on when it's ukiuq (winter).

Cartoon
A heart that says "I love you" is drawn.
(First: Episode 1971)

SCENE 3
As Maria fixes the radio, Big Bird feels bad about the situation he's caused. Maria (through the radio) tells him that she still loves him. He hugs the radio in response, then realizes he's got the wrong Maria.

Cartoon
Snacks on Parade - The Raisin
Artist: Bruce Cayard
(First: Episode 1171)




Cast
In a spoof of the famous Mean Joe Greene Coke commercial, football player Big Murray (Gordon) accepts a number 7 from a young fan, whom he rewards with a towel that also has a 7 on it.
(First: Episode 1535)

Cartoon
Pinball Number Count #7
Artist: Jeff Hale
(First: Episode 0989)

Muppets
Sesame Street News Flash
In London, Kermit tries to talk about the London Fog, but is interrupted by the London Frog, a Grenadier Guardsman carrying "The Famous London Log," and a London Hog. By the time he's ready to talk, the Fog has evaporated, and the others gather around to dance the London Clog.

Cartoon
A chicken gets an idea to sit on a football and hatch it like an egg.
Artist: Dan Haskett




SCENE 4
Mumford returns to the shop to collect his wand and duck, seeing the mix-up. He quickly remedies things before hopping in his cab to the airport. Big Bird and Maria test out the radio, which works fine, but then lays an egg! Hoots announces the sponsors, and the credits roll.
Notes
The content played on the radio includes "Il signor Bruschino Overture", "Quale insolita gioia nel tuo sguardo" from Aida, "Witchcraft" by Frank Sinatra, "Panama" by Van Halen, "Ladron de Tu Amor" by Louie Ramirez, and Jon Stone as a newscaster.