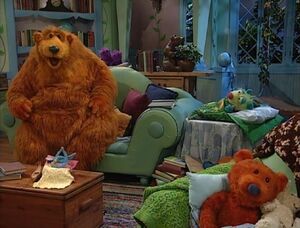 Bear and the kids have had a busy day and are now turning in for the night. Ojo, Tutter, Treelo, Pip and Pop are all sleeping over in the living room of the Big Blue House. He tells them a bedtime story about a dragon and some very brave knights just like them who helped it. Bear reflects on all of the great things that can happen in a day. In flashbacks, he and the viewers take a look back at some things that happened that day. He and the kids all had a lot of fun at the Otter Pond, splashing and playing ball. In fact, Pip and Pop had so much fun that they get out of bed to ask if they can go back down there right now, but Bear tells them it'll still be there tomorrow. Bear also recalls that Tutter tried to eat a large amount of carrots and bran to get ready for a checkup with Doc Hogg. Bear helped him to see that he was already ready and when Tutter shows up full of energy, Bear gives him some warm milk to help get him to sleep. Bear also recalls that Ojo pretended that Snow Bear was her baby --- giving her a bath in the sink and feeding her mashed fruit. He gives Snow Bear a good-night kiss, and Ojo one too. In the Shadow segment, Shadow tells a story about a day in the life of a dog.
Songs
A Day in The Life By The Dog
Video releases
Notes
The dog in the Shadow Projects logo in the closing credits says "whoop whoop".
Community content is available under
CC-BY-SA
unless otherwise noted.