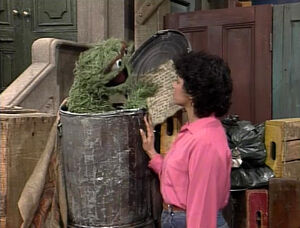 Picture
Segment
Description

Insert
The Count recruits Maria to help him in "Counting Toes."

Cartoon
A bear counts 5 clouds.




Muppets
Guy Smiley hosts "The Eating Game", in which plates get to meet foods and take them to dinner. The contestant foods are a fish, an ear of corn, and a glass of milk.

Film
A gym instructor helps children perform a variety of stretching and bending exercises.
(EKA: Episode 1018)

Cartoon
T for Turtle
Artist: Jeff Hale
(EKA: Episode 2234)

SCENE 1
Mr. Snuffleupagus wants to play football with Slimey, but Oscar the Grouch thinks the size difference will make the game unfair to Slimey. He suggests hide and seek. Snuffy looks everywhere and can't find Slimey. Oscar shows Snuffy that Slimey is hiding in his fur, and says the joke is on him. Instead of getting angry, Snuffy thinks it's funny and leaves to tell Big Bird that the joke was--literally--on him.

Cartoon
T for treasure (Jim Thurman VO)
(EKA: Episode 2140)

Film
Kids watch a silent movie with a man resting on the train tracks with an oncoming trolley - DANGER!
(EKA: Episode 0881)

Cartoon
"Wash Your Hands Before You Eat"
Artist: Bruce Cayard
(First: Episode 1523)

Muppets
Grover plays a detective at his office. A frantic city gent (Brian Muehl) rushes over to warn him about something that's bothering him outside, which, unbeknownst to both of them, turns out to be a very strong wind that blows everything away—including Grover's office.
(First: Episode 1650)

Film
The letter T is a very useful letter.
(EKA: Episode 0689)

Film
"It's an Otter!"
Music: Joe Raposo
(EKA: Episode 1007)

Cartoon
Two orange balls perform "Twinkle Twinkle Little Star."


Artist: Fred Garbers

Muppets / Celebrity
The Professor (Sid Caesar) explains the laws of physics, which begin with soft and loud (as demonstrated by Fluffy).

Cartoon
Z In Space
(EKA: Episode 0872)

Cast
Charlie Chaplin (Maria) falls in love with a painting at the art museum.
(EKA: Episode 2269)

Cartoon
What's missing? (a guitar)

Film
Ten Song (Song of Ten) (censored version, intro cut)
(First: Episode 0021)

Muppets
Ernie & Bert — Ernie doesn't think pigeons are able to laugh at Bert's pigeon jokes, but he's wrong ...
(EKA: Episode 1287)

Cartoon
Jazz #10
(First: Episode 0021)

SCENE 2
Oscar reads Irvine some Grouch Rhymes from his book. Gordon points out none of the words rhyme, which is just how Grouches like it.

Cartoon
A family of snakes makes shapes, and rolls away.
(First: Episode 1506)

Film
Jerry Nelson introduces the letters U and N. Other letters join them and become SUN, RUN and FUN.
(First: Episode 0230)

Cartoon
The Ringmaster treats us to the balancing feats of ten brown bears.
Artist: Jeff Hale
(EKA: Episode 1930)

Muppets
"They Can't Take That Away from Me": Cookie Monster's six cookies are subtracted down to zero.

Cartoon
Five tail feathers are subtracted from a peacock.
(EKA: Episode 1449)

Film
A boy who lives in Alaska narrates a film of himself going ice-fishing with his grandfather and sister.

Cartoon
Sign Man: WALK TALL
(EKA: Episode 1161)

SCENE 3
Oscar reads a love "trash poem" to Maria.

Cartoon
A trash can in the park dictates a letter about the scenery that surrounds her.
Artist: Irra Verbitsky
(First: Episode 1486)

Muppets
Big Bird walks down the street, describing the difference between the actual street and sidewalks.
(First: Episode 1256)

Muppets
How Now Brown and the Moo Wave perform the song "Danger's No Stranger."
(EKA: Episode 2201)

Cartoon
Zig...zag...zoom...zoo.
(First: Episode 0359)

Muppets
Muppet & Kid Moment — Grover and Brian show soft and loud.
(First: Episode 0432)

Transition
The screen fills up with sand.
(EKA: Episode 0353)




SCENE 4
Maria, Luis and Gordon find out Oscar has written poems for all of them just to lighten his spring cleaning. They all unload the trash back on Oscar as Irvine announces the sponsors.