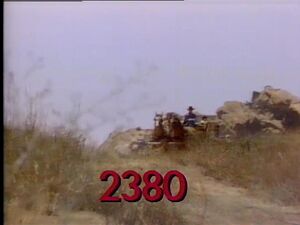 Picture
Segment
Description




SCENE 1
Big Bird and Snuffy pretend to explore Sesame Street. They encounter some native Sesame Streetians speaking Sesamese and attempt to communicate with them and learn their customs.

Cartoon
A painter paints a Number Nine, then hangs it.
(First: Episode 1488)

Muppets
Ernie sings "Little Plant."
(First: Episode 2144)

Cartoon
Millie and Molly take a walk, and have different perspectives of their surroundings.
(First: Episode 1309)

Muppets
Sesame Street News Flash
Kermit the Frog witnesses how the mailman and salesman knock at the door while the Big Bad Wolf chases Little Red Riding Hood around the bed. Eventually, the Woodsman shows up, and Red and the Wolf chase him for cutting down a maple tree which was their favorite one.
(First: Episode 0621)

Song
Joe Raposo sings "Water Baby" over footage of seals and kids swimming.
(First: Episode 2016)

Cartoon
Nine sheep (Maria voice-over added)
Artist: Owe Gustafson
(First: Episode 1501)

SCENE 2
Oscar kicks off the annual Grouchketeer Dirty Face Contest. The winner's face is so dirty, Oscar can't tell who it is.

Cartoon
A kid names his own body parts.
(First: Episode 0809)

Cast
Bob, dressed as a clown, sounds out the word ENTER by grouping two doors together.
(First: Episode 0939)

Cartoon
A caterpillar escapes a hungry bird by turning into a butterfly.
Artist: Etienne Delessert
(First: Episode 0639)

Muppets
Ernie & Bert — (Part 1) Bert tells Ernie to clean up the messy apartment.
(First: Episode 0010)

Cartoon
A door opens behind a mouse, who shrieks when she sees the E.
Artist: Bruce Cayard
(First: Episode 0616)

Muppets
Ernie & Bert — (Part 2) Ernie has finished cleaning up the apartment, but the toy chest is still a mess, so he throws toys all over the place.
(First: Episode 0010)

Cartoon
E for Erase
(First: Episode 0486)




SCENE 3
Big Bird waits for Snuffy while wearing his new "I Love Birdseed" t-shirt; he giggles over a surprise he has for his friend. Snuffy finally arrives, wearing his own "I Love Cabbages" shirt. They both reveal the backs of their shirts say "I Love Bird" and "I Love Snuffy."

Cartoon
Maria (in voice-over) counts five oranges, which are then eaten by a snake.

Muppets
Elmo loudly interrupts Kermit's demonstration of "quiet" and "loud". Elmo loudly insists on helping Kermit demonstrate the difference, and Kermit manages to get Elmo to whisper as they talk about being quiet.
(First: Episode 2270)

Cartoon
A spider refuses to give up spinning a web, no matter how badly injured he becomes.
(First: Episode 1652)

Film
Joe Raposo sings "Look a Little Closer". The object is a tire.
(First: Episode 0147)

Cartoon
E for Eel
(First: Episode 0408)

Muppets
Grundgetta shows Oscar a postcard they just got, and they wish they could visit Swamp Mushy Muddy. Instead, they imagine themselves there, floating on a swamp in a barrel. Oscar serenades Grundgetta by singing "Alone in a Swamp."
(First: Episode 2301)

Cartoon
A black cat chases after a white one, until a white lion steps in.
Artists: The Hubleys
(First: Episode 0255)

Muppets
While standing next to a tree being cut down, Professor Grover talks about the importance about listening... especially if the sound indicates some kind of danger.
(First: Episode 1789)

Cartoon
"Poverty X": A peanut-shaped figure lists the words that the letter "X" can be found in.
(First: Episode 0006)

Film
The Alphabet Dancers make a letter X.
(First: Episode 0456)

Cartoon
A hippo who lives in the country, and likes it quiet, is disturbed when a mouse, who likes it loud, moves in.
Artist: Jeff Hale
(First: Episode 1432)

Celebrity
Maria and the kids visit Herbie Hancock's studio, where he demonstrates how to make electronic music.
(First: Episode 2037)

Film
Nine Song (Song of Nine)
(First: Episode 0016)

Cartoon
A red PELI and an explosive green GRO form the word PELIGRO.
(First: Episode 0787)

Muppets
Live from the Nestropolitan Opera, Phil Harmonic introduces the staged production of Peligro starring Placido Flamingo.
(First: Episode 2273)

Cartoon
Brand X
(First: Episode 0299)

SCENE 4
Oscar shows the two most important things for a Grouchketeer to identify - their thumb and ear, so they can give the Grouchketeer salute. Luis announces the sponsors, and the credits roll.