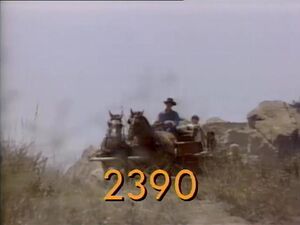 Picture
Segment
Description




SCENE 1
Elmo tells Uncle Wally about a recent sleepover he had at Bob's apartment. A flashback shows Elmo observing Bob through his morning routine.

Cartoon
B is for bear, bicycle, bump, branch and bee.
(First: Episode 0008)

Muppets
Sesame Street News Flash
Kermit interviews Alice, from the Lewis Carroll tales. For this adventure, she eats something that makes her grow.
(First: Episode 1765)

Animation
A hand arranges blocks to form benches so a bunny and a chick can have tea.
(First: Episode 1488)




SCENE 2
Elmo now tells Uncle Wally about a sleepover he once had at Gordon's. In the morning, Gordon does ten push-ups. Elmo wants to count them, but has to keep starting over when he forgets what number comes next. Gordon is left exhausted.

Song
"All By Myself"
(First: Episode 2044)

Cartoon
While fishing one day, a boy catches the letters of the alphabet. Frustrated at not having caught any fish to eat, he decides to use his catch for alphabet soup.
(First: Episode 0004)

Muppets
Alphabet Chat: O
Mr. Chatterly tries to deliver a lecture about the letter O, but is distracted by several things that don't begin with O, like a rabbit walking with a cow. The Anything Muppet producers decide to cancel the show and take down the set.
(First: Episode 0837)

Film
Letter O hoist
Music: Joe Raposo
(First: Episode 0338)

SCENE 3
Uncle Wally tells Elmo and the kids a story about getting up in the morning, and has them act it out along with him.

Cartoon
Kids on a bench wait for the bus: "Here comes the bus!"
(First: Episode 0632)

Film
A girl in the city mails a letter to her grandfather in the country in Maine, and we watch its journey through the postal service.
(First: Episode 1873)

Cartoon
The Ringmaster displays 12 fluttering finches.
(First: Episode 1295)




Insert
Maria and Olivia find Slimey about to watch his favorite show on his tiny, worm television set. He tunes into "Sneak Peek Previews," where Telly and Oscar watch a film of ostriches. After the show, Maria wonders why the two would argue over a film like that, finding she and Olivia having opposing views as well.
(First: Episode 1964)

Cartoon
B ... US! We're on the bus!
(First: Episode 0785)

Film
A man makes a shadow puppet of a horse.
(First: Episode 0908)

Cartoon
A girl tries on big, bigger, and the biggest shoes.
Artist: Bruce Cayard
(First: Episode 0252)

Muppets
Ernie & Bert — Ernie and Bert search for Dr. Livingstone.
(First: Episode 1736)

Animation
Sand O/o
(First: Episode 0621)

Film
In an Alaskan village, a doctor makes a regular visit to a clinic.

Muppets
Big Bird walks down the street, describing the difference between the actual street and sidewalks.
(First: Episode 1256)

Cartoon
A supermarket worker stacks 12 cans, which keep collapsing every time someone grabs one.
(First: Episode 0782)

Muppets
Kermit the Frog reports on a musical tribute to the "Oogle Family" as performed by Cookie Monster and Old McDougal.
(First: Episode 1822)

Cartoon
B for boot
(First: Episode 1967)

Celebrity
Sid Caesar and Tatyana Ali practice showing their emotions.
(First: Episode 1999)

Animation
The inhabitants of a farm feel like celebrating when it rains during a hot, dry summer.
(First: Episode 1403)

Muppets
Grover sits in a park and recites a poem about a butterfly that he sees.
(First: Episode 1967)

Film
A film of butterflies
Music: Joe Raposo
(First: Episode 0406)

Cartoon
Speech Balloon: B for Bug
(First: Episode 0137)

SCENE 4
Elmo and the kids are now asleep. Uncle Wally announces the sponsors and the credits roll.
Community content is available under
CC-BY-SA
unless otherwise noted.