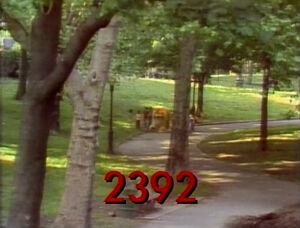 Picture
Segment
Description




SCENE 1
Linda has invited Telly to have lunch outside Hooper's Store. While she gets their food, Barkley tugs the tablecloth off, causing a mess. Telly wonders how he can explain what happened if he can't sign. He does some gestures, indicating what happened. Linda properly reprimands Barkley and Telly thinks he's better at signing than he thought.

Cartoon
The Typewriter: C-cat
(First: Episode 0779)

Song
Joe Raposo sings "Doggy Paddle."
(First: Episode 1967)

Cartoon
What if a turtle and rabbit switched appearances?
(First: Episode 0451)

Muppets
Sesame Street News Flash
Kermit the Frog reports from an alphabet mine where they dig Js. The miners tell him various words that begin with J and Richard presents him with his own J.
(First: Episode 2302)

Cartoon
J - Jam
(First: Episode 0012)

SCENE 2
Luis plays and sings "Las Chiapanecas" with Snuffy and the kids.

Cartoon
Luis counts three blackbirds, which lay three eggs. (Spanish version)
(First: Episode 2285)

Film
A man makes a shadow puppet of a parrot.
(First: Episode 0601)

Cartoon
A flea sets up camp on a dog.
Artist: Bruce Cayard
(First: Episode 1004)




Muppets
Prairie Dawn and The Count are contestants on "Squeal of Fortune."
(First: Episode 2331)




Film
Number Three Ball Film: A red ball follows a rollercoaster-like track through checkpoints (each, a set of three) that are counted in voiceover. At the end, the ball turns into a cherry which is devoured by a girl.
(First: Episode 0744)




SCENE 3
Maria tries to understand what Barkley wants, and imagines herself as the only human in a world inhabited by dogs. In her dream, Barkley is seen in everything on TV, and even runs Hooper's Store, which now carries the newspaper "The Daily Woof-Woof." Back in reality, Maria gives Barkley a good scratch, which is what he wanted.

Cartoon
A troll draws different faces on herself in front of a mirror.
(First: Episode 0800)

Muppets
Ernie sings "Imagine That" about things that he sometimes imagines to be: first a knight in shining armor who battles a dragon, then a sailor, and finally, himself.
(First: Episode 2142)

Cartoon
The 'J' Train with commentary by Daws Butler
(First: Episode 1169)




Film / Cast
Gordon hangs out in a classroom. He joins the kids and the teacher as they play with an elastic rope and get into different shapes.
(First: Episode 1068)

Cartoon
A colorful, rhythmic demonstration of the word IN
(First: Episode 0337)

Muppets
Grover tells Herry's secret (which is actually the alphabet) to Pamela, who tells Fenwick, who tells Rosemary. Herry says to Grover, "You're very good at reciting the alphabet ... but you're lousy at keeping secrets!"
(First: Episode 0360)

Cartoon
Different ways to use a string
Artist: Paul Fierlinger
(First: Episode 0916)

Insert
Big Bird sings about "Wheels on My Feet" while roller skating down the street.
(First: Episode 1483)

Cartoon
C is for Canary
(First: Episode 0703)

Muppets
Prairie Dawn presents a pageant about feelings. Bert dresses as Cupid to represent love, but his lines don't ring true. Instead, he sings his own song — "That's Love" — expressing that, to him, love means pigeons, oatmeal... and Ernie.
(First: Episode 1731)

Film
A man spins in circles while riding in his kayak.
Music: Joe Raposo
(First: Episode 0297)

Muppets
Muppet and Kid Moments: Grover and Karlena talk about the word "love" on a sign.
Cartoon
"I've Got a Mind" -- bouncing a ball
(First: Episode 0279)

Muppets / Celebrity
Forgetful Jones has gathered Lisa Bonet, Malcolm-Jamal Warner, Tempestt Bledsoe, and Keshia Knight Pulliam to help him with something, but he can't remember what it is. One by one, each kid has to leave, leaving Forgetful alone. At the last minute, Forgetful remembers what he wanted the kids to help him with: to explain what subtraction is.
(First: Episode 2165)

Film
George the Farmer demonstrates noisy and quiet.
(First: Episode 0241)

Cast / Muppets
Olivia sings about her "One Two Blues" with two Anything Muppets.
(First: Episode 1493)

Cartoon
A man walks in an IN.
(First: Episode 0511)

Muppets
Clementine, Gladys the Cow and some cows sing "I Love Moo."
(First: Episode 2194)

Cartoon
A dog has a discussion with his master about where to go.
Artist: Dan Haskett

Film
Marching Band #3
(First: Episode 0517)

Cartoon
Dot Bridge #1: Dots appear uniformly
(First: Episode 0001)

SCENE 4
Luis plays the "Mexican Hat Dance" as Snuffy and the kids dance. The sponsors are announced.