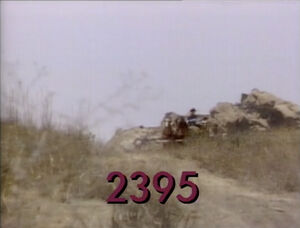 Picture
Segment
Description

SCENE 1
Elmo learns how to write and read his name, with help from Bob.

Cartoon
Dot bounces on top of lower-case 'i'
Artist: Fred Garbers
(First: Episode 0462)

Muppets
Kermit sings "The Frogs in the Glen."
(First: Episode 1786)

Film
Joe Raposo: Pizza (instrumental)
(First: Episode 0416)

Cartoon
The Pink Panther - K For Karate
(First: Episode 0241)

Muppets
Cheers: The Anything Muppets cheer for the letter K. (version #2)
(First: Episode 0101)

Song
"Swing Up High" (by Joe Raposo)
(First: Episode 0408)

Celebrity
Itzhak Perlman and a girl demonstrate their strengths and weaknesses.
(First: Episode 1563)

Cartoon
A hippo tries to get a coconut from a tree.
Artist: John Korty
(First: Episode 1899)

SCENE 2
Elmo interrupts Maria and Luis' lunch date by pretending to play waiter. His restaurant doesn't have what they order...except for peanut butter and jelly sandwiches (which the two were already having).

Cartoon
AT words: A fat cat with a hat sat on a mat. A bat scared the fat cat.
(First: Episode 1101)




Muppets
On Vacation With Guy Smiley
(First: Episode 1949)

Cartoon
Different uses of a triangle (Spanish version)
(First: Episode 1753)

Film
The kids form a triangle and a square.
(First: Episode 0300)

Cartoon
A man connects the dots to form a house to escape from the rain.
Artist: Bill Davis
(First: Episode 2218)

Muppets
The Count sings "The Batty Bat".
(First: Episode 2096)

Cartoon
8 cows
Artist: Owe Gustafson
(First: Episode 1531)

SCENE 3
Telly and Gina plan to go to the beach. Telly shows off how he's planned: he has his sunglasses, a hat and some sand and shells in case the beach is lacking any. Gina assures him he won't need those and reminds him of something he's forgotten: a bathing suit.

Film
Building sandcastles and sand structures at the beach.
(First: Episode 1122)

Muppets
Caveman Days: EXIT sign
(First: Episode 0300)

Film
Exit
(First: Episode 0935)

Scanimate
Triangle In Space (David VO)
(First: Episode 1548)

Film
The Mad Painter #8
(First: Episode 0326)

Cast
Olivia sings a song about fireflies as Linda shows some kids how to sign the word.
(First: Episode 1662)

Film
A man karate chops 5 boards.
(First: Episode 0469)

Muppets
Cookie Monster: Cookie Monster comes to the bakery looking for something delicious that rhymes with BUY. He tries the I (from the MIKE'S BAKERY sign) and the baker's TIE, both of which aren't that delicious. Finally, Guy Smiley comes in and loudly announces that he would like to BUY a PIE. Cookie then knows what he can get in the bakery that rhymes with BUY and is delicious: it's GUY! A chase ensues, and Cookie asks the baker to send him the bill.
(First: Episode 0481)

Cartoon
Boy and the capital "I"
(First: Episode 0368)

Film
Cat block structure
(First: Episode 1824)

Cast
Maria as Charlie Chaplin tries to leave through the door marked EXIT, but the sign keeps moving, and a brick wall appears behind each opened door. Finally, she makes her own exit through a hole in the wall.
(First: Episode 0832)

Cartoon
K Is For Keyhole
(First: Episode 0489)

SCENE 4
Elmo introduces Bob to his new pet fish, Barkley. Unlike the dog he's named after, the fish isn't able to do any of the tricks Elmo commands it to. Elmo does notice one thing the two pets have in common: they can both wag their tails.

Film
Three dolphins jump together.
(First: Episode 0222)

Animation
"¡El juega hockey!"
(First: Episode 2114)

Muppets
Two-Headed Monster tries on shoes.
(First: Episode 2142)

Animation
Sand K/k
(First: Episode 0645)

Film
The shoe repairman
(First: Episode 0987)

Cartoon
BESO
(First: Episode 0433)

Muppets
An Anything Muppet sings "Big Round Nose" while pulling the noses off of passersby.
(First: Episode 1950)

Cartoon
A boy bounces on his bed with eight stuffed animals.
Artist: Michael Sporn
(First: Episode 2265)

SCENE 5
Elmo shows off his tap dancing skills to Barkley the Fish as Bob announces the sponsors and the credits roll.