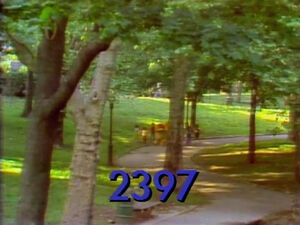 Picture
Segment
Description




SCENE 1
Oscar is about to eat an anchovy-sardine-jelly sandwich when Elmo comes along wanting to play. Oscar refuses, because he's a Grouch and only does grouchy things. Elmo wants to be a Grouch too, so Oscar decides to play along and offers his sandwich to Elmo, who starts gagging in disgust. Gordon steps in and tells Elmo to forget about being a Grouch and just be himself. Elmo says "no" to Oscar's sandwich and accepts Gordon's offer to have lunch with him. Oscar thanks "Curly" for wrapping things up perfectly.
(A brief clip of this scene appears in A&E Biography: Sesame Street.)

Cartoon
They'd play with me if I had...
(First: Episode 0815)

Insert
The Alphabet Dancers form a letter L.
(First: Episode 0449)

Song
"Beet Beet, Sugar Beet."
(First: Episode 1171)

Muppets
Ernie & Bert — Ernie and Bert play "the feelings game."
(First: Episode 2356)

Cartoon
Pinball Number Count #11
Artist: Jeff Hale
(First: Episode 0988)

Muppets
Muppet & Kid Moment — Grover asks Chelsea, What is love?

Cartoon
A man circles the number 1, draws a line to the number 2, follows the arrows to the number 3 (and crosses it out), underlines the number 4, draws a door, and goes through it.
(First: Episode 2067)

SCENE 2
Elmo is about to play "telephone" with two cups attached to a string, and realizes he needs someone to answer his calls. Susan and Gordon are both too busy, so he plays "telephone" with himself, having a pretend conversation with someone who awards him a trip to zoo. When Susan and Gordon return, they see how much fun Elmo is having playing by himself. They tell Elmo the perks of playing alone, which interrupts Elmo's phone call about going to the moon.

Cartoon
A young girl's favorite toy is a stick, which she uses for many things, including a magic wand, conductor's baton, and a baseball bat.
(First: Episode 0960)

Muppets
Clementine reminds Forgetful Jones to call his cousin on her birthday (even though he's got a ribbon tied to his finger and to the phone). When he calls, his equally forgetful cousin doesn't remember having a cousin, and asks him to describe what he looks like.
(First: Episode 1657)

Song
"It's Easy" / "I Can Do It By Myself"
(First: Episode 1727)

Cartoon
Speech Balloon: L--Loud
(First: Episode 0783)

Muppets
Sesame Street News Flash: The Pied Piper has trouble luring mice with his music, but Kermit the Frog lures them by whistling.
(First: Episode 0519)

Cartoon
An apple, an orange, and a pear learn they can cooperate by rocking and rolling.
(First: Episode 0555)




SCENE 3
Gordon and Miles play in the arbor before heading over to the Fix-It Shop. On their way there, Big Bird asks Gordon for a quarter so he can make a phone call in Hooper's Store. Once they enter the Fix-It Shop, Luis answers a call meant for Miles; it's Big Bird, who wants to play "telephone" with him. When they meet Big Bird outside, Gordon asks why he didn't just say so earlier. Big Bird replies that he had to make sure Miles knew how to play.

Cartoon
A salesman offers a passerby the letter N for next to nothing.
Artist: Cliff Roberts
(First: Episode 1804)

Film
A woman repairs wires for the telephone company.
(First: Episode 0771)

Muppets
Bip Bippadotta and friends show none, some and all.
(First: Episode 0615)

Cartoon
The weary traveler asks the wise man to demonstrate none, some, most and all with a basket of oranges.
(First: Episode 0976)

Cast
Linda signs "wind" and David is blown away.
(First: Episode 1325)

Cartoon
A man uses his memory to tell a woman how to get to a red house.
(First: Episode 2185)

Film
A young baboon sits on the back of their parent as they cross the plain.
Music: Joe Raposo
(First: Episode 0299)

Muppets
An Anything Muppet girl shows the viewers that the number 11 is the same right side up and upside down.
(First: Episode 0183)

Cartoon
Pick the right ET word (featuring the Zet)
(First: Episode 0473)




Muppets
Snuffy brings his TV over to Big Bird's nest so that he, Big Bird, and some kids can work out along with Jane Snuffleupagus.
(First: Episode 2076)

Cartoon
A loud-voiced girl talks about her dog, Pete.
Artist: Bruce Cayard
(First: Episode 1266)

Muppets
Alphabet Chat: Lord Chatterly's poem on the letter L ends in chaos as usual.
(First: Episode 0762)

Animation
A kerosene lamp assembles itself in stop-motion.
(First: Episode 1473)

Muppets
The Two-Headed Monster learns to use manners while eating with a spoon.
(First: Episode 1340)

Cartoon
L es para luz
(First: Episode 0373)

Insert
Maria blindfolds two girls as they guess what objects are by feeling them.
(First: Episode 2043)

Cartoon
A tiny ant pushes the huge N into its place in the alphabet.
(First: Episode 0780)

Muppets / Celebrity
Lena Horne and The Anything Muppets sing an upbeat version of "The Alphabet Song".
(First: Episode 0575)

Film
A still of construction equipment fades into a shot of a parrot.
(First: Episode 1535)




SCENE 4
Susan and Gordon leave some fortune cookies with Elmo and Oscar, who work out a system: Oscar breaks the cookies with a mallet, and Elmo eats them. Elmo points out that they're cooperating, to which Oscar shrugs "It's worth it."

Cartoon
A blue man demonstrates in and out with the help of a barrel.
(First: Episode 2084)

Muppets
Grover the elevator operator gives a demonstration of in and out which annoys the passengers.
(First: Episode 0511)

Film
Counting 20 boxes
Music: Joe Raposo
(First: Episode 0510)

SCENE 5
Elmo eggs on Oscar to break another cookie, and Oscar reads its fortune, which includes the sponsors. Oscar smashes another cookie which has the CTW mention.