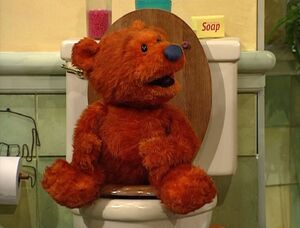 Bear and Tutter are trying to have a fun game of checkers, while Ojo and Treelo are having their own fun playing. For some reason, though, everyone seems to be talking about the toilet and the bathroom. It all starts when Tutter needs to use the toilet during his game of checkers with Bear, but doesn't want to leave the checkers game. Bear assures him it will still be waiting for him. Tutter uses the bathroom and then washes his hands, stating that his Grandma Flutter taught him to. Later, Ojo has an accident and is very embarrassed, but Bear lets her know it's okay --- accidents can happen to anyone. When Pip and Pop hear about the day's events, they invite everyone to join their secret club --- The Mystic Order of the Toileteers. It's for everyone who uses, or is going to use the potty.
Songs
Gallery
Notes
This episode was adapted in book form in 2000.
The Toileteers is a parody of Disney's Mouseketeers.
Tutter's toilet is within just a few mouse feet of the hole itself.
When a diaper appears after Bear states "When you're a baby, you wear a diaper," a brief instrumental riff of "Look at You Now" from "Ooh Baby, Baby" is played. It is also heard again later when Bear discusses this with Treelo.
Video releases
Community content is available under
CC-BY-SA
unless otherwise noted.