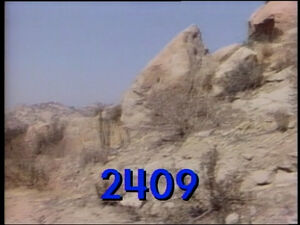 Picture
Segment
Description

SCENE 1
Grundgetta has prepared a special gift for lovebirds Maria and Luis - a scrapbook of various bits of trash from some of their dates (such as a paper bag and popped balloon). At first, the couple isn't thrilled, but realize the items bring them pleasant memories, which Grundgetta can't stand.

Cartoon
Sign Sounds: OINK
(First: Episode 1163)

Muppets
Hill Street Twos
A frustrated police chief tries to get officers Ernie, Grover, and others into groups of two for their beat.
(First: Episode 2359)

Cartoon
Pinball Number Count #2
Artist: Jeff Hale
(First: Episode 0987)

Film
The Steam Shovel
(First: Episode 1144)

Cartoon
A face is drawn, but the mouth complains when it is drawn last.
(First: Episode 1897)




SCENE 2
Elmo leans over a box, looking rather uncomfortable, but claims he has a guessing game for Bob and the kids. He describes what's inside the box - it comes in pairs and is used for walking. It's not a shoe or sock - it's Elmo's foot!

Cartoon
P for Planet
(First: Episode 2008)

Film / Song
"At the Animal Doctor": Two boys take their dog to the vet
(First: Episode 1016)

Cartoon
Lazy Wanda's knees converse with each other.
Artist: Bruce Cayard
(First: Episode 1075)

Muppets
Ernie & Bert — During the rain, Ernie stands under an umbrella explaining how the weather makes him feel happy, sad, and mad. Bert has been trying to get under the umbrella with him, telling Ernie that all it has made him feel is wet. Ernie wonders why he doesn't have his umbrella; Bert explains that it's because Ernie is using it. Ernie thanks him and leaves Bert sneezing in the rain.
(First: Episode 0137)

Cartoon
The word SALIDA exits through a white square.
(First: Episode 0588)

Muppets
The Two-Headed Monster fights over the letters P and R, one of them displaying P foods and the other one displaying R foods (and a radio). They have a picnic, which is cut short due to rain.
(First: Episode 1574)

Animation
Where does the square fit?
(First: Episode 1599)

SCENE 3
Hoots the Owl has a "SALIDA" sign hanging from his saxophone. He plays a few jazzy notes, then sings the word. When Luis inquires about this, Hoots explains that he's grooving to the Spanish word that means "way out." Luis clarifies that by "way out," it means an exit, not the groovy slang. Hoots isn't deterred, claiming that his sax acts as a "salida" for music coming from his mouth.

Film
SALIDA (word spins around)
(First: Episode 0967)

Cartoon
P is for Pillow
(First: Episode 0374)

Muppets
Muppet & Kid Moment — Grover talks to Chelsea about what their eyes, ears, nose, and mouth can do. Chelsea mentions that they both have them and also have hands, feet, bellies, necks, arms, backs, and shoulders. Grover replies they have a cornucopia of parts, which means they have a lot of good stuff.
(First: Episode 2389)

Song
Joe Raposo sings "Two is You and Me."
(First: Episode 0375)

Muppets
Sesame Street News Flash
Kermit the Frog talks to people waiting in line for a football game being held at the SuperGame Stadium. A woman explains why she is last in line, and points out that Kermit is actually last, although Kermit insists that he is not in line. He goes to the front of the line and finds out that the first two people in the line are in a disagreement over which of them is first in line. The gate opens, and everyone walks all over Kermit.
(First: Episode 1327)

Cartoon
Geronimo 10-0: instead of a parachute, the girl is carried to the ground by four birds.
(First: Episode 2249)

Muppets
Simon Soundman goes to Marvin's Music City to buy a nice shiny trumpet. However, Marvin keeps bringing the wrong instrument.
(First: Episode 0458)

Animation
Sand D/d
(First: Episode 0640)

Muppets / Celebirty
Big Bird watches Billy Dee Williams measure two kids. Big Bird is taller than the wall they're using, so Billy quickly builds an extension to find Big Bird's height.
(First: Episode 1805)

Cartoon
It's a whale
Artist: Ishu Patel
(First: Episode 1684)

Muppets
"The Dirtiest Town in the West"
(First: Episode 1461)

Film
A boy paints a picture of a porcupine on glass.
(First: Episode 0064)

Cartoon
Kids see animals in their alphabet soup.
Artist: Michael Sporn
(First: Episode 1976)

SCENE 4
Telly Monster tries to teach Baby Natasha to play a four-note tune on the xylophone, but Natasha wildly bangs at the instrument instead. Bob assures Telly he's a good teacher, but Natasha is just too young to play like that. Natasha wants Telly to play like she does and babbles notes when he doesn't get it the way she wants.

Cartoon
Two flies land on a man's nose and take a bite.
Artist: Cordell Barker
(First: Episode 2364)

Film
A baby monkey
Music: Joe Raposo
(First: Episode 0280)

Muppets
Harvey Kneeslapper approaches a man and says, "Knock, knock!" The man asks, "Who's there?". Harvey says, "Dion." The man asks, "Dion who?" Then Harvey slaps a letter D on the man's chest and says, "D on you!"
(First: Episode 0292)

Cartoon
A girl picks the key that matches the keyhole in order to gain access to a cache of toys.
Artist: Dan Haskett
(First: Episode 2050)

SCENE 5
Telly and Bob listen to a cassette of Ludwig van Beethoven's "Pastoral Symphony," as Bob describes a story to go along with it to better engage Telly to the music.

Cartoon
A chicken gets an idea to sit on a football and hatch it like an egg.
Artist: Dan Haskett
(First: Episode 2360)

Film
Kids count 5 racehorses.
(First: Episode 0433)

Cartoon
Two stick figures use the salida.
(First: Episode 2079)

Cast
David sings "Mary Had a Little Lamb" while Linda signs it.
(First: Episode 1157)

Animation
¿Que es esto? (una vaca)
(First: Episode 1978)

SCENE 6
Telly now plays the tape for Natasha and tells the story to her.