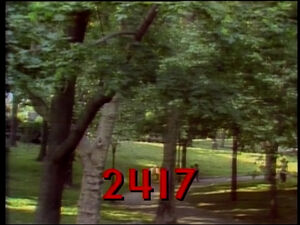 Picture
Segment
Description

SCENE 1
Elmo learns what a dinosaur is from Big Bird, who suggests they pretend to be dinosaurs. Elmo starts meowing, until Big Bird points out dinosaurs don't sound like that...but, what do dinosaurs sound like? They decide to make noises based on Elmo's favorite words: "Happy Birthday!"

Animation
Floral patterns are formed to Eastern European music.
(First: Episode 1808)




Muppets
An Anything Muppet man arrives at a gas station, hoping to be filled in a short time. Instead, his car takes a long time to fill while the attendant fills other cars in a short time.
(First: Episode 0540)

Animation
Sand C/c
(First: Episode 0625)

Insert
Olivia sings "Birdland" at Birdland.
(First: Episode 2304)

Film
The Mad Painter #6
(First: Episode 0335)

Animation
Yellow drops don't want to play with a red ball at first, but they make a good flower together.
(First: Episode 1895)




SCENE 2
Gina is babysitting Natasha, when Big Bird arrives, wishing to use the baby in a talk on subtraction. Gina states babies can't subtract, when Natasha demonstrates by knocking her blocks over and flinging her food away.

Cartoon
Five tail feathers are subtracted from a peacock.
(First: Episode 1449)

Animation
A white shell is uncovered in the sand.
(First: Episode 2061)

Cartoon
Speech Balloon: C - Cap
(First: Episode 0154)

Muppets
The American Revolution: The Declaration of Independence
Thomas Jefferson (Don Music) has trouble getting a replacement quill to finish the Declaration when Mr. Grover misinterprets what he needs, bringing a drill, and a chicken named Phil.
(First: Episode 2345)

Cartoon
Yo-yo elevator
(First: Episode 1971)

Insert
Snuffy shows Susan and some kids how to do "The Snuffle Shuffle."
(First: Episode 2225)

Film
A kindergarten class takes a field trip to the fire station.
(First: Episode 1217)

Cartoon
The Alphabet Song (country, gospel, Mexican)
Artist: Paul Fierlinger
(First: Episode 1576)

Muppets / Cast
Cookie Monster has agreed to help Maria on her lecture on good things to eat. Unbeknownst to Cookie, she has raisins, cucumber spears, carrot sticks and apples. Cookie tries all of them and he likes them. He finishes by eating all the dishes.
(First: Episode 1518)

Cartoon
Counting 1 to 6 with fruits and veggies
(First: Episode 1767)

SCENE 3
Big Bird and the Birdketeers meet Bob at the bus stop and try to give him the latest issue of "Birdketeer Magazine," a publication made by and about the club. Bob is interested and asks for an issue to read on the bus, but there's two catches: he receives them as separate sheets and the Birdkeeters come with them.

Cartoon
"I in the Sky"
(First: Episode 0368)




Film
A montage of the evolution of mechanical technology, from wind-up toys, to robots that can spell "SESAME STREET" with blocks, to satellite transmitters.
Music: "Portrait d'un robot", composed by Janko Nilovic
(First: Episode 2226)

Muppets
Wearing oven mitts, Telly places an H and an OT together to make the word HOT.
(First: Episode 1536)

Cartoon
Animated quilt patterns.
(First: Episode 1470)

Film
Kids talk about building sand castles and sand structures at the beach.
(First: Episode 1122)

Celebrity
The Professor (Sid Caesar) talks to the kids about the nose. A Honker adds one can honk their nose.
(First: Episode 2035)

Cartoon
Sign Sounds: HOT DOG
(First: Episode 1142)

Muppets
Fashion Report
Ernie gives a report on what the well-dressed trees are wearing each season.

Cartoon
Black cat, white cat, orange cat, marmalade cat, mouse cat, bird cat, chasing balls of string cat.
Artist: Jeff Hale
(First: Episode 1141)

Film
Elephants (African percussion soundtrack)
(First: Episode 0389)

Cartoon
The Ringmaster displays six marvelous monkeys who do stunts.
(First: Episode 1289)

Muppets
Kermit the Frog sings "Do-Op Hop".
(First: Episode 2071)

Film
An I-beam is molded at a steel factory as heavy industrial-type music underscores the action. The segment ends on a video freeze of the finished beam, which is shaped like the letter "I."
(First: Episode 1077)




SCENE 4
Elmo shows Gordon and Miles a book he's just finished writing, entitled "Five Things Elmo Can Do." These include jumping, singing, dancing and making a funny face, when the book comes to an abrupt end before a fifth thing is named. Elmo points out that the fifth thing he can do is write a book. He realizes more things he can do - say goodbye and even feel proud about the things he can do.