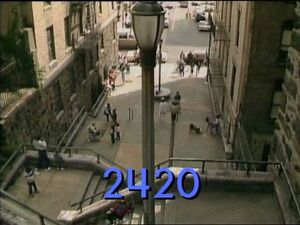 Picture
Segment
Description

SCENE 1
Big Bird and Snuffy are trying to play baseball, when Alice gets in their way. Snuffy tells Alice to go far from him, which is also near Big Bird. She goes back and forth between them, and finally rests for a nap.

Cartoon
W for Wash
(First: Episode 0485)

Muppets
Ernie & Bert — Ernie wears socks on his ears and on his nose in order for Bert to guess which body part he's thinking of.
(First: Episode 1640)

Song
Joe Raposo sings "Me."
(First: Episode 0421)

Animation
Un rectangulo
(First: Episode 1630)

Muppets
Muppet & Kid Moment — Grover and Jesse talk about love.

Film
George the Farmer demonstrates in and out.
(First: Episode 0293)

Insert
Forgetful Jones thinks of ways of remembering, as visions of Maria, Luis and Gordon appear with a musical, vaudeville message - "Write It Down."
(First: Episode 2295)

Cartoon
A man walks in an IN.
(First: Episode 0511)

Film
Sounds Around the House v1: a dripping water faucet, a man playing the violin, a woman vacuuming, a teenager listening to pop music, and a passing elevated train.
(First: Episode 1706)

Cartoon
Poverty F
(First: Episode 0128)

Muppets
Pageant: How a flower grows
Gladys the Cow stars as a seed. Ernie plays a rain cloud and Herry Monster is the sun, whose attentions cause the seed to bloom into a flower.

Cartoon
W for Willamina
(First: Episode 0512)

Insert
Don Music is playing some music at Hooper's Store, but David isn't so sure about it. Don plays a medley of soft songs, then a loud one. Don realizes that the music he plays should make the customers think of food and brings in the Cooking Choir, a bunch of kids who sing about David cooking, then the customers eating.
(First: Episode 2325)

Film
A girl narrates a segment about nature through winter and spring.
(First: Episode 1966)

Cartoon
Ralph asks Marvin what would happen if he didn't have a mouth, a nose and ears.
(First: Episode 0468)

Muppets
Monsterpiece Theater: "Ali Baba and the Forty Thieves"
The forty thieves insist that they be introduced along with Ali Baba before the story begins, but by the time Alistair Cookie finishes counting them, the show has run out of time.
(First: Episode 2402)

Cartoon
"Pinball Number Count" (#12)
Artist: Jeff Hale
(First: Episode 0985)

Film
Two kids watch as a veterinarian fixes a baby robin's wing, then lets it go.
Music: Joe Raposo
(First: Episode 2292)

Muppets
Telly, Monster on the Spot reporter, interviews Nicole on being a big sister. He doesn't get too far interviewing her little brother though.
(First: Episode 1963)

Cartoon
What's missing? (cow)
(First: Episode 2028)

Film
A group of kids pick apples in an orchard, and take them into the cider mill to make apple cider.
(First: Episode 1585)

SCENE 2
Big Bird meets the Kronos Quartet in the arbor. They explain to him how a string quartet works and how it's something like how they're communicating.

Cartoon
"The Story of Princess Twelvia".
Artist: Irra Verbitsky
(First: Episode 1676)

Muppets
Sesame Street News Flash: Prince Charming kisses Sleeping Beauty, intending to wake her up. To his astonishment, she turns into a frog and hops off with Kermit.
(First: Episode 0453)

Cartoon
What if we celebrate Valentine's Day with chickens instead of hearts?
(First: Episode 0488)

SCENE 3
The Kronos players kick around a soccer ball with Big Bird, showing him how passing the ball to one another is something like how they practice playing music.

Cartoon
"¡Él juega fútbol!"
(First: Episode 2104)

Cast
Gordon and the word "wand."
(First: Episode 1491)

Cartoon
W For Wilbur
(First: Episode 0366)

Film
A rhino and her baby (sepia-toned)
(First: Episode 0408)

Cartoon
A woman serves milk to her cat. Several other cats join him, including a lion.
Artist: Bruce Cayard
(First: Episode 1017)

SCENE 4
Joan observes that her horsehair bow is broken. Buster arrives, ready to help her.

SCENE 4
cont'd
The quartet plays the Sesame Street Theme during the credits, as Snuffy announces the sponsors.