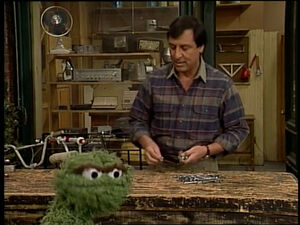 Picture
Segment
Description

Insert
Maria introduces Snuffy to Baby Natasha. Snuffy tries to teach Natasha how to say things like "table," "chair" and "street." She does succeed in learning how to say "Oh, dear" like Snuffy.
(First: Episode 2215)

Film
Footage of a baby learning to walk.
Music: Joe Raposo
(First: Episode 0427)

Cartoon
Letter E ("See me... eating a peach...")
Artists: The Hubleys
(First: Episode 0001)

Celebrity
The Four Tops sing "Please Be Careful," a song about safely crossing the street.
(First: Episode 2256)

Muppets
Two-Headed Monster: RUN
(First: Episode 1446)

Cartoon
What Do You Do With a Pet?
(First: Episode 0465)

Muppets
Ernie & Bert — Ernie and Bert build a snowman, but Ernie fears that the snowman will be cold if they don't dress him. Even though Bert tries to tell him that snowmen aren't alive and can't feel the cold, that doesn't stop Ernie from dressing the snowman in Bert's clothing.
(First: Episode 1824)

Cartoon
E for Eel
(First: Episode 0408)

Insert
David shows the kids a letter from his grandmother's farm and leads them in a musical game - "What Do You Do on a Farm?" - as they act out the different chores.
(First: Episode 1776)

Film
Kid voiceovers identify a horse's body parts (shown one at a time), then the complete animal.
Music: Joe Raposo
(First: Episode 0428)

Animation
Bob reads the kids a story about seven mice, with some animated mice displaying the story. (sans Bob framing scenes)
(First: Episode 1699)




Cast / Muppets
Olivia reads the story of "How the King Got His Kazoo."
In the story, a king wants to have a party and asks his subjects to bring the royal kazoo. The subjects don't listen and instead bring the royal canoe, then shampoo and finally, zoo. One little girl tries listening and successfully brings him his kazoo. He appoints her the Royal Listener, who will listen to the king and tell the rest his requests.
(First: Episode 1773)

Cartoon
A girl sings about the things she can draw, paint, and sculpt.
(First: Episode 1987)




Cast
In a spoof of the famous Mean Joe Greene Coke commercial, football player Big Murray (Gordon) accepts a number 7 from a young fan, whom he rewards with a towel that also has a 7 on it.
(First: Episode 1535)

Cartoon
Magical Herman's number trick
(First: Episode 0773)

SCENE 1
Oscar passes by the Fix-It Shop and, deciding to do something nice today, says "Hello" to Luis, who's busy counting nails. Oscar inadvertently makes Luis lose his place, then begins using this his grouchy advantage. "Sometimes it's actually fun to be nice!"

Cartoon
A boy and girl fight over the word YO. Luckily, he has a spare.
(First: Episode 0486)

Muppets
On the vaudeville stage, Big Bird and Snuffy identify S words and tell gum-wrapper jokes.
(First: Episode 2020)

Cartoon
A girl inflates a balloon in the shape of an S.
(First: Episode 0414)

Muppets
Waiter Grover: Grover brings Mr. Johnson a bowl of alphabet soup. Mr. Johnson complains that some of the letters are missing, and makes Grover run back and forth to the kitchen to bring the missing letters. When all the letters are there, Johnson complains that the soup is cold, and makes Grover take it back.
(First: Episode 0276)

Film
An ice cream man hands a boy too many cones. The boy cries out for "HELP" and some kids eat the extras.
(First: Episode 0484)

SCENE 2
Bob plays some music for Snuffy, Alice and the kids. With each song, he asks them to dance the way they feel.

Cartoon
The numbers keep changing from 1 to 20 as corny music plays in the background. (Maria narration added)
(First: Episode 1465)

Muppets
Kermit at Home: While Kermit is at home typing his autobiography, salesmonster Telly comes to his doorstep and asks if Kermit wants to buy a head warmer. Telly keeps worrying he's not doing a good job, and that Kermit won't want one. But Kermit reassures him that since he does have a head, he will have a use for a head warmer, unlike the things Grover sells (toothbrushes, earmuffs, and nose warmers). When Kermit puts the head warmer on, it covers his entire head. Telly remarks, "Kermit! It's -- it's you!"
(First: Episode 1877)
Cartoon
Two balls follow an arrow down a hole.
(First: Episode 2035)

Film
A boy and his dad go on a hike.
(First: Episode 1801)

SCENE 3
Big Bird does some silly tricks for Barkley, but doesn't understand why he's not laughing. Bob shows that dogs show that emotion by wagging their tails.

Cartoon
E for Elephant & Elk, the nominees for best E animal.
(First: Episode 0486)

Film
A film shows parts of an elephant in close-ups.
(First: Episode 0034)

Cartoon
The Magnificent Splasho demonstrates before & after
(First: Episode 0694)

Muppets
Ernie & Bert — Ernie wants to have some cookies. Bert asks Ernie if he knows what "before" means, and Ernie demonstrates by saying that before he can have a cookie, he has to open the lid to a cookie jar, and after he closes the lid, he eats the cookie. He demonstrates a few times, until he loses his appetite for dinner.
(First: Episode 0007)

Cartoon
The Ringmaster introduces seven swimming seals.
Artist: Jeff Hale
(First: Episode 1312)

SCENE 4
Barkley recites dog jokes for Big Bird and the kids, who have attached fake tails to their rears to wag in response.
Community content is available under
CC-BY-SA
unless otherwise noted.