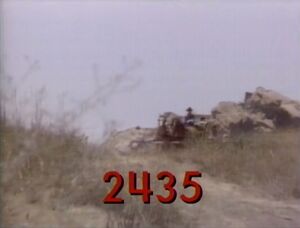 Picture
Segment
Description

SCENE 1
Snuffy tries to get Alice to welcome the viewer, but she plays and runs around instead.

Cartoon
Two alpine climbers hike up a letter Z and stake a claim on it.
(First: Episode 0281)

Muppets
Ernie & Bert — Bert refuses to share his cookie with Ernie, who tells Bert that if the cookie was his, he wouldn't mind sharing. Ernie takes the cookie, and asks Bert to ask him if he would share it.
(First: Episode 0472)

Cartoon
A boy shares his bubbles with some kids dancing in a field.
(First: Episode 1926)

Film
Children narrate footage of a termite colony.
(First: Episode 0408)




Muppets
Camp Wannagohoma: Grover tries to show the campers what is alive in the forest, but they keep correcting him.
(First: Episode 1791)

Cartoon
Christopher Clumsy jumps over a hole, and falls into another hole.
Artist: Cliff Roberts
(First: Episode 0439)

Insert
Bobby McFerrin performs his version of "The Alphabet Song" for Hoots, David, and the kids.
(First: Episode 2342)

Cartoon
"Poverty Z" -- A figure tries to sell a Z. His only customer stops him by locking him inside a zoo cage.
Artist: Cliff Roberts
(First: Episode 0085)

Song
Luis sings "Follow the Arrows" as a man does so.
(First: Episode 1642)

Cartoon
A girl tries on big, bigger, and the biggest shoes.
Artist: Bruce Cayard
(First: Episode 0252)

Muppets
The Two-Headed Monster reads "SAD."
(First: Episode 1422)

Song
Joe Raposo sings "Look a Little Closer." (hand)
(First: Episode 0147)

Muppets
Guy Smiley sings "I'll Love You in Springtime."
(First: Episode 2088)

Cartoon
A supermarket worker stacks 12 cans, which keep collapsing every time someone grabs one.
(First: Episode 0782)




SCENE 2
The Martians spy on Maria and Luis from afar and identify the different emotions the couple expresses.

Cartoon
Z for Zebu
Artist: Bud Luckey
(First: Episode 1185)

Muppets
An Anything Muppet man sings about the word "Salida"...and refuses to stop.
(First: Episode 1300)

Animation
Henson Films: Number Twelve Rocks
(First: Episode 0195)

Film
A baker decorates a birthday cake to a jazz percussion beat.
(First: Episode 1172)

Muppets
Kermit's Lectures: Kermit talks about the letter Z, but it turns up and becomes an N.
(First: Episode 2102)

Film
David points out the circular shape of a tire.
(First: Episode 0670)

SCENE 3
Elmo draws as Maria does some work on the broken radio. Luis comes by with a bag of food for their barbecue date tonight, as well as some flowers. Elmo fetches his own food (a banana) and some twigs as flowers for Maria. He thinks Maria no longer loves him since she's in love with Luis now, but she assures him she loves them both in different ways. Elmo celebrates by jumping up and down, inadvertently bumping the radio and bringing it back to life. As it plays "The Blue Danube," Luis offers Maria a dance, but Elmo runs up and waltzes with him instead.

Cartoon
A cat chases a mouse into a mouse hole. The cat and mouse make music as they hit the wall, until the cat breaks through the mouse hole.
Artist: The Hubleys
(First: Episode 0244)

Cast
Big Bird, Susan and Bob sing "Can Read" while at a newsstand.
(First: Episode 2268)

Animation
G/g musical notes (Gordon voiceover)
(First: Episode 2233)

Film
The Flashettes track team trains for an upcoming race.
(First: Episode 1151)

Cartoon
Lazy Wanda's knees converse with each other.
Artist: Bruce Cayard
(First: Episode 1075)

Muppets
A shark sings about his "Perfecty Pearl-White Teeth."
(First: Episode 1446)

Film
SALIDA (word spins around)
(First: Episode 0967)

Cartoon
Geronimo 10-0: instead of a parachute, she is carried to the ground by four birds.
(First: Episode 2249)

Insert
Count von Count and the kids practice brushing their teeth.
(First: Episode 1028)

Animation
2 houses plus 3 houses equal 5.
(First: Episode 0283)

Film
Photographic collage demonstration of ALL, MOST, SOME and NONE of an apple.
(First: Episode 0979)

Muppets
Cookie Monster sings "Cookie Disco."
(First: Episode 1054)

Cartoon
A gorilla names "G" words.
(First: Episode 1831)

SCENE 4
Snuffy is surprised when Alice manages to say "goodbye" properly, but finds she's run out of his care again.