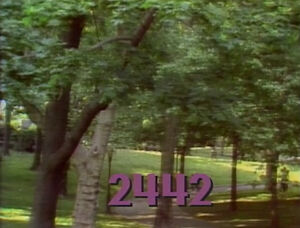 Picture
Segment
Description

SCENE 1
Gina has prepared some special items for lunch at Hooper's Store. However, everyone who passes by is instead attending a special luncheon at Birdland. Big Bird is also going, but needs a food item first for a game with Mr. Snuffleupagus. Gina offers her tacos and tuna salad, but all Big Bird needs is a single pea.

Cartoon
T is for Television
(First: Episode 0024)

Film
With their teacher, kids play clapping and dancing games about the rhythm in their names.
(First: Episode 1735)

Cartoon
A boy puts a red and green monster together using a diagram.
(First: Episode 1014)

Muppets
Grover volunteers to assist the Amazing Mumford in his rhyming magic trick, making three things come out of his hat that rhyme with "knee". Grover guesses the first one (key), but doesn't get the last two (ski and tree) right.
(First: Episode 0455)

Cartoon
Travis Travel demonstrates different methods of transportation.
(First: Episode 1459)

SCENE 2
At Birdland, Athena assigns Big Bird the role as host, instructing him to show people to their seats. Olivia, Maria and Luis arrive and Big Bird can't decide whether they should have a table in front or in back of the establishment.

Film
A little girl gets herself a glass of AGUA.
(First: Episode 0929)

Cartoon
How they say "good night" in Haiti and in India.
(First: Episode 1824)

Muppets
Ernie & Bert — Ernie and Bert play "the feelings game."
(First: Episode 2356)

Cast
Via split-screen, two Lindas sign letters of the alphabet: one is no-nonsense, and the other is very playful. A male voiceover narrates the letters with the same demeanor Linda signs them in.
(First: Episode 1354)

Cartoon
T for Turtle
Artist: Jeff Hale
(First: Episode 1146)

SCENE 3
As a crowd flutters in, the adults are finally situated at a table everyone approves of. Athena invites Olivia to perform a song, so she leaves to get ready. Big Bird points out that Maria and Luis can't have a table for three if there's only two of them and assigns them a new place to sit.

Film
Six apples minus three equals three
(First: Episode 2257)

Film
Lions walk down a trail.
Music: Joe Raposo
(First: Episode 0367)

Muppets
The American Revolution: The Declaration of Independence
Thomas Jefferson (Don Music) has trouble getting a replacement quill to finish the Declaration when Mr. Grover misinterprets what he needs, bringing a drill, and a chicken named Phil.
(First: Episode 2345)

Cartoon
Would you mind closing our OPEN?
(First: Episode 0512)

Muppets
"It is I, Captain Vegetable!"
(First: Episode 1741)

Cartoon
A frog looks for AGUA.
(First: Episode 1942)

SCENE 4
Back at Hooper's, Gina wonders what she's going to do with all the lunch specials she's prepared. Old Mother Hubbard and her dog enter so the dog can finally get something to eat. He's so hungry, he has samples from all the different specials and Hubbard creates a new nursery rhyme for the occasion.

Cartoon
Animals who eat crunchy things have nice teeth.
(First: Episode 1487)

Film
The Mad Painter #11
(First: Episode 0329)

Muppets
Anything Muppets perform an opera about front and back (to the tune of "The Blue Danube").
(First: Episode 1391)

Cartoon
An O rolls over and over a horse. The horse eats the O.
Artist: John Paratore
(First: Episode 0173)

Celebrity
Edith Ann talks about the time she made a sandwich.
(First: Episode 0890)
Muppets
Sesame Street News Flash
Cinderella's Fairy Godmother tries to make a beautiful ball dress appear on Cinderella without success: it ends up on Kermit instead.

SCENE 5
Back at Birdland, Athena introduces Olivia, who sings "The Birds in Your Neighborhood" with some of the customers.

Cartoon
The rabbit and the turtle race to the top of a building. The rabbit goes up forty steps, but the turtle takes the elevator.
(First: Episode 2258)

Film
Sesame Street Animal Films: Crocodile
Music: Joe Raposo
(First: Episode 0410)

Cartoon
The Ringmaster displays 11 purple pooches.
Artist: Jeff Hale
(First: Episode 1347)

Muppets
Outside his castle, The Count asks The Countess Natasha to marry him. He counts her replies, all of which are "no".
(First: Episode 1015)

Cartoon
A bird transforms into a plane, a car, a cat, a fish, a submarine, Submarine Man, and back to a bird.
Artist: Vince Collins
(First: Episode 1616)

Film
Wheelchair races at the Special Olympics
(First: Episode 0898)

Cartoon
La letra O - opera, oeste, orquidea, ojos, ocho, y el orquestra de orangutanes.
(First: Episode 0338)

SCENE 6
Gina tells the viewer that Mother Hubbard's dog ate everything for lunch. He returns and says he's recommended Hooper's to many of his friends. Soon, Little Miss Muffet, Little Red Riding Hood and the Three Bears show up to eat.
Notes