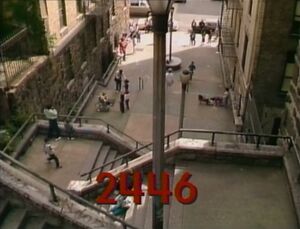 Picture
Segment
Description




SCENE 1
Bob comes into the library, where Slimey is writing his own book in order to add a section to the library for worm readers. Sure enough, as soon as he's finished, a fellow worm checks it out.

Cartoon
"Martian Beauty" has nine hairs, nine bows, nine eyes, nine nostrils, nine arms, and nine toes.
Artist: Bud Luckey
(First: Episode 0316)

Muppets
Sesame Street Game Show: Where Do I Belong?
Guy Smiley hosts a show which helps its contestants figure out where they belong.
(First: Episode 2318)

Cartoon
Sign Sounds: One Way
(First: Episode 1125)

Film
Kid voiceovers identify a horse's body parts (shown one at a time), then the complete animal.
Music: Joe Raposo
(First: Episode 0428)

SCENE 2
Various Muppet horses gather around as Buster the Horse reads "The Letter U Mystery," with Linda signing along. The story describes a cowpoke, who finds letter Us marked all over his house. He then discovers they were made by his horse's horseshoes.

Cartoon
Abierto: Ali Baba arrives a bit late and gets run over by the 40 thieves leaving.
(First: Episode 0467)

Muppets
Ernie & Bert — Ernie brings a surprise home, and he tells Bert to guess what it is. The surprise turns out to be a puppy. Bert wants to call the puppy "Norman"; Ernie suggests "Godzilla the Wonder-Dog".
(First: Episode 1956)

Cartoon
A man needs directions to Maple Street. A citizen gives him a complicated set of directions, while a little girl points out they're already there.
(First: Episode 2095)

Muppets
The Beetles are "Thinking of U."
(First: Episode 1486)




Film
A montage of the evolution of mechanical technology, from wind-up toys, to robots that can spell "SESAME STREET" with blocks, to satellite transmitters.
(First: Episode 2226)

SCENE 3
Linda now assists Meryl Sheep in her reading of Sam the Shepherd's poem, "Born to be Shorn."

Cartoon
"Measurin', Measurin'" - a song about tools that are used to measure.
(First: Episode 1822)

Muppets
Ernie watches the Twiddlebugs, who are about to head for Hooper's Store in the rain, but they notice that they need something to keep themselves dry. Tessie remembers that an umbrella helps, so they take one.
(First: Episode 1342)

Cartoon
W for Wilbur
(First: Episode 0366)

Muppets
Muppet & Kid Moment — Grover and Erik play a rhyming game.
(First: Episode 1754)

Film
Anne Meara narrates a silent film of a woman in a burning building, who needs HELP.
(First: Episode 0506)

Celebrity
Mookie Wilson and Keith Hernandez of the New York Mets help teach Snuffy to hit the ball.
(First: Episode 2351)

Cartoon
A pig sings "There Are Chickens in the Trees" until a rooster tells him that chickens don't live in trees.
Artist: Jeff Hale
(First: Episode 1394)

Film
A day in the life of a quarter that accidentally turns yellow.

Cartoon
A man (voiced by Jack Dodson) describes places that begin with U and what you can do with the letter U.
(First: Episode 0416)

Muppets
"The Subway"
(First: Episode 0762)

Cartoon
Nine birds land in a tree.
Artist: Owe Gustafson
(First: Episode 1501)

SCENE 4
Barkley is very active today, playing around Maria as she tries to do work. Oscar takes the opportunity to discuss opposites and shows how Barkley does the opposite of what he's asked.

Cartoon
A kid removes a manhole cover, out of which comes the word ABIERTO.
(First: Episode 2086)

Muppets
Ernie doesn't want to play with Bert, who sings "I Wish I Had a Friend to Play With Me".
(First: Episode 1819)

Cartoon
"Wanda the Witch"
Animation by Tee Collins
(First: Episode 0001)

Film
A variety of cat-shaped objects walk in front of the screen.
(First: Episode 1802)

Cartoon
The front and back of a costumed horse follow an ice cream truck.
(First: Episode 0782)




SCENE 5
Big Bird and Luis watch as Mr. Snuffleupagus tries replicating the image of the Mona Lisa from a Snuffleupagus-sized postcard. His version gives her a snuffle and places her in a cabbage patch.

Song
"All By Myself"
(First: Episode 2044)

Muppets
Kermit has a leak in his roof, and the Monster Repair Team, consisting of plumber Grover, telephone repairman Herry, and a girl electrician monster, comes to the rescue. Grover fixes the leak, but he had to remove a telephone wire. Herry fixes the telephone and removes several electric wires. The electrician monster solves the problem; except she had to take away a pipe.
(First: Episode 2377)

Cartoon
Typewriter: U for Umbrella
(First: Episode 0808)

SCENE 6
Snuffy now draws Maria and Luis, only has them face away from him so he doesn't wind up giving them snuffles. He does mention he's managed to give them shaggy tails, though. Aghast, Maria and Luis announce the sponsors.