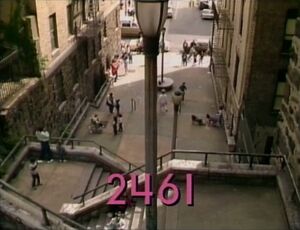 Picture
Segment
Description

SCENE 1
Bob interrupts Forgetful Jones' train of thought as he tries to remember what he was going to do. Forgetful recalls he was going to do something involving an L word. Bob points to the lunchbox, but Forgetful has already eaten his lunch. He finally remembers he needs to bring his laundry to be clean, which he keeps in the lunchbox.

Cartoon
"I Can Remember": A little girl remembers what to buy at the store (A loaf of bread, a container of milk, and a stick of butter) by visualizing her mother giving the instructions.
Artist: Jim Simon
(First: Episode 0408)

Film
Two kids cooperate on putting on smocks for painting.
(First: Episode 0284)

Cartoon
Z for Zebu
Artist: Jeff Hale
(First: Episode 1185)

Muppets
Ernie & Bert — Ernie tries to put a pot on Bert's head. Bert asks Ernie why he's doing that, and Ernie says that he broke a cookie jar. Ernie has to put the cookies somewhere, so he put them in the sugar bowl – and put the sugar in the flowerpot, which meant that he had to put the flower in a milk bottle. He put the milk in the soda bottle, the soda into the fishbowl, and the fish in Bert's cowboy hat. Bert asks, "Now what am I going to wear when I want to play cowboy?" Ernie puts the pot on Bert's head and says, "Ride 'em, cowboy, Bert!"
(First: Episode 0305)

Animation
Three stripes form a jazz trio.
(First: Episode 2410)

Insert
Maria blindfolds two girls as they guess what objects are by feeling them.
(First: Episode 2043)

Cartoon
"Six Soccer Socks"
Artist: Paul Fierlinger
(First: Episode 1670)

Muppets
Monsterpiece Theater: "Ali Baba and the Forty Thieves"
The forty thieves insist that they be introduced along with Ali Baba before the story begins, but by the time Alistair Cookie finishes counting them, the show has run out of time.
(First: Episode 2402)

Film
Baby pigs run in a field, and drink their mother's milk.
(First: Episode 0169)




Muppets
Big Bird and Snuffy make up a story about a castle under the sea where a deep-sea diver prince lived.
(First: Episode 1797)

Song
"The Ball Goes Up, The Ball Goes Down"
(First: Episode 0773)

Cartoon
Frances Fairy displays several F words.
(First: Episode 0335)

Muppets
Kermit says his "ABC's of the Swamp."
(First: Episode 1960)

Film
Kids compete in a speed skating competition (version three).
(First: Episode 0460)

Cartoon
Six pigs
Artist: Owe Gustafson
(First: Episode 1472)

Muppets
An Anything Muppet family arranges themselves in different ways.
(First: Episode 0275)

Cartoon
Z for zebra and zoo
(First: Episode 0281)

Insert
Buster the Horse gives Don Music the idea to write a song about the word "Flabbergasted." Don plays the song for Luis and a couple of kids and titles it "Buster's Song."
(First: Episode 2035)

Cartoon
A self-proclaimed "handsome" fly (voiced by Casey Kasem) is indignant about appearing in a segment about the letter F with a "fat and ugly" frog. The frog solves the problem by eating the fly.
(First: Episode 0034)

Film
In a classroom, kids learn the musical scales through various exercises.
(First: Episode 1717)

Animation
The Queen of Six explores her garden.
(First: Episode 0223)

Muppets
Game Show: "Say the Word"
(First: Episode 1373)

Cartoon
A dog pulls its master, who keeps begging "STOP!" until they reach the word STOP.
(First: Episode 0706)

Muppets / Celebrity
Mookie Wilson and Keith Hernandez of the New York Mets try to play baseball with The Count, but he would rather swing the bat and count strikes.
(First: Episode 2333)

Cartoon
An elephant counts to 20.
Artist: Owe Gustafson
(First: Episode 1466)

Muppets
Ernie & Bert — At night, Ernie gets creative inspiration to write a poem about what he likes, but has trouble with finding a word that rhymes with "dirt".
(First: Episode 2399)

Cartoon
Various sounds are demonstrated, including an alarm clock, a baby crying, a telephone, a faucet dripping, and a boy sneezing.
Artist: Irra Verbitsky
(First: Episode 1483)

Song
Joe Raposo sings "Families."
(First: Episode 0454)

Cartoon
F stands for flower, forest, fox, frog and fantastic.
(First: Episode 1102)




SCENE 2
Uncle Wally fumes that his favorite hat has gone missing. Elmo sees how angry he is and finally spots the hat down the block being worn by Miles. Gordon brings him over to return it, but Wally finds the situation so amusing now that he opts for the two to switch hats instead.

Cartoon
Actor demonstrates anger towards casting director - literally!
(First: Episode 2061)

Muppets
"The Ten Commandments of Health"
(First: Episode 1139)

Animation
Stop-motion: tap-dancing shoes.
(First: Episode 2367)

SCENE 3
Miles and Elmo play with Uncle Wally's hat while Forgetful announces the sponsors.