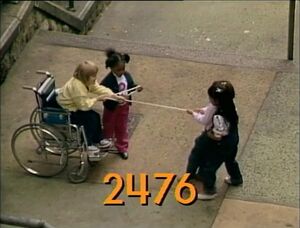 Picture
Segment
Description

SCENE 1
It's the early morning and Athena can't go to sleep. Hoots has her listen to the sounds of the morning, which put her to bed.

Cartoon
L for life, love, lizard, leap and lump
Artist: Cliff Roberts
(First: Episode 1833)

Film
Building a log cabin
(First: Episode 0602)

Cartoon
Toothpaste March
Artist: Ray Favata
(First: Episode 1446)

Muppets
On a very slow day of counting, The Count plays some funky music that is irresistible to dance to. He then counts 6 dancing children that come by.
(First: Episode 0868)

Cartoon
Six camels
Artist: Owe Gustafson
(First: Episode 1503)

Muppets
Telly, Monster on the Spot reporter, interviews Nicole on being a big sister. He doesn't get too far interviewing her little brother though.
(First: Episode 1963)

Song
Joe Raposo sings "What Babies Are Called"
(First: Episode 0116)

Muppets
Old West: Five good men are needed to form a posse and catch Bad Bart, the meanest man in the West. The sheriff counts five men in the saloon, and tries to organize them. But it turns out that there are only four good men -- one of them is Bad Bart!
(First: Episode 0554)

Cartoon
A man explains to a girl what a surprise is.
Artist: Bruce Cayard
(First: Episode 1358)
Muppets
Cookie Monster: At a library, Cookie Monster asks an Anything Muppet librarian for a box of cookies. The librarian becomes extremely frustrated because Cookie Monster doesn't understand the library doesn't have cookies!
(First: Episode 0926)

Cartoon
"The Little Letter L: A Poem by Louise"
Artist: Bruce Cayard
(First: Episode 1526)

Insert
Bob gives the Two-Headed Monster a music lesson on their clarinet with two mouthpieces, but one head wants to play fast, and the other one slow. When Bob suggest they play at different times, the monster impresses Bob by playing different melodies on the same instrument.
(First: Episode 1955)

Cartoon
A mouse tries looking for his pet, describing to his friend what they did yesterday.
(First: Episode 0764)

Muppets
Kermit the Frog counts six happy little Twiddlebugs, and when he is finished, the Twiddlebugs have a party.
(First: Episode 0280)

Song
Joe Raposo sings "I Like Alaska", along with a montage of kids saying what their hobbies are, and what they like about their community.
(First: Episode 2356)

Cartoon
The ET family is demonstrated in a story of the zet, a quick-witted bird. (intro and closing edited)
(First: Episode 0236)

Film
Dr. J helps a little girl to slam dunk a basketball.
(First: Episode 1685)

Cartoon
Jazz #6
(First: Episode 0011)

SCENE 2
As Gordon heads out for his morning run, he finds Shelley the Turtle resting after a game of tag with Elmo. He wishes he were as fast as Elmo, and Gordon suggests he practice by running with him. Elmo plays tag with Gladys the Cow instead.

Film
A turtle walks slowly.
Music: "Funeral March of a Marionette" by Charles Gounod
(First: Episode 0281)

Film
The Alphabet Dancers make a letter X.
(First: Episode 0456)

Cartoon
A schoolyard of gloves invites other gloves to join them.
(First: Episode 1481)

Muppets
Ernie & Bert — Ernie eats one of Bert's cookies and doesn't know what to tell him. Bert observes that there are four cookies when there should be five. No matter how Ernie arranges them, there are still four cookies. Since Bert doesn't want to see four cookies, Ernie eats another one, making it three instead of four.
(First: Episode 0238)

Cartoon
L - shooting stars
(First: Episode 2237)

Song
Joe Raposo sings "Take a Breath."
(First: Episode 0347)

SCENE 3
Shelley gets tired and has a hard time keeping up with Gordon. While Gordon gets some juice for themselves, Shelley imagines being as fast as a rocket. He then gets a head start on Gordon, who now tries to keep up.

Cartoon
The rabbit and the turtle race to the top of a building. The rabbit goes up 40 steps, but the turtle takes the elevator.
(First: Episode 2258)

Muppets
Here is Your Life: A sneaker is profiled.
(First: Episode 2203)

Cartoon
The great Alphonso and his trained X's
(First: Episode 0299)

SCENE 4
David finds Gordon setting up a 26-foot long race track for Shelley. Others gather around as Shelley races down the track in 57 seconds, a record for a turtle!

Film
Wheelchair races at the Special Olympics
(First: Episode 0898)

Cartoon
Counting 1 to 6 with fruits and veggies
(First: Episode 1767)

Muppets
Clementine sings about "My Triangle Home."

Cartoon
"The Stranger" - a song about a baseball team hesitantly allowing a newcomer to join them, who ends up helping them win the game.
Artist: Michael Sporn
(First: Episode 2108)

SCENE 5
Gordon, Susan and Miles go for a run, while Elmo announces the sponsors.