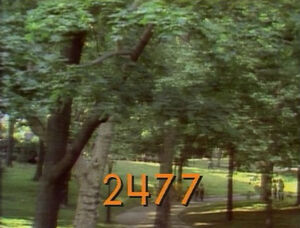 Picture
Segment
Description




SCENE 1
Telly tries to say "Welcome to Sesame Street" several times to make sure it sounds correct, and Gordon boosts his confidence. Telly has the kids shower Gordon with praise.

Animation
The big green balls and one little orange ball ride over the top of the hills. The little one can't make it over the big hill, but conquers the small hill.
(First: Episode 1896)




Muppets
Bruce Stringbean, Clarice and S Street Band perform "Born To Add."
(First: Episode 1375)

Film
How sweaters are made from sheep's wool.
(First: Episode 1009)

Muppets
Harvey Kneeslapper: Do Ya Have an A on Ya?
(First: Episode 0293)

Cartoon
A girl sings about the things she can draw, paint, and sculpt.
(First: Episode 1987)

SCENE 2
Meryl Sheep talks about her film Out of Africa, Asia, and America and has the kids pick out the As in the title.

Cartoon
When a bird pops a balloon, the balls represent Sad and Happy.
(First: Episode 2102)

Film
Kids with special needs do gymnastics at the Mamaroneck Co-Op Camp.
(First: Episode 0953)

Muppets
Two-Headed Monster: HAT
(First: Episode 1349)

Film
A lobster and a crab.
Music: Joe Raposo
(First: Episode 0317)

Cartoon
"Martian Beauty" has nine hairs, nine bows, nine eyes, nine nostrils, nine arms, and nine toes.
Artist: Bud Luckey
(First: Episode 0316)

Muppets
Ernie & Bert — Ernie decides to set up an apple-selling stand, and has everything he needs, leaving out the apples.
(First: Episode 1219)

Animation
P - Pyramid
(First: Episode 2061)

SCENE 3
Snuffy and Alice play "One of These Things" with Brussels sprouts and balls, as Bob watches.

Cartoon
A for Acorn
(First: Episode 1626)

Muppets
An Anything Muppet girl (Kathryn Mullen) imagines she's a doctor, movie director or firefighter.
(First: Episode 1454)

Cartoon
Edgar Turtle sings "Green Grow the Rushes, O."
Artist: Jeff Hale
(First: Episode 2440)

Film
Trees are very nice places, for animals and for people.
(First: Episode 0455)

Muppets
An Anything Muppet boy and girl have a conversation using the letters of the alphabet.
(First: Episode 0273)

Cartoon
The Noble Ostrich
Artist: Bruce Cayard
(First: Episode 0998)

Celebrity
Mookie Wilson and Keith Hernandez of the New York Mets help teach Snuffy to hit the ball.
(First: Episode 2351)

Cartoon
Two caterpillars plus three caterpillars equal five
(First: Episode 2324)

Muppets
Grover sings "Over, Under, Around and Through."
(First: Episode 0258)

Cartoon
A photographer tries to look for some animals quietly, but they all end up secretly following him.
(First: Episode 0799)

Song
David sings "Can You Tell Me What Belongs Here?" with kids dressed as kittens and bunnies.
(First: Episode 2459)

Muppets
Sesame Street News Flash: Kermit goes to Peter Piper's Pickled Peppers Patch to interview Peter Piper, but he only gets to meet other members of his family, whose names all begin with a common letter. At the end, Peter Piper's cousin states that Peter Piper is in Portland pressing pants.
(First: Episode 1342)

Cartoon
Sign Sounds: The man unscrambles the letters in a HELP sign.
(First: Episode 1118)

SCENE 4
Telly and Juliet dig a bologna sandwich into the plants, mainly because Telly's afraid he won't like it. Maria convinces him it's good.

Animation
Pentagon in space
(First: Episode 1714)

Muppets
Cookie Monster sings "Healthy Food."
(First: Episode 2404)

Cartoon
A - acrobat ball
(First: Episode 2453)

Film
Nine Song (Song of Nine)
(First: Episode 0016)

Muppets
Ernie & Bert — Bert tells Ernie to make a grocery list, but Ernie can't find anything to write with ... except for chocolate pudding. (Bert: "He's improving. Last time he used spaghetti sauce.")
(First: Episode 1967)

Animation
"¡Él juega fútbol!"
(First: Episode 2104)




SCENE 5
Maria takes care of Alice until Snuffy returns. Maria talks about front and back, as Alice spins around for saying hello. Snuffy returns, and Alice spins around again to say goodbye to Maria. Gordon announces the sponsors.