Line 1:
Line 1:
−

{{episodesesame|plot=Maria and Luis get married|airdate=May 13, [[1988]]<br>''(season finale)''|season=[[Season 19 (1987-1988)]]|writer=[[Jeff Moss]]|director=[[Jon Stone]]|prod=|sponsors=[[A]], [[L]], [[2]]|syndication=[[Sesame Street Unpaved (series)|Sesame Street Unpaved]]|releases=''[[50 Years and Counting]]'', [[The Paley Center for Media|Paley Center Archive]]}}

+

{{episodesesame|plot=Maria and Luis get married|airdate=May 13, [[1988]]<br>''(season finale)''|season=[[Season 19 (1987-1988)]]|writer=[[Jeff Moss]]|director=[[Jon Stone]]|prod=|sponsors=[[A]], [[L]], [[2]]|syndication=[[Sesame Street Unpaved (series)|Sesame Street Unpaved]]|releases=''[[50 Years and Counting]]'', [[The Paley Center for Media|Paley Center Archive]]}}

 

[[Image:2485a.jpg|300px]]

 

[[Image:2485a.jpg|300px]]

 

[[File:Sswedding.JPG|thumb|300px]]

 

[[File:Sswedding.JPG|thumb|300px]]
---
Revision as of 16:37, 25 October 2019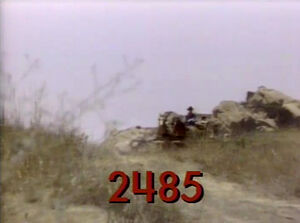 For years, Maria and Luis had just been friends and coworkers, but around Season 19, Sonia Manzano became pregnant, and it was decided to have them fall in love, get married, and then have her become pregnant with Gabriela. They had fallen in love in Episode 2404, and then got engaged in Episode 2455. After a season-long arc following their courtship, they finally get married.
Previously, Maria and David had been seen as a couple. Both Street Gang and Sesame Street: A Celebration - 40 Years of Life on the Street give different explanations as to why Luis was chosen over David. According to 40 Years, David was considered to marry Maria first but, Northern Calloway declined so he could obtain treatment for a long-standing and debilitating illness,[1] while Street Gang states that he was devastated over the fact that Maria wasn't marrying David.[2] As Dulcy Singer said, "I thought it would be better to do it with Luis because I didn't want to open another kettle of fish. It was enough to get a wedding on the show and have a family without opening ourselves to more difficulties. And I thought it would be a good and helpful thing to show a stable Latino family."[2]
Bob is the best man, while Linda is the maid of honor. The guests are as follows: Tio José (Luis' uncle), Mrs. Figueroa (Maria's mother), Susan and Gordon with Miles, David, Uncle Wally, Gina, Mr. Macintosh, Big Bird, Oscar, Grundgetta, The Two-Headed Monster, Herry, Telly, Bert, Ernie, the Count, Cookie Monster, Mumford, Grover, assorted kids, Richard Termine and Martha O'Connor (children's casting director for the show).
Much of the episode is musical; several of the street scenes are musical numbers.
Clips of the wedding sequence are often shown in Sesame Street documentaries and retrospectives, including Sesame Street: 20 and Still Counting, Stars and Street Forever, A&E Biography: Sesame Street, and The Street We Live On. The entire wedding scene appears in 40 Years of Sunny Days.

Picture
Segment
Description

SCENE 1
In the early morning, Maria tells Linda how excited she is about her upcoming wedding.
This scene was omitted from the 2019 DVD release.

SCENE 1
cont'd
The entire cast (sans Maria and Luis) sings as they prepare for the wedding day ahead.

Cartoon
An ape escapes from the A train and heads over to a birthday party.
(First: Episode 0293)
cut from the Noggin version

Film
Photographic collage demonstration of ALL, MOST, SOME and NONE of an apple.
Artist: Frank and Caroline Mouris
(First: Episode 0979)
cut from the Noggin version

Muppets
News Flash: Kermit reports on the London Fog, but keeps getting interrupted by The London Frog, a Grenadier Guardsman carrying the London Log, and the London Hog. The fog then evaporates, so they all dance the London Clog.
(EKA: Episode 2360)

Cartoon
Two flies land on a man's nose and take a bite.
Artist: Cordell Barker
cut from the Noggin version

SCENE 2
Telly, Herry, and Elmo argue over who's the most important person at the wedding.

Cartoon
Snacks on Parade: The Raisin
Artist: Bruce Cayard
(First: Episode 1171)
Muppets / Celebrity
"Pretty Great Performances" features Placido Flamingo and the Sesame Street All-Animal Orchestra, led by conductor Seiji Ozawa

Cartoon
L for Lion (sand)
(First: Episode 2107)

Muppets
Muppet & Kid Moment — Grover asks Chelsea, "What is love?"
(First: Episode 2397)

Cartoon
A cat desperately tries to open a can of cat food by himself while his mistress is on the phone.
Artist: Dan Haskett
(First: Episode 2151)

SCENE 3
Gina arranges the place cards on the table for the wedding reception. She and Big Bird then sing "Near to You." Snuffy comes over and Big Bird mentions that he'll be sitting next to Gina. Snuffy is saddened because he wanted to sit next to Big Bird. Gina resolves this by resetting the place cards so Big Bird is seated next to both her and Snuffy.

Cartoon
An orchestra conductor asks, "May I have an A, please?", at which point a giant letter A falls from the sky.
(First: Episode 0770)

Muppets
Ernie & Bert — On the deck of The Love Boat, a uniformed Ernie expresses how much he loves this boat. "Ernest" shares his love with Amanda, a grumpy patron, a fish, and soon several passengers who join them in their love for this boat.
(First: Episode 1958)

Cartoon
L - shooting stars
(EKA: Episode 2237)
Song
"Me and My Chair"
(First: Episode 1706)
cut from the Noggin version

Cartoon
A girl imagines being next to a tree, a house, and a car. "Now I'm going over there," she says. "There's nothing here to be next to!"
(First: Episode 0782)

SCENE 4
The Amazing Mumford uses his magic words to dress David and Gina for the wedding, but has little luck with Big Bird.

Song
Joe Raposo sings "Dressed Up"
(First: Episode 0302)
cut from the Noggin version
Muppets
African Alphabet Song
(First: Episode 2360)

Cartoon
ADVENTURE! A man and woman escape a boulder, a crocodile, and other obstacles.
(First: Episode 2080)

SCENE 5
Maria and Luis prepare for the wedding in separate rooms while singing "I'm Happy That I Love Him/Her."

Cartoon
A man learns that it's better not to pick the flowers.
(First: Episode 0416)

Muppets
Ernie & Bert — Ernie is confused when he sees Bert playing checkers with his pigeon, Bernice. Ernie thinks it's amazing that a pigeon can play checkers, but Bert thinks it is no big deal, because Bernice has only beaten Bert in two out of ten games.
(First: Episode 1227)

Film
In an Alaskan village, a doctor makes a regular visit to a clinic.
(EKA: Episode 2390)

Cartoon
Madrigal Alphabet
Animation by Jeff Hale
(First: Episode 0615)




SCENE 6
The wedding ceremony is held on the roof. As it takes place, Maria, Luis, and the guests' thoughts are represented in song ("Wedding Pictures"). Elmo is the ring bearer and tries not to drop them, and when the minister pronounces Maria and Luis husband and wife, Big Bird cheers loudly until Gina forces him to be quiet. Then, at the end of the ceremony, the audience applauds the happy couple as they leave.

This scene was released on 40 Years of Sunny Days.

Song
Joe Raposo sings "I Believe in Little Things".
re-filmed version

SCENE 7
The wedding reception is held in the arbor, as Maria throws the bouquet and Linda catches it. Afterwards, everyone dances during the closing credits. The Count announces the sponsors as an instrumental Latino version of the theme song plays. So ends the 19th season of Sesame Street.
Sources
↑ Gikow, Louise Sesame Street: A Celebration - 40 Years of Life on the Street, page 78
Community content is available under
CC-BY-SA
unless otherwise noted.