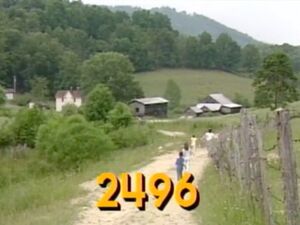 Picture
Segment
Description




SCENE 1
Maria and Luis welcome the viewer as they look at pictures from their wedding day. Suddenly, Sonny Friendly appears, proclaiming they're contestants on his "Remember Your Wedding Day Game." The couple tell him they are not playing his silly game (knowing the lousy prize they'd receive) and continue looking through their scrapbook. As they continue looking through their book, Sonny reveals that if they had played the game, they would've won legitimate tickets for a trip around the world. They decide to play now and show him what they know from the pictures. They no longer get a trip around the world; instead a trip around their living room.

Muppets
Betty Lou learns some Spanish words from her friend Carlos, including "Amigo."
(First: Episode 2042)

Cartoon
A girl tries to describe what kind of sandwich she wants, but her dad keeps misunderstanding her.
Artist: Cathryn Aison
(First: Episode 1715)

Insert
The Alphabet Dancers form a letter L.
(First: Episode 0449)

Cartoon
"L" for "Large" and "l" for "little"
(First: Episode 1455)

SCENE 2
Maria and Luis continue to reminisce when Forgetful Jones appears in a tuxedo, throwing rice and shouting "Congratulations!" He also gives them their present (a photo of himself and Buster the Horse). They show him the pictures to remind him the wedding already happened. He immediately remembers he was in attendance and remembers he forgot to throw rice and shout "Congratulations!"

Cartoon
Fleas have fun in fur!
Artist: Bruce Cayard
(First: Episode 0630)

Film
A bumble bee
Music: Joe Raposo
(First: Episode 0082)

Muppets
News Flash: Kermit reports on the London Fog.
(First: Episode 2360)

Cartoon
The Ringmaster presents four lions.
(First: Episode 1309)




SCENE 3
The Amazing Mumford now appears and offers to paint them a picture of them from their wedding day, using his magic paintbrush. Maria knows that his trick will somehow make her quack like a duck again, so she sits in the other room. He waves his wand and a painting appears on the wall, but of two ducks in wedding outfits. He tries again and makes Luis look normal, but Maria is still a duck. On his final try, he succeeds at replicating their wedding photo...but with duck feet.

Cartoon
A pencil tries to write the word DANCE.
(First: Episode 1966)

Film
Animals and children bathe in water.
Music: Joe Raposo
(First: Episode 0615)

Cast / Muppets
Olivia sings about her "One Two Blues" with two Anything Muppets.
(First: Episode 1493)

Cartoon
A baby bird tries and tries again to fly from its nest.
Artist: Irra Verbitsky
(First: Episode 1510)

Muppets
The Two-Headed Monster blows bubbles.
(First: Episode 1738)

Cartoon
Christopher Clumsy demonstrates shapes.
Artist: Cliff Roberts
(First: Episode 0416)

Insert
Bobby McFerrin performs his version of "The Alphabet Song" for Hoots, David, and the kids.
(First: Episode 2342)

Film
Empty / full playground (time-lapse)
(First: Episode 0415)

Muppets
Ernie & Bert — Bert complains that he can't sleep, because Ernie left the faucet dripping. Ernie drowns out the sound of the water dripping with louder noises.
(First: Episode 0131)

Cartoon
A boy and his dog demonstrate addition and subtraction with balancing hamburgers.
Artist: Bill Davis
(EKA: Episode 2204)

Film
In a gymnasium, a teacher and some kids play catch with a balloon.
(First: Episode 1088)
cut from the HBO Max version

Insert
Elmo explores Sesame Street, and observes Susan as she grades test papers.
(First: Episode 2285)

Animation
Three stripes form a jazz trio.
(First: Episode 2410)

Muppets
"They Can't Take That Away from Me": Cookie Monster's six cookies are subtracted down to zero.
(First: Episode 2351)

Film
Kids shout "empty" and "full" to describe a subway car.
(First: Episode 0415)

Cartoon
The Bellhop must take Mrs. Stein's bags to floor 16.

Film
Sesame Street Animal Films: Sidewinder Snake
(First: Episode 0514)

Cartoon
Cloud blows things FFFFFFFF
(First: Episode 0387)

SCENE 4
Big Bird searches for his lost toy truck, when Placido Flamingo pops up to help him. He gives Big Bird a "TOY" sign to hold while he sings the "Lost Toy Opera", a story of a sad flamingo with a similar problem. He reveals that the main character learns that his toy ran off with his best friend, which reminds Big Bird that he loaned his toy truck to Snuffy.
cut from the HBO Max version

Cartoon
The Funny Four tickles all the people and animals he sees.
(First: Episode 1653)

Film
At a fiesta, a group of kids try to break through a piñata.
(First: Episode 0620)

Cartoon
F for fire, fountain, face, farmer, etc.
(First: Episode 1614)

Muppets
Muppet & Kid Moment — Grover asks a girl to hug him and scratch his tummy.
(First: Episode 1653)

Cartoon
"Young MacDonald Went to Town"
(First: Episode 0787)

SCENE 5
Big Bird has his truck now, and begins playing with it, while Mumford announces the sponsors.