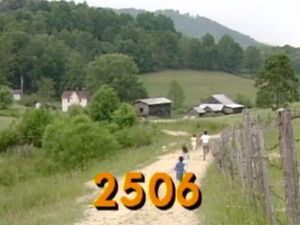 Picture
Segment
Description

SCENE 1
Bob introduces the viewer to his friend T.J., who is deaf, and communicates with sign language. Elmo wants to meet him, but feels like he can't, because he is deaf. Bob teaches him how to say "hello" in sign language, which is so simple for him that he and T.J. do it over and over again.
Cartoon
"Signing Alphabet," an animated film by Steve Finkin. Music for voice and electronics by Joan La Barbara.
(First: Episode 1056)

Muppets
Live from the Nestropolitan Opera, Phil Harmonic introduces the staged production of Peligro starring Placido Flamingo.
(First: Episode 2273)

Cartoon
Frances Fairy displays several F words.
(First: Episode 0335)

Film
Baby turtles swim around.
Music: Joe Raposo
(First: Episode 0294)

Muppets
Ernie & Bert — Ernie plays a game of tag with Bert, who is reading his book.
(First: Episode 1026)




SCENE 2
While Gordon plays his flute inside his apartment, Barkley plays ball with T.J. and some other kids. Elmo asks Bob what it means to be deaf, since T.J. appears to be a normal kid in every other way. He explains that T.J. can't hear, and tells Elmo to imagine what the world would be like without any sound. He does so, and is relieved when he comes back to reality. He observes that T.J. is a really good ball player, and also that Sesame Street is a very noisy place.

Cartoon
Q for Quiet
Artist: John Korty
(First: Episode 0441)

Muppets
"Listen to the Bells"
(First: Episode 1955)

Cartoon
A red PELI and an explosive GRO form the word PELIGRO.
(First: Episode 0787)




Celebrity
Suzanne Farrell takes small and big steps, then has a little lunch and a big lunch.
(First: Episode 1422)

Cartoon
Gerald's dog Sparky likes to pretend he's an alligator.
(First: Episode 1519)




SCENE 3
Big Bird runs into Elmo and T.J., and Elmo invites him to play a feelings guessing game with them. First they pretend to be sad, then happy, then angry. Finally, they point to Hooper's and rub their tummies, which confuses him, until he finds out they're hungry. He decides to follow them, since he is too.

Cartoon
"Seven Sweet Sopranos" on a shaky piano
Artist: Paul Fierlinger
(First: Episode 1656)

Film
Peacock
Music: Joe Raposo
(First: Episode 0278)

Muppets / Cast
"Singing in the Shower" - Olivia, Ernie, Oscar, and Big Bird sing about how they like to sing in their various modes of cleaning (shower, bathtub, mudbath, and birdbath, respectively.)
(First: Episode 1834)

Cartoon
Two people think they hear a BARK in the DARK.
Artist: John Korty
(First: Episode 1941)

Muppets
Honkers attempt to play "Mary Had a Little Lamb" on their noses.
Part 1.
(First: Episode 1561)

Cartoon
Rap #7

Muppets
Honkers attempt to play "Mary Had a Little Lamb" on their noses.
Part 2.
(First: Episode 1521)

Cartoon
The Alligator King
Artist: Bud Luckey
(First: Episode 0411)

Muppets
Honkers attempt to play "Mary Had a Little Lamb" on their noses.
Part 3.
(First: Episode 1463)

SCENE 4
Oscar likes listening to Gordon play his flute, because he sounds flat. He warns Bob that if he goes up to help him with his flute playing, it will result in a lot of screaming and yelling. He ignores Oscar's warning and helps Gordon out, and soon afterwards, Oscar himself starts screaming and yelling.

Cartoon
Edgar Turtle's three nephews demonstrate a round by singing "Redwood Tree."




Muppets
Game Show: The Triangle is Right
The object of the game is to answer every question with "a triangle" as the answer. Contestant Prairie Dawn has little patience for this format.
(First: Episode 2185)

Song
"What Can You Do with a Burro?"
(First: Episode 1364)




SCENE 5
Oscar is looking for someone to sing with his dance-band, "The Out of Tuners." He asks Gordon and Bob if they know anyone who can take the position, and Gordon suggests that Bob would be perfect for the job, but Oscar thinks it would be better if they both did it. He watches as they both sing "Mad About You," but it doesn't sound good to him until Barkley joins in. Bob, a professional singer, refuses to sing in a trio with a dog, but Oscar uses the old "cooperation defense" in order to get him to comply. He comes up with a new name for their group: "The Woof-and-Poofs."

Cartoon
A boy listens to his surroundings by the ocean, until his mom calls him for lunch.
(First: Episode 2053)

Muppets
Super Grover tries to fix a girl's computer by jumping up and down and shouting "Wubba wubba!", but she soon discovers that the computer is not turned on.
(First: Episode 1971)

Cartoon
A football player talks about his favorite sport.
Artist: John and Faith Hubley
(First: Episode 0135)

Muppets
Kermit sings to the titular tadpole about the life awaiting it when it grows up to be a frog, but tells it to take its time growing up.
(First: Episode 2327)

Cartoon
Hypnotic "Q" rainbow
(First: Episode 0440)




SCENE 6
Oscar introduces Bob and Gordon to his band, which consists of Fluffy on trumpet, Slimey on drums, and the Forty Flying Flea Brothers on keyboard. They all do the Sesame Street Theme, and he announces the sponsors.