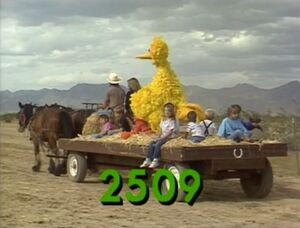 Picture
Segment
Description

SCENE 1
Gordon notices a camera crew setting up in the arbor and Telly explains it's for his new TV show. One of his guests, Flo Bear, arrives and the show, "Telly Vision," is ready to begin.

Cartoon
Nine sheep (Maria voice-over added)
Aritst: Owe Gustafson
(First: Episode 1501)

Muppets
Grover applies to be a lifeguard, demonstrating to the employer that he has what it takes. He soon learns that there's only one thing he needs: swimming lessons.
(First: Episode 1951)

Film
A zydeco band plays "Allons a Lafayette" while people dance.
(First: Episode 2498)
Cartoon
"I've Got a Mind" -- bouncing a ball
(First: Episode 0293)

Animation
Teeny Little Super Guy: Two boys are fighting over a swing, so Teeny Little Superguy shows them how to share.
Artist: Paul Fierlinger
(First: Episode 1967)




SCENE 2
"Telly Vision" returns from commercial and Telly begins interviewing Flo. She states she's always been a writer, ever since she was a cub (shown in flashbacks), though had some trouble with organizing the letters. Today, she's written poems, novels and most recently, a daytime drama. Telly cues an advanced sneak peek...

Muppets
All My Letters: V
Vivian snacks on vegetables, while her lover Victor is vexed. She then meets a vegetable vampire, Walter.
(First: Episode 2277)

SCENE 2 cont'd
Telly throws to a break and tries probing Flo for answers on future installments of All My Letters.

Cartoon
The Villain in the Panama Hat (V)
(First: Episode 0507)

Muppets
Sesame Street News Flash: The Count ruins Kermit's opportunities to interview The Three Little Pigs and the Seven Dwarves by counting them.
(First: Episode 0569)

Cartoon
A cat desperately tries to open a can of cat food by himself while his mistress is on the phone.
Artist: Dan Haskett
(First: Episode 2151)




SCENE 3
"Telly Vision" returns and joining Telly now is Placido Flamingo, who performs his "Alphabet Aria." Telly thanks his guests and closes the program.

Film
Some kids have a bike race by the river.
(First: Episode 1419)

Cast
A CASA is drawn around Maria.
(First: Episode 2089)
Muppets
Ernie and Bert are camping. It's time for them to sleep, but Ernie keeps distracting Bert by pointing out the various sounds that they hear.
(First: Episode 1808)

Song
"All By Myself"
(First: Episode 2044)

Cartoon
A man jumps up onto an UP.
(First: Episode 0546)




Celebrity
Ricky (Billy Crystal) walks through a letter U, which he thinks is UNBELIEVABLE!
(First: Episode 2083)

Animation
A snail shell is uncovered in the sand.
(First: Episode 2039)

Muppets
Guy Smiley hosts "Beat the Time". In order to win a cookie, Cookie Monster has to bring in three things that rhyme with the word "rain" before the hand goes around the clock. They turn out to be an old man's "cane", a "chain" (to which Frazzle is attached), and finally a "train" which destroys the set.
(First: Episode 0446)

Cartoon
"Dinner for Nine"
Artist: Paul Fierlinger
(First: Episode 1658)

Muppets
An Anything Muppet family sings "Let's Go Driving."
(First: Episode 2095)

Cartoon
"Poverty U" -- A figure gives a salute to the letter U, and presents the letter with a bouquet of flowers.
Artist: Cliff Roberts
(First: Episode 0036)




SCENE 4
A starstruck Gladys the Cow runs into Flo, who's having some writer's block. Gladys asks her to help her write her life story. Gordon thumbs through the rough copy, Madame Bovine, but finds all the pages are empty. Gladys states she worked on the outside and needs Flo's help with the inside.

Cartoon
A pattern of daisies and tulips - can you tell what comes next?
(First: Episode 2256)

Muppets
Ernie has put a cookie on a lever, half of which is in a glass cage, diagonally, and wants to see if Cookie Monster can figure out how to get the cookie. Ernie will reward Cookie Monster with a box of cookies under two conditions - by not destroying the display and without his help.
(First: Episode 1774)

Film
A boy climbs up a tree to gather coconuts.
(First: Episode 1125)

Cartoon
"Mi casa es su casa."
(First: Episode 0794)

Muppets
The Martians examine a grandfather clock.
(First: Episode 0407)

Cartoon
Rap #9

Film
Two boys working at the family Mexican restaurant show how they prepare for the day, and how tacos and enchiladas are made.
(First: Episode 1890)

Cartoon
A man teaches his dog Rover how to read the word SIT.
(First: Episode 0304)

SCENE 5
Flo and Gladys work on the story together, as Gordon announces the sponsors.
Community content is available under
CC-BY-SA
unless otherwise noted.