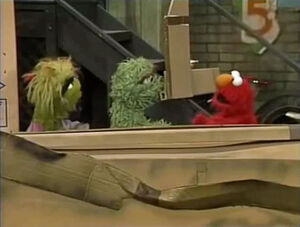 Picture
Segment
Description

Muppets
"Old MacDonald Cantata"
(First: Episode 2350)

Cartoon
D-dart
(First: Episode 0292)

Film
A girls' jump-rope team trains for a contest. They end up winning second place.

Cartoon
Three doctors cure a sick 3.
(First: Episode 1627)

Insert
Maria finds herself as the contestant on Sonny Friendly's game show, "Name That Feeling," where she can win a new car by identifying the feelings she currently feels. However, Sonny discovers they have no more cars in stock, making her angry.
(First: Episode 2328)

Cartoon
A boy talks about his various moods.
Artist: Bob Kurtz
(First: Episode 0772)

Muppets
Grover sings about his furry little shadow.
(First: Episode 1810)

Animation
El numero tres (Luis V.O.)
(First: Episode 2119)

Muppets
Ernie & Bert — Bert thinks that Ernie has eaten his cookies, but it turns out that Cookie Monster (dressed as Ernie) ate the cookies.
(First: Episode 0158)

Cartoon
Billy Jo Jive and Smart Susie Sunset solve the case of the midnight voices.
Artist: Ray Favata
(First: Episode 1183)

Celebrity
Bobby McFerrin sings "Tweetin' High and Low" with Hoots the Owl and company.
(First: Episode 2355)

Cartoon
A little boy asks his big brother questions about what happens at school.
Artist: John Korty
(First: Episode 1877)

Song
"Three is My Favorite Number"
(First: Episode 0429)

Muppets
The Two-Headed Monster acts out different feelings.
(EKA: Episode 1982)

Cartoon
The Typewriter: D - Daisy
(First: Episode 0795)

Film
Joe Raposo: On the beach (instrumental)
(First: Episode 0411)

Cartoon
"Daddy Dear"
(First: Episode 0367)




Cast
Gordon hosts "What Happens Next," in which the viewer has to guess what kind of humiliation Maria as Chaplin is going to face before Gordon rings the Dinger's ding-dong bell. First, the tramp slips on a banana peel, then collapses when sitting on a three-legged bench. Finally, when a rain cloud is about to rain on him, he shifts the cloud over to the left of the screen so it rains on Gordon instead.
(First: Episode 2328)

Cartoon
A number of kids named Joe play sports. Joanne plays kickball.
Artist: John Korty
(First: Episode 1871)

Film
Ten zebras walk slow, while 10 other zebras walk fast.
(First: Episode 0367)

Cartoon
Geronimo 10-0: Instead of a parachute, she has a helicopter propeller.
(First: Episode 2262)




SCENE 1
Elmo comes across Oscar and Grundgetta pretending they're flying an airplane on Grouch Airlines. Elmo wants to play and despite the Grouches' protests, he manages to find a way on their plane anyhow.

Animation
Teeny Little Super Guy
RW wants a pet spoon, so TLSG teaches him the importance of being responsible with a pet.
Artist: Paul Fierlinger
(First: Episode 1986)

Muppets
Kermit tries to talk about subtraction with the numbers 1, 2, 3, 4 and 5, but they keep disappearing one by one, which makes it hard for him ... or does it?
(First: Episode 1950)

Film
Over (silent film)
(First: Episode 0517)

SCENE 2
Elmo is ready for take off, but the Grouches inform him they can't go anywhere while he has his pretend suitcase on his lap. Elmo tries to put it in the pretend overhead compartment, but that's where the elephants are kept. It can't be put either his seat either, as there are pigs there. Elmo solves the issue by moving the elephant under his seat so there's space for his suitcase.

Cartoon
Q -- that funny looking thing.
(First: Episode 0131)

Muppets
Caveman Days
King Ernie needs to clean his yucky teeth. The Royal Smart Person brings a big brush (used for sweeping), then a middle-sized brush (used for brushing hair), then a smaller brush (used for painting), and finally a really small brush (a toothbrush). Just as Ernie proclaims that he'll "brush every tooth in the entire kingdom," a saber-toothed tiger comes in, seizes the toothbrush, and begins to use it himself!
(First: Episode 1388)

Cartoon
"Poverty Q": A figure demonstrates Q words, despite the unruly stem of his letter Q that keeps detaching itself.
Artist: Cliff Roberts
(First: Episode 0048)

SCENE 3
Grundgetta tries to get rid of Elmo by offering some of the in-flight meals, which are tailored to Grouch diets. Elmo still wants to play, but can't decide on what to eat. He instead choses an imaginary tuna fish sandwich he's brought in his imaginary lunch box.

Cartoon
"Name That Food" game show hosted by Don Carrot
Artist: Elwood Smith
(First: Episode 1491)

Film
Ducks swim and fly.
Music: Chopin's Valse Op. 64, no. 2

Song
David sings "Can You Tell Me What Belongs Here?" with kids dressed as kittens and bunnies.
(First: Episode 2459)

Cartoon
Pinball Number Count #3
Animation by Jeff Hale
(First: Episode 0978)

SCENE 4
Elmo notices Oscar and Grundgetta aren't feeling peppy because his nice presence has ruined their pretend flight. Elmo makes things better by pretending he's a Grouch. Telly announces the sponsors, and the credits follow.
Community content is available under
CC-BY-SA
unless otherwise noted.