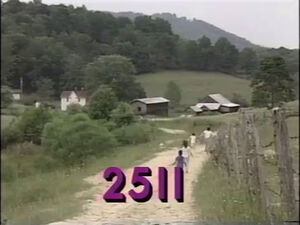 Picture
Segment
Description

SCENE 1
Forgetful Jones finds Bob and the kids about to do some singing. He wants to join in, only he can't remember what singing is. Bob and the kids illustrate by singing a verse of "My Darlin' Clementine." Forgetful remarks, "Now that's singin'!"

Cartoon
Two kids find different uses for a cooking pot.
(First: Episode 0795)

Muppets
Ernie & Bert — Bert is sitting in his chair and reading the paper, when Ernie comes along and starts reading over Bert's shoulder. They decide to share the paper. Ernie rips it in half, which seems to work until Bert starts reading over Ernie's shoulder.
(First: Episode 1193)

Cartoon
Bruce the moose invites Toulouse LaGoose over for juice.
(First: Episode 2498)

SCENE 2
Now that Forgetful is set straight, everyone begins to sing "Old MacDonald," which Forgetful keeps messing up by forgetting what sounds the animals make. When it comes time to sing about the horse, Forgetful sings that they say, "Howdy!" Bob points out this is wrong, until Buster the Horse arrives and greets them as such.
Cartoon
K-kick
(First: Episode 0463)

Muppets
Charlie is lost and finds a policeman. It's his Uncle Louie, but he doesn't recognize him in uniform. Without the uniform on, Charlie asks Uncle Louie to find him a policeman.
(First: Episode 0135)

Cartoon
K is for kitten.
(First: Episode 0040)

Film
Footage of a Chinese noodle factory.
(First: Episode 0984)

Muppets
A shark sings about his "Perfectly Pearl-White Teeth."
(First: Episode 1446)

Cartoon
Pinball Number Count #8
(First: Episode 0998)

Muppets
The Count counts as Suzanne Farrell spins around. Monsters offer her some flowers, and the Count counts the bouquets.
(First: Episode 1682)

Cartoon
I am dry, he is wet (circus elephant)
Artist: Cliff Roberts
(EKA: Episode 0309)

SCENE 3
Telly wants to write a letter to Oscar while he's away, but he can't think of what to write. Gordon suggests he imagine that Oscar is present and write down what he would ordinarily say to him. Telly asks an imaginary Oscar to play, then gives his writing materials to Gordon and leaves - he imagined being told to scram.

Animation
"The King of Eight"
(First: Episode 0225)

Muppets
Waiter Grover has a new method of remembering orders: He makes up a poem to remember what is ordered and who ordered it. Mr. Johnson orders a cheeseburger with a pickle and French fries, which Grover interprets as "Round and tasty on a bun, pickles, French fries, yum, yum, yum!" However, he brings Mr. Johnson a grapefruit on a bun.
(First: Episode 2418)

Film
Kids talk about how many things they can do now that they're five years old.
(First: Episode 1403)

Animation
David spots a rectangle in space.
(First: Episode 1554)

Insert
Big Bird goes through his old toy chest with some kids, and encounters a banner with the alphabet on it. He remembers the time he learned what it was, which fades to a flashback of him singing "ABC-DEF-GHI."
(First: Episode 2266)

Film
Time-lapse of seeds growing.
Music: Joe Raposo
(First: Episode 0416)

Muppets
Ernie & Bert — Everything is getting wet, because it's raining and a window is stuck open. But Ernie explains that he can't fix it now because he'd get wet in all that rain. When the rain stops, he explains to Bert that since it's not raining anymore, nothing's getting wet, and there's no reason to fix it.
(First: Episode 0344)

Film
SCHOOL: the sign spins around.
(First: Episode 0685)

Cast
Maria as Chaplin falls in love with a painting (Linda) at the art museum.
(First: Episode 2033)

Cartoon
The Bellhop has to bring 8 steamer trunks down 8 flights of stairs.

Film
Joe Raposo sings "Dressed Up."
(First: Episode 0302)

Cartoon
A man circles the number 1, draws a line to the number 2, follows the arrows to the number 3 (and crosses it out), underlines the number 4, draws a door, and goes through it.
(First: Episode 2067)

SCENE 4
Dr. Nobel Price has a new invention to help Forgetful Jones remember things - a ribbon he calls "The Rememberer." Forgetful places it on his nose and it seems to help him remember Nobel Price's name (just as long as he places the question the right way).

Cartoon
A man (voiced by Jack Dodson) describes places that begin with U and what you can do with the letter U.
(First: Episode 0416)

Muppets
Sesame Street Game Show: Where Do I Belong?
Guy Smiley hosts a show which helps its contestants figure out where they belong.
(First: Episode 2318)

Cartoon
K is for Karate
(First: Episode 0489)

SCENE 5
Forgetful strolls over to the Fix-It Shop, still wearing the Rememberer so he can tell Luis something important. He can't seem to remember what that is at first, until he remembers the important thing is that he's got the new invention to remember things (except Luis' name).

Cartoon
A boy puts a red and green monster together using a diagram.
(First: Episode 1014)

Muppets
"I'm in Love with U"
(First: Episode 1701)

Film
Old bottles are made into new bottles at a recycling plant.
music: "Black Eyed Peas" by Graham Preskett
(First: Episode 0917)

Insert
Big Bird watches the shape dancers make a rectangle.
(First: Episode 1276)

Cartoon
"I Can Remember": A little girl remembers what to buy at the store (A loaf of bread, a container of milk, and a stick of butter) by visualizing her mother giving the instructions.
Artist: Jim Simon
(First: Episode 0408)

SCENE 6
Everyone assembles on the stoop so Forgetful can demonstrate how he can remember everyone's names. Dr. Nobel Price takes his Rememberer and goes to start a new invention - something to tie around a present. Buster announces the sponsors.
Community content is available under
CC-BY-SA
unless otherwise noted.