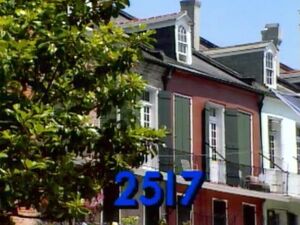 Picture
Segment
Description

SCENE 1
Olivia welcomes the viewer and invites them to go shopping with her, but then Placido Flamingo appears and presents her with the new opera he's written. He explains what an opera is in song. His opera is titled La Villa Sesamia and features a flamingo and woman wandering the street, meeting their friends, with a special solo for Olivia.

Cartoon
Z In Space
(First: Episode 0509)

Muppets
Ernie & Bert — Ernie brings a surprise home, and he tells Bert to guess what it is. The surprise turns out to be a puppy. Bert wants to call the puppy "Norman"; Ernie suggests "Godzilla the Wonder-Dog".
(EKA: Episode 2064)

Cartoon
Different uses of a triangle (Spanish version)
(EKA: Episode 2275)

Song
Joe Raposo sings "Penguins Five."
(First: Episode 0245)

Cartoon
A black cat chases after a white one, until a white lion steps in.
Artists: The Hubleys
(First: Episode 0255)




SCENE 2
While Maria and Luis tend to their work, an announcer introduces the opera. In Act I, Plaicido visits the Fix-It Shop where he sings about the sounds he hears in there. Olivia brings in his toaster, which needs fixing. They tell him it will be done tomorrow and they sing about what awaits "Tomorrow." After the applause, Olivia does her best to try to explain why she's doing this. After they exit, Luis remarks, "Ya' know, living here can sometimes be very strange." "Yeah, I've noticed," Maria replies.

Cartoon
Hortense sees 5 waltzing brooms in her room.
Artist: Michael Sporn
(First: Episode 2508)

Muppets
Sesame Street News Flash: Kermit the Frog asks the Three Little Pigs how they feel after the Big Bad Wolf blew their houses down.
(EKA: Episode 2013)

Cartoon
Jive Five
(First: Episode 1664)




Muppets
A series of trailers for school-related dramas are shown on WCTW's "School in the Afternoon" block.
(EKA: Episode 2494)

Cartoon
Junior has to jump across the pond to make the frog chorus.
(First: Episode 0926)

SCENE 3
In Act II, Placido and Olivia visit Big Bird, who is sad because Mr. Snuffleupagus is away, but Big Bird isn't as sad as Placido's song is making it out to be. He tells them Snuffy will be back tomorrow, leading to a reprise of their "Tomorrow" song. Plaicido still bawls, wishing Snuffy would return sooner.

Cartoon
Two hippie kids wonder how to make their droopy plant grow.
Artist: Elwood Smith
(First: Episode 1484)

Film
A girl makes a storybook about the time she and her brother surprised their mother on her birthday.
(First: Episode 2486)

Cartoon
Snacks on Parade: The Raisin
Artist: Bruce Cayard
(First: Episode 1171)

Muppets
Lena Horne sings "How Do You Do?" to Grover.
(First: Episode 0536)

Cartoon
Gordon voiceover R/r
(EKA: Episode 2405)




SCENE 4
In Act III, the two singers visit Oscar's trash can to get him to cooperate with them. Oscar hears the announcer and decides to sit and do nothing, which turns out to be exactly what they wanted him to do. He goes back into his can, saying he won't come back out until tomorrow, cuing another reprise of "Tomorrow."

Cartoon
R for Rhinoceros (poem)
Artist: Jeff Hale
(First: Episode 1151)

Muppets
Caveman Days: Taking the kid to school
Ernie (the father) and Bert (the kid) go over the procedure of crossing the street.
(EKA: Episode 2258)

Film
Russian nesting dolls 1-10
(First: Episode 0540)

Muppets
Monsterpiece Theater: "Ali Baba and the Forty Thieves"
The forty thieves insist that they be introduced along with Ali Baba before the story begins, but by the time Alistair Cookie finishes counting them, the show has run out of time.
(EKA: Episode 2402)

Cartoon
A curious cat chases after a ball of string and explores various places in its home.
Artist: Michael Sporn
(EKA: Episode 2238)




SCENE 5
In Act IV, Placido sings with a quartet of Honkers (including Mr. Honker), but only three are there. Placido puts Olivia in the fourth Honker's place and Placido sings about the quartet to the tune of the "Toreador Song" from Carmen.

Song
Joe Raposo sings "Doggy Paddle."
(EKA: Episode 2060)

Cast
The Great Addini (Maria) performs her famous bottle-balancing trick with her assistant Bill (David), who is doubtful the stunt will work.
(EKA: Episode 2376)

Cartoon
A peasant tries to woo a pretty girl by reciting the famous "Roses are Red" poem. The lines are fed to him by a poet behind a bush, whom she eventually runs off with.
Artist: Irra Verbitsky
(EKA: Episode 2058)

Song
Joe Raposo sings "There's a Bird On Me."
(First: Episode 0416)

Cartoon
Z for zigzag, zero, zoo, and zebra
(First: Episode 1763)

SCENE 6
When the announcer announces the last act, Olivia gets upset that she hasn't done her solo yet. Placido assures her she will get to do it and points her to 123 Sesame Street, where her costume will be.




SCENE 6 cont'd
Olivia emerges from the brownstone, wearing a flamingo-inspired outfit. Her solo is singing the sponsors and says they'll see the viewer tomorrow, leading to a finale reprise of "Tomorrow."
Notes
Throughout the episode, Olivia refers to Placido as "Maestro Flamingo."