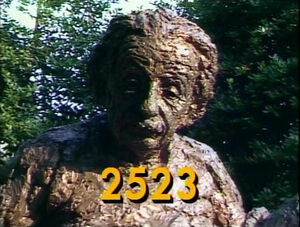 Picture
Segment
Description

Insert
The Count recruits Maria to help him in "Counting Toes."
(First: Episode 2131)

Film
Slide puzzle - boy
(First: Episode 0428)

Cartoon
Madrigal Alphabet
Artist: Jeff Hale
(First: Episode 0615)




Muppets
Spaceship Surprise
The crew lands on the Planet SH, where they are greeted by Sheriff Shrimp, and meet a shouting shovel and shopping sheep.
(First: Episode 2468)

Cartoon
W - wallpaper
(First: Episode 0291)

Film
Armadillos on film
(First: Episode 2488)




SCENE 1
Bob returns from a disastrous walk with Barkley, which resulted in both of them messy. Linda grooms him, as Bob and Snuffy watch. Snuffy finds it an interesting sight and requests Bob brush him too. He leaves to go get his brush, while Linda brushes Bob off.

Cartoon
Nine Striped Cats
Artist: Owe Gustafson
(First: Episode 1564)

Muppets
The Two-Headed Monster learns how to use a toothbrush.
(First: Episode 1189)

Film
A still of construction equipment fades into a shot of a parrot.
(First: Episode 1535)

Muppets
For Show-and-Tell, Bert sings a song about his rock.
(First: Episode 1309)

Cartoon
The great Alphonso and his trained X's
(First: Episode 0299)

SCENE 2
Snuffy returns with his large brush...so large, Bob can't even lift it. The two finally find a method in which Bob can brush him, but Snuffy states that first, they need to run into the bushes just like he and Barkley did.

Cartoon
"Animal Elevator": 10-1 (subtraction)

Muppets
Sesame Street News Flash: Kermit is interviewing Cinderella and Prince Charming, who are dancing at the ball. After Cinderella leaves, she leaves one glass slipper behind. The prince wants to find Cinderella...so he can have the other glass slipper.
(First: Episode 0516)

Film
A look at the life of Colleen, who lives in Arizona.
Music: Joe Raposo
(First: Episode 0504)

Cartoon
W for Willamina
(First: Episode 0512)

Muppets
"Daddy Helps with the Dishes" - three families sing about how they help each other doing chores, cooking, and homework.
(First: Episode 2223)

Cartoon
A STOP sign commands a train to stop.
(EKA: Episode 0493)

SCENE 3
Oscar has prepared a special noise maker to deliberately play during Bob's music lesson. However, each time he's about to use it, Bob stops the kids from playing to give notes on their performance.

Film
Human and animal babies learn to walk.
(First: Episode 1728)

Cartoon
A little boy asks his big brother questions about what happens at school.
Artist: John Korty
(First: Episode 1877)

Muppets
Cookie Monster does a taste test to compare square shaped, triangle shaped, and circle shaped cookies.
(First: Episode 1750)

Cartoon
The Story of Cowboy X.
(First: Episode 0325)

SCENE 4
Bob's now ready to perform the whole piece and Oscar's ready to ruin it, only he finds his noisemaker is now busted from all the practicing he did.

Cartoon
Mr. Tweak can't sleep because his neighbor above snores, and his neighbor below sneezes.
Artist: Abe Levitow
(First: Episode 0528)

Muppets / Celebrity
Celia Cruz and the Anything Muppets sing "Numero Comparsa."
(First: Episode 2318)

Film
A man makes a shadow puppet of a rabbit.
(First: Episode 0630)

Cartoon
A bird transforms into a plane, a car, a cat, a fish, a submarine, Submarine Man, and back to a bird.
Artist: Vince Collins
(First: Episode 1616)

Muppets
Ernie & Bert — Ernie tries to put a pot on Bert's head. Bert asks Ernie why he's doing that, and Ernie says that he broke a cookie jar. Ernie has to put the cookies somewhere, so he put them in the sugar bowl – and put the sugar in the flowerpot, which meant that he had to put the flower in a milk bottle. He put the milk in the soda bottle, the soda into the fishbowl, and the fish in Bert's cowboy hat. Bert asks, "Now what am I going to wear when I want to play cowboy?" Ernie puts the pot on Bert's head and says, "Ride 'em, cowboy, Bert!"
(First: Episode 0305)

Cartoon
A painter paints a Number Nine, then hangs it.
(First: Episode 1488)

SCENE 5
Buster the Horse is eager to see the drawing Big Bird is making of him. He sees the work in progress and finds it "superb" (explaining the word to Big Bird). Big Bird starts to finishing it (adding grass), while Buster heads to Hooper's Store for a sarsaparilla.

Cartoon
W for witch
Artist: Jeff Hale
(First: Episode 1182)

Film
A conductor yells "STOP" to his off-key violinist trying to play Vittorio Monti's "Czardas".
(First: Episode 0516)

Cast
Gordon and the word "wand."
(First: Episode 1491)

Cartoon
A toothbrush talks to a mouth about what could happen if not taken care of.
(First: Episode 1476)




SCENE 6
Buster, Bob, Linda and a child return to see Big Bird's finished piece. He's added so much foliage to it, Buster's now barely visible in it. Buster moans, then assists Linda in announcing the sponsors.
Community content is available under
CC-BY-SA
unless otherwise noted.