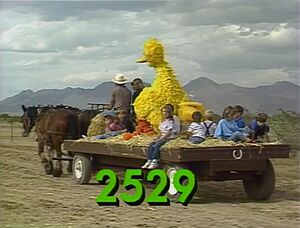 Picture
Segment
Description




Insert
Big Bird and Snuffy pretend to explore Sesame Street. They encounter some native Sesame Streetians speaking Sesamese and attempt to communicate with them and learn their customs.
(First: Episode 2150)

Film
Chimps running around (piano music)
(First: Episode 2493)

Muppets
Elmo loudly interrupts Kermit's demonstration of "quiet" and "loud". Elmo loudly insists on helping Kermit demonstrate the difference, and Kermit manages to get Elmo to whisper as they talk about being quiet.
(First: Episode 2270)

Cartoon
"Ladybugs' Picnic"
(First: Episode 0416)

Muppets
Lefty wants to sell Ernie a scale. He uses two pounds of bananas and two pounds of apples to demonstrate how the scale works. Ernie is impressed. He already has a scale at home, but he'd like to buy the apples and bananas.
(First: Episode 0449)

Cartoon
Y for Yak
Artist: Jeff Hale
(First: Episode 1184)

Muppets
Guy Smiley hosts "What's Prairie's Problem?" in which contestants try to figure out why Prairie Dawn can't use one of her senses (i.e., which part of her face is covered).
(First: Episode 2466)

Film
What do birds eat?
(First: Episode 0495)

Celebrity
James Taylor performs "Jellyman Kelly" with a bunch of kids.
(First: Episode 1800)

Cartoon
A man saws out a letter E.
(First: Episode 0370)
Muppets
Grover the Waiter at La Casa de Comidas
(First: Episode 1793)

Cartoon
The Bellhop must make 12 wake-up calls.

Muppets
"I'm Going to Get My Hair Cut"
(First: Episode 1822)

Cartoon
Why did the chicken cross the road?
(First: Episode 2050)

SCENE 1
Maria is going to watch after Irvine while Oscar takes a trip to the dump, but he sticks around to watch Maria attempt to teach Irvine some words (predicting it'll be a failure). She tries getting Irvine to say "hello" or "hi," but Irvine just grouses. Maria wants Oscar to leave so she can focus, eventually saying "scram" over and over. This word sticks with Irvine, who starts saying it.

Cartoon
A cat desperately tries to open a can of cat food by himself while his mistress is on the phone.
Animation by Dan Haskett
(First: Episode 2151)

Muppets
Old West: Sinister Sam announces that someone has bought the last box of crayons, and he wants to know why. It turns out that he just wants a crayon so he can learn how to write the letter Y.
(First: Episode 1288)

Cartoon
A boy can yell and yodel, and his dog can yelp and yowl. They can both yawn.
(First: Episode 0353)

Film
Kids narrate a film about water in hoses, fountains, puddles, streams, bathtubs, rivers, oceans, and other places.
(First: Episode 0135)

SCENE 2
Bob tells Big Bird about a new game he's created: The Opposite Game. Bob names some things and Big Bird gives the opposite, though Big Bird keeps going even when Bob wants to end the game.

Cartoon
A penguin repeats the rhythms of the sounds it hears, which include a drum, a door knock, a saw and a typewriter.
Artists: The Hubleys
(First: Episode 0239)

Muppets
"Honk Around the Clock"
(First: Episode 1631)

Film / Animation
Oranges are peeled and sliced in stop-motion, and some kids eat them.
(First: Episode 1802)

SCENE 3
Big Bird joins Maria on the stoop, just as Maria prepares Irvine's lunch: sardines in strawberry ice cream and her milk. Big Bird explains what he's learned about opposites today and points out the opposites as Maria tries feeding Irvine.

Cartoon
The life of a Yellow Yahoo
(First: Episode 0043)

Cast
Luis and Linda assemble the word COLD, and it snows.
(First: Episode 2067)

Film
Two kids help an old Chinese man get his dragon kite in the air.
(First: Episode 0444)
Muppets
The Count sings "The Batty Bat."
(First: Episode 2096)

Cartoon
A man explains that the letter E begins both Enter and Exit. Another man named Roy runs through the doors.
(First: Episode 0406)

Film
A turtle swims in a tank.
Music: Joe Raposo
(First: Episode 0283)

SCENE 4
Bob sits down with Maria and suggests that pretending to be a Grouch might be the key to getting Irvine to eat. They both try their Grouch impressions, but they don't work. Oscar returns and shows the right way to do it - telling Irvine not to eat the food. She immediately gobbles it down; she loves opposites. Luis then announces the sponsors.
Community content is available under
CC-BY-SA
unless otherwise noted.