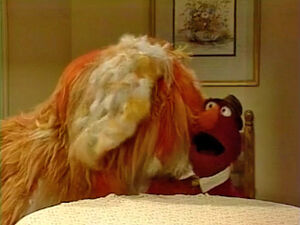 Picture
Segment
Description




SCENE 1
Telly Monster hosts an edition of "The Wide World of Sesame Street" from inside Linda's apartment to watch her and Barkley. Her alarm clock rings, but she is unable to hear it. Fortunately, Barkley can and wakes her up himself. Linda goes to make breakfast, while Barkley pounces on Telly, who throws the program to a break.

Cartoon
"It's A Lovely Eleven Morning"
Artist: Bud Luckey
(EKA: Episode 0514)

Muppets
The Two-Headed Monster learns how to use a toothbrush.
(First: Episode 1189)

Cartoon
Do you know what it's like to be scared?
(EKA: Episode 0597)

Film
Ducks swim and fly.
Music: Chopin's Valse Op. 64, no. 2
(First: Episode 2510)

Cartoon
A man jumps into a poster of Lake Lillian.
(First: Episode 0347)

Film
A zydeco band plays "Bayou Pon Pon" while people dance and the townspeople of New Orleans wave at the camera.
(First: Episode 2502)

Cartoon
A letter for "me"
(EKA: Episode 2227)

SCENE 2
"The Wide World of Sesame Street" continues as Telly waits out in the yard (sitting on the fence) for Linda to do her daily exercises. She and Barkley return from a run, then she does some stretching and jumping jacks. Barkley starts jumping onto the fence, causing Telly to fall off.

Cartoon
The Square
(EKA: Episode 0536)

Muppets
Ernie and Bert sing "La, La, La."
(EKA: Episode 0321)

Cartoon
Things that are same and different.
(EKA: Episode 0347)

Song
"B is for Bubble"
(First: Episode 0008)

Animation
Stop-frame animation of a girl on a beach, reading a book containing pictures of various sea creatures that come to life as she comes to their pages.
(First: Episode 1434)

Celebrity
James Taylor sings "That Grouchy Face" to Oscar.
(EKA: Episode 1929)

Animation
"¡Ella juega ténis!"
(EKA: Episode 2356)

Muppets
Lefty's boss tells Lefty the plan for what to do with the Golden AN, which they have just stolen. Lefty is to put it in the tan van and give it to Dan, who will take it to Fran. However, Lefty can't remember the plan very well and has to repeat it, which results in a police officer named Stan hearing the plan and giving him "ten days in the can for stealing the Golden AN."
(First: Episode 0523)

Cartoon
L for Lion (poem)
Artist: Jeff Hale
(EKA: Episode 1457)

Film
A boy takes dance lessons at The Alvin Ailey American Dance Theater.
(EKA: Episode 1839)

Cartoon
The Ringmaster displays 11 purple pooches.
Artist: Jeff Hale
(First: Episode 1347)

SCENE 3
"The Wide World of Sesame Street" resumes, where Telly hides under a bag of hot dog buns on Willy's hot dog cart. He observes Linda buying a hot dog, then going on the stoop to eat it. Barkley looks at it longingly, so she breaks off a piece of the wiener and gives it to him. This winds up happening again and again until all she has left is an empty bun. Barkley trots over to the stand and brings back a whole string of wieners, with an angry Willy following. Linda bashfully gives him some money and the two enjoy their lunch. Telly tries to throw to a break, when Willy catches him hiding in his stand and accuses him of stealing as well.

Animation
Stop-motion: what goes in the hot dog bun?
(EKA: Episode 1240)

Cartoon
A man visits the police department to report a lost person and make sure the officer's sketch matches what he describes.
(First: Episode 1609)

Muppets
Grover sees the word "me" and shouts the word.
(First: Episode 0205)

Film
A mom and her son comment on a film of various animal babies and their moms.
Music: Joe Raposo
(First: Episode 0096)

Muppets
Sesame Street News Flash: The First Day of School
(First: Episode 1628)

Animation
The inhabitants of a farm feel like celebrating when it rains during a hot, dry summer.
(EKA: Episode 1447)

Muppets
An Anything Muppet girl shows the viewers that the number 11 is the same right side up and upside down.
(First: Episode 0183)

Cartoon
Which footprint doesn't belong?
(EKA: Episode 1092)

SCENE 4
In the next part of "The Wide World of Sesame Street," Telly hides out inside the Fix-It Shop, where Linda and Barkley are outside. Linda has Barkley stay with Maria while she does some shopping. Maria, knowing Barkley well enough, doesn't think he will stay, but is surprised when he doesn't run off once her back is turned. The phone starts ringing inside and Maria is unable to get in; Barkley's blocking the doorway! Linda returns and orders him to move and carry her bag home. Maria finally gets inside, but the phone has already hung up. She notices Telly was in there the entire time and asks why he didn't do anything about it.

Cartoon
What Do You Do With a Pet?
(First: Episode 0465)

Muppets
Ernie & Bert — Ernie brings an umbrella, a flashlight, and Bert's bowling ball to the bathtub, just in case the electricity goes out, the roof leaks, and somebody shows up asking to borrow a bowling ball. Bert thinks that Ernie is being ridiculous -- but everything happens, just as Ernie predicted.
(EKA: Episode 0269)

Cartoon
L es para luz
(First: Episode 0373)

Film
Operation Playground: A group of students at P.S. 87 come up with ideas for a new playground, and raise money for the effort. Together with their parents and other people from the neighborhood, they build the playground.
(EKA: Episode 2376)

Cartoon
B for banana and ballerina
(First: Episode 2515)

SCENE 5
Telly concludes his broadcast of "The Wide World of Sesame Street" by reviewing what they've learned about Linda and Barkley today - they live, play, share and work together, so they also love each other. As Linda and Barkley sleep, Telly announces the sponsors.