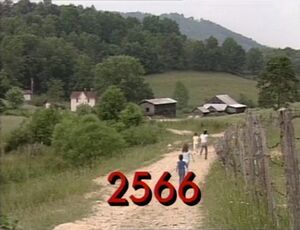 Picture
Segment
Description




SCENE 1
Today, Hooper's Store is having a sale on tunafish. Gina has the cans all stacked in a pyramid formation and counts them. Mr. Snuffleupagus comes by and orders some spaghetti. He cools it down by blowing on it, knocking over the tunafish cans in the process.

Muppets
Cookie Monster sings "Healthy Food."
(First: Episode 2404)

Film
Two boys working at the family Mexican restaurant show how they prepare for the day, and how tacos and enchiladas are made.
(First: Episode 1890)

Cartoon
La letra O - opera, oeste, orquidea, ojos, ocho, y el orquestra de orangutanes.
(First: Episode 0338)

Film
Letter O hoist
Music: Joe Raposo
(First: Episode 0338)

Cartoon
Maria (in voice-over) counts five oranges, which are then eaten by a snake.
(First: Episode 2380)

SCENE 2
Gina has restacked the cans, when Big Bird and Clara come in to get a baseball for their game. Later outside, someone hits a long fly ball that flies right through the Hooper's window and knocks over the cans.

Cartoon
8 Bats
Artist: Owe Gustafson
(First: Episode 1552)

Muppets
Polly Darton sings "Waitin' at the Bus Stop Sign for You."

Song
Sesame Street Creature Feature: The Marmoset
(First: Episode 2487)

Animation
"The King of Eight"
(First: Episode 0225)

Muppets
Ernie & Bert — Ernie buys a newspaper after hearing the newsboy yell out the headline: "Four People Fooled!" Ernie reads the paper, but finds no such news in the paper, making him the fifth person fooled.
(First: Episode 1164)

Film
Close-ups of animals. Kids try to guess what they are.
(First: Episode 0326)

Cartoon
A for apricot, alligator, acrobat, accordion, artist, airplane.
(First: Episode 1586)

SCENE 3
Once again, Gina has restored the stack of tunafish. The Amazing Mumford happens in and orders some corned beef hash to show off his new rhyming trick. He waves his wand and gives Gina a sash. She asks for an encore and his trick causes the cans to crash on the floor. Mumford then makes a dash for the exit.

Cartoon
The long rattlesnake thinks he's better than the short one, until the short one outsmarts him by making him bite his own tail. "Wanna borrow my snakebite kit?"
Artists: Bud Luckey and Rudy Zamora
(First: Episode 0955)

Muppets
"Would You Like to Buy an O?"
(First: Episode 0364)

Animation
The big green balls and one little orange ball ride over the top of the hills. The little one can't make it over the big hill, but conquers the small hill.
(First: Episode 1896)

Muppets / Celebrity
Tony Danza and Big Bird play tennis without a ball, and count twenty hits, while Kevin Clash announces.
(First: Episode 2170)

Film
A blind class goes on a field trip to the park, using their other senses to experience their surroundings. The teacher sings "If You're Happy and You Know It."
Muppets
Sesame Street News Flash
Cinderella's Fairy Godmother tries to make a beautiful ball dress appear on Cinderella without success: it ends up on Kermit instead.
(First: Episode 2442)

Film
Cat block structure.
(First: Episode 1824)

Cast
Gordon sings "I Heard My Dog Bark" as Susan, Bob, Uncle Wally, and some kids make the animal sounds.
(First: Episode 2169)

Cartoon
The Bellhop has to bring 8 steamer trunks down 8 flights of stairs.
(First: Episode 2511)

Song
"Drink of Water"
(First: Episode 2545)




SCENE 4
Count von Count counts the tunafish cans as Gina puts them back up. He exits gently upon warning, and goes looking for something else to count. Snuffy offers to jump up and down for him outside, causing disaster for Gina once more.

Cartoon
A bear counts 5 clouds.
(First: Episode 2239)

Muppets
Ernie & Bert — Bert asks Ernie to help him carry his heavy groceries, but Ernie is too busy thinking about all the things he can do as he sits in a chair: breathing, listening, and smelling.
(First: Episode 1449)

Film
A girl visits the stamp factory to see how stamps are made.
(First: Episode 2263)

Animation
A/a (Gordon voice-over)
(First: Episode 2240)

Song
David sings "Can You Tell Me What Belongs Here?" with kids dressed as kittens and bunnies.
(First: Episode 2459)

Muppets
Director Kermit is filming Oklahoma with Forgetful Jones as the star. Forgetful is supposed to enter sing "Oklahoma!" but sings "Aklahoma!", "Eeklahoma!", and "Iklahoma!" instead. When he finally gets it right, the production assistant says it's time for lunch.
(First: Episode 2544)

Cartoon
A little boy asks his big brother questions about what happens at school.
Artist: John Korty
(First: Episode 1877)




SCENE 5
Gina decides, since it's time to say goodbye, to purposely knock over the cans herself one last time. She has a good laugh as the Count announces the sponsors.
Community content is available under
CC-BY-SA
unless otherwise noted.