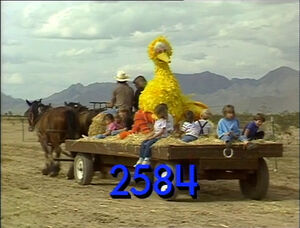 Picture
Segment
Description




SCENE 1
Bob is giving a music lesson to a new student - a meek woman named Masha (portrayed by Tracey Ullman). She struggles with singing the basic scales, but with some encouragement from Bob, she improves each time and gains her confidence. She suddenly sheds her timid persona and launches into "Sing It Out, Baby" with gusto, making her way down to the street where everyone applauds when she's through. She then reverts back to her shy ways, confirming with Bob that she was okay.

Animation
G/g musical notes (Gordon voiceover)
(First: Episode 2233)

Film
Joe Raposo sings "Dressed Up."
(First: Episode 0302)

Muppets
Ernie and Bert search for Dr. Livingstone in the jungle.
(First: Episode 1736)

Cartoon
Pinball #10
Artist: Jeff Hale
(First: Episode 0990)

SCENE 2
Bob runs into a woman (Ullman again), whom he mistakes for Masha, but is actually her cousin Sacha. She then has a run-in with her old pal Max Monster. They try to have a get-together, but keep forgetting their previous engagements. Bob suggests they write their appointments in a book so they can work around them.

Cartoon
K is for kitten.
(First: Episode 0040)
Muppets
"African Alphabet Song"
(First: Episode 2360)

Cartoon
Find the camouflaged parrot.
Voice: Paul Dooley
(First: Episode 0516)

Film
Operation Playground: A group of students at P.S. 87 come up with ideas for a new playground, and raise money for the effort. Together with their parents and other people from the neighborhood, they build the playground.
(First: Episode 2360)

Cartoon
The Carrot
Artist: Bruce Cayard
(First: Episode 1132)




SCENE 3
Fish seller Trasha (Ullman) gives some Grouchy voice lessons to Grundgetta, while Oscar watches. They are shocked to learn Trasha wasn't always so Grouchy and flashes back to her mentor, Professor Piggens (played by a Cockney Oscar). He teaches her a Grouchy song - "Grouches in the South of France." After the flashback, Grundgetta begins to get the hang of the accent.

Cartoon
K for kite
(First: Episode 0489)
Muppets
Muppet & Kid Moment — Grover asks Maya to help him follow an arrow. The arrow changes direction until Grover falls down, exhausted.
(First: Episode 1641)

Cartoon
A clam tells a fisherman why he's not catching any fish: he pulled all the plants out of the pond.
(First: Episode 0408)

Muppets
A shark sings about his "Perfectly Pearl-White Teeth."
(First: Episode 1446)

Cartoon
A white boy hangs out with his Latino friend.
(First: Episode 1471)

SCENE 4
Tracey reads Big Bird and the kids the story of "Bert's Cowboy Hat," leading to...

Muppets
Ernie & Bert — Ernie tries to put a pot on Bert's head. Bert asks Ernie why he's doing that, and Ernie says that he broke a cookie jar. Ernie has to put the cookies somewhere, so he put them in the sugar bowl – and put the sugar in the flowerpot, which meant that he had to put the flower in a milk bottle. He put the milk in the soda bottle, the soda into the fishbowl, and the fish in Bert's cowboy hat. Bert asks, "Now what am I going to wear when I want to play cowboy?" Ernie puts the pot on Bert's head and says, "Ride 'em, cowboy, Bert!"
(First: Episode 0305)
Film
Footage of a city neighborhood; includes shots of a sno-cone vendor.
Singer: "¡Linda paloma!"
(First: Episode 0426)

Cartoon
Speech Balloon: G for gorilla (in man suit).
(First: Episode 0085)

Cast
Maria and Luis perform "You Say Hola and I Say Hola."
(First: Episode 2062)

Cartoon
A hand draws a guitarist serenading a maiden, as well as the background.
(First: Episode 0791)

Muppets
Monsterpiece Theater: "Gone With the Wind"
(First: Episode 2410)

Cartoon
A cat desperately tries to open a can of cat food by himself while his mistress is on the phone.
Artist: Dan Haskett
(First: Episode 2151)

SCENE 5
Tracey and some kids play a game with Mr. Honker, a Dinger, and a duck.

Cartoon
The Bellhop must take 10 terriers for a walk.
(First: Episode 2507)

Muppets
Guy Smiley hosts Here is Your Life, surprising Oak Tree with the story of his life. The guests include Granny Fanny Nesselrode, who planted the tree as an acorn, Cloud and Sun, who gave the tree rain and sunshine, and Marty Table and Sarah Chair, who were made from the tree's friends.
(First: Episode 0406)

Cartoon
Is no one afraid of The Big Bad Wolf?
(EKA: Episode 2405)




Film
A montage of the evolution of mechanical technology, from wind-up toys, to robots that can spell "SESAME STREET" with blocks, to satellite transmitters.
(First: Episode 2226)

SCENE 6
Tracey appears in a four-way split screen with Masha, Sacha and Trasha to announce the sponsors.
Community content is available under
CC-BY-SA
unless otherwise noted.