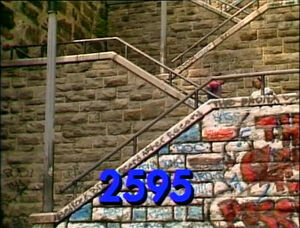 Picture
Segment
Description

SCENE 1
Gina is heading off to bed, but remembers she has to write in her journal first. She tells the viewer about some entries, such as a visit from Little Jerry and the Monotones and her first day working at Hooper's Store. While flipping through the pages, she comes across her presumably lost, autographed picture of Little Jerry and his group. She gets so happy, she decides to write an entry about it.

Cartoon
Rap #13
(First: Episode 2547)

Film
A young girl talks about her friend, Joe, who's training to be a fireman.
(First: Episode 1859)

Muppets
The Two-Headed Monster sounds out the word "Spin" and watch it spin around, getting dizzy in the process.

Animation
A girl skips home through the city, hearing all kinds of noises. When she gets home, she repeats all the noises she heard with a little dance.
Artist: John Korty
(First: Episode 1877)

SCENE 2
Gina comes up with something that happened to her today to put in her journal, recalling Meryl Sheep's Baa-Alike Contest...




SCENE 2 cont'd
In a flashback, we see Meryl Sheep holding her Baa-Alike Contest. Her three finalists are Hildegard the Honker, Madeline the Duck and Big Bird. With Gina as the judge, they will see which one can imitate the baaing Meryl does. Hildegard typically honks and Madeline quacks, neither of which sound like baaing. Big Bird does a fine sheep impression, winning the contest!

SCENE 2 cont'd
Gina finishes writing about the contest and is about to go to sleep, but not before brushing her hair.

Cartoon
A man sees a giant OUT, yells the word, and everyone runs out of it.
(First: Episode 0550)

Cast
Gordon acts out Maria's 13 Step Method of Lifting a Heavy Barbel.

Cartoon
The Great Inventor Series: Science Salutes the Men and Women Who Have Changed the Way We Live. Cartoon about the days when people tried drinking ice cream soda before straws were invented. Awful messes were made getting more of the refreshment on their clothes than in their bellies. Until one day an ice cream parlor janitor noticed that when people brought their leashed pet anteaters in to enjoy an ice cream soda, the floor was always sucked completely clean. Realizing that nature had solved the problem, the janitor invented artificial anteater noses that strapped on over people's mouths... which eventually evolved into the modern straw.
Artist: Bruce Cayard

Film
Elephants (African percussion soundtrack)
(First: Episode 0389)

Cartoon
Vitamins give vim, vigor and vitality to a droopy V
Artist: John Hubley
(First: Episode 0311)

SCENE 3
Gina continues brushing her hair, when she remembers something else to write about...




SCENE 3 cont'd
In another flashback, Gina and her friends, Thelma (Victoria Platt) and Yvonne (Kareen Germain), goof off while studying for their history test outside Hooper's Store. They hear Big Bird calling for their help and Gina convinces them it could be important. Big Bird uses Gina and her friends for something very important - showing the Birdketeers that Anna and Jamar are big kids, Gina and her friends are bigger kids, but Big Bird is the biggest kid of all. Big Bird thanks the girls for their services and sends them off. Big Bird now wants to show loud and soft, once Snuffy arrives with his bass drum. Gina and her friends decide to study at Thelma's place instead.

SCENE 3 cont'd
Gina finishes writing the passage and points out while it's not an important story to her, it is to Big Bird, hence its inclusion.

Cartoon
"I in the Sky"
(First: Episode 0368)

Muppets / Celebrity
On the stage at Birdland, Telly scats with Joe Williams. (introduction edited)
(First: Episode 2260)

Film
An I-beam is molded at a steel factory as heavy industrial-type music underscores the action. The segment ends on a video freeze of the finished beam, which is shaped like the letter "I."
(First: Episode 1077)

Muppets
The Three Little Pigs look for the Big Bad Wolf in a police line-up.
(First: Episode 2541)

Cartoon
Which footprint doesn't belong?
(First: Episode 0509)

SCENE 4
Gina snacks on some celery while writing her next journal passage...

SCENE 4 cont'd
Earlier today, Gina introduces Bruno and the Trashmen, who sing a doo-wop song, "Put It in the Trash Can."
This scene would later be used as a stand-alone insert, using an alternate take of Gina's intro.

SCENE 4 cont'd
Back in the present, Gina theorizes that Bruno's band could become just as big as Little Jerry one day.

Cartoon
Speech Balloon: I for Island.
(First: Episode 0314)

Film
A zydeco band plays "Allons a Lafayette" while people dance.
(First: Episode 2498)

Muppets
Ernie & Bert — Ernie tells Bert about his so-called "boring" day at the zoo.
(First: Episode 0020)

Animation
Stop-motion: a bunny tries to make a bench with blocks, but needs a chick's help.
(First: Episode 1463)

Muppets
Super Grover tries to stop a fight between Sammy and Frankie, who are fighting over an apple.
(First: Episode 0786)

Cartoon
Moonlight count to 20 (Maria voice-over added)
(First: Episode 1456)

SCENE 5
Gina adds another item from today in her journal...

SCENE 5 cont'd
In Hooper's Store, Ruby spills some milk while doing an experiment with Jamar; she was trying to get the same amount in both glasses. Gina shows her an easier way: by taking some milk from one glass and pouring it in the other.

SCENE 5 cont'd
Gina now goes to get a drink; all the writing about milk has made her thirsty.

Cartoon
A girl sorts everything she finds which is alive and not alive.
(First: Episode 1526)

Cast
The Alphabet Dancers: Lowercase i
(First: Episode 0462)

Cartoon
Jasper and Julius: Apple
(First: Episode 0485)

Song
Joe Raposo sings "Eating" while animals eat.
(First: Episode 0106)
Muppets
Sesame Street News Flash
Cinderella's Fairy Godmother tries to make a beautiful ball dress appear on Cinderella without success: it ends up on Kermit instead.
(First: Episode 2442)

Cartoon
V for volcano, violet, and violin
(First: Episode 1762)

SCENE 6
Gina finishes her journal entry for tonight and is surprised at all she's written. She's about to finally go to sleep, but remembers one more thing to write - today's sponsors! With that finished, she heads off to sleep.