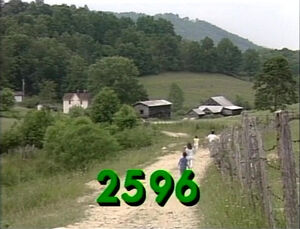 Picture
Segment
Description




SCENE 1
Gina will be babysitting Oscar's niece, Irvine while he and Grundgetta go to the "Everything in the Wrong Place Ball." Once they leave, she begins reading her the story of Grumpelstiltskin.

Cartoon
An ant is pressured by his peers to finish the anthill all by himself, until he enlists the cooperation of the others.
(First: Episode 1478)

Muppets
Ernie & Bert — Part 1: Ernie, having set up shop as a barber, gives Bert a haircut, but he ends up removing all of his hair.
(First: Episode 0068)

Song
Sesame Street Creature Feature: The Sloth
(First: Episode 2500)

Cartoon
Would you mind closing our OPEN?
(EKA: Episode 0512)

Film
A girls' jump-rope team trains for a contest. They end up winning second place.
(First: Episode 2510)

Cartoon
While fishing one day, a boy catches the letters of the alphabet. Frustrated at not having caught any fish to eat, he decides to use his catch for alphabet soup.
(First: Episode 0004)




SCENE 2
Gina reads Irvine another book, "The Genie in the Grouch Lamp." She loves the story.

Cartoon
A painter paints a Number Nine, then hangs it.
(First: Episode 1488)

Film
A boy climbs up a tree to gather coconuts.
(First: Episode 1125)

Cartoon
Fruta Manzana sings about being happy and healthy.
Artist: Don Duga and Irra Verbitsky
(First: Episode 1231)

Cast
Luis and Gordon have a hard time picking apples by themselves, but all it takes is cooperation.
(First: Episode 1399)

Cartoon
Christopher Clumsy jumps over a hole, and falls into another one.
Artist: Cliff Roberts
(First: Episode 0439)

Cast
Linda teaches a little boy how to sign the word "Hot."

Cartoon
Look both ways before you cross the street
Artist: Ray Favata
(First: Episode 1397)

Film
Kids count 18 backflips.
Music: Joe Raposo
(First: Episode 0408)

Muppets
Monsterpiece Theater: Grover is sitting on a hill, which moves to the sound of music.
(First: Episode 1829)

Cartoon
Gordon voiceover R/r
(First: Episode 2195)

Muppets
Ernie counts 3 Honkers as they arrange themselves in different ways.
(First: Episode 1746)

Cartoon
What if I looked like George Washington?
(First: Episode 0586)

Muppets / Celebrity
Cab Calloway sings "Hi De Ho Man."
(First: Episode 1540)

Cartoon
La letra O - opera, oeste, orquidea, ojos, ocho, y el orquestra de orangutanes.
(First: Episode 0338)

Insert
Elmo explores Sesame Street, and observes Susan as she grades test papers.
(First: Episode 2285)

Cartoon
Nine penguins slide down a hill.
Artist: Owe Gustafson
(First: Episode 1532)

Film
Sounds Around the House v1: a dripping water faucet, a man playing the violin, a woman vacuuming, a teenager listening to pop music, and a passing elevated train.
(First: Episode 1706)

Muppets
Sesame Street News Flash
Kermit the Frog witnesses as Don Music tries to rewrite "Twinkle, Twinkle, Little Star." He succeeds and is joined by a country-western band, who sings "Whistle, Whistle, Little Bird."
(First: Episode 1210)

Animation
Sand O / o
(First: Episode 0621)

Film
Old paper, new paper
Music: "Blue Nosed Gopher" by Graham Preskett
(First: Episode 0972)

Muppets
Ernie & Bert — Bert tells Ernie not to eat cookies in bed, because he might get crumbs in it. He decides to eat them in Bert's bed instead.
(First: Episode 0282)

Cartoon
What if a dog looked like a bird?
Artist: Cliff Roberts
(First: Episode 0226)

Muppets
Kelly tries to rollerskate, and is mocked by Frankie. Fellow skater Big Bird tells him not to be so judgmental, and sings a song about how he had to practice before becoming a good skater.
(First: Episode 2479)

Cartoon
At the Pride Day Ceremony, Donald is waiting to describe his proudest accomplishment, and is initially unsure of himself next to other impressive students. He finally proudly acclaims his achievement, tying his shoes all by himself.
Artist: John Korty
(First: Episode 2085)

Film
Sesame Street Animal Films: Animals have tails.
(First: Episode 0017)

Muppets
Alphabet Chat: Mr. Chatterly tries to discuss the letter R, but everything goes awry.
(First: Episode 0876)

Insert
Three of These Kids (upside-down girl)
(First: Episode 0413)

Cartoon
Nine sheep jump over a fence.
Artist: Owe Gustafson
(First: Episode 1501)




SCENE 3
Mr. Snuffleupagus tells Alice about the time when he learned that the Snuffle-fairy wasn't real. In a flashback, he shows Oscar a picture of her in a book, and he tells him the truth, which Maria confirms. However, they can still imagine that she exists.

SCENE 3
cont'd
Back in the present, Snuffy and Alice announce the sponsors.
Community content is available under
CC-BY-SA
unless otherwise noted.