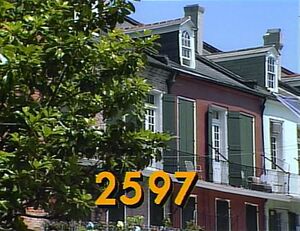 Picture
Segment
Description




SCENE 1
Big Bird hears saxophone music coming from the garage (Hiroshi's studio). He assumes it's Hiroshi playing the sax, but it's actually Hoots. Hiroshi is working on a painting of the music Hoots is playing, "the blues," using different shades of blue. He explains that it's not as easy as it looks, and sings, "What Color Blue Are the Blues?"

Cartoon
Zazu the Zebra feeds their pet Z.
(First: Episode 2525)

Film
Some kids have a bike race by the river.
(First: Episode 1419)

Cartoon
A caveman sits on what he thinks is a rock, not realizing that it's a dinosaur, which is alive.
(First: Episode 1737)

Muppets
Sesame Street News Flash
In London, Kermit tries to talk about the London Fog, but is interrupted by the London Frog, a Grenadier Guardsman carrying "The Famous London Log," and a London Hog. By the time he's ready to talk, the Fog has evaporated, and the others gather around to dance the London Clog.
(First: Episode 2360)

Cartoon
A sleepy man counts 8 sheep.
(First: Episode 2113)




Muppets
Snuffy brings his TV over to Big Bird's nest so that he, Big Bird, and some kids can work out along with Jane Snuffleupagus.
(First: Episode 2076)

Film
Fay Ray moves clockwise and ticks, until an alarm sounds.

Cartoon
"Find the Opposite"
(First: Episode 2362)

Muppets / Celebrity
The Hungry Family competes on "Family Food," hosted by Richard Dawson.
(First: Episode 1640)

Song
Olivia sings "The Riddle."
(First: Episode 1721)

Cartoon
O for orange
Artist: Bruce Cayard
(First: Episode 0673)




SCENE 2
Hiroshi insists that Oscar the Grouch move around wildly and complain while he paints. Finally, he's done with the painting, which is a painting of Oscar's grouchiness. Oscar likes it so much, Hiroshi decides to give it to him.

SCENE 2
cont'd
Oscar secretly informs Hiroshi of some of his own paintings, and tells him to wait as he digs them up.

Cartoon
A moving truck takes the number 8.
(First: Episode 1446)

Muppets
Little Chrissy and the Alphabeats sing "You're Alive."
(First: Episode 1482)

Animation
A hand arranges blocks to form benches so a bunny and a chick can have tea.
(First: Episode 1488)

Film
A girl goes to the shoemaker and watches him as he repairs her shoes.
(First: Episode 0987)

Muppets
Muppet & Kid Moment — Ernie and Katie find the many similarities between each other.
(First: Episode 1490)

Cartoon
A story of a man who hates frogs (voiced by Daws Butler), until his swamp becomes infested with flies.
(First: Episode 0387)

Cast
Big Bird, Susan and Bob sing "Can Read" while at a newsstand.
(First: Episode 2268)

Cartoon
An alien lands on Earth, looking for a Z to eat. He snatches one off a policeman's uniform, eats it, and rests.
(First: Episode 1481)

Film
"Hey, let's make a road!" Kids do so at the beach, while a construction crew does the real thing.
(First: Episode 0295)

Cartoon
"The Noble Ostrich", a segment about the day-to-day activities of ostriches. Includes an animated appearance by Big Bird.
Artist: Bruce Cayard
(First: Episode 0998)

Muppets
Cookie Monster goes on a picnic, with a basket full of cookies. A bug flies by, and tries to get into the basket, buzzing furiously. Cookie Monster tries to give the bug a little cookie if it'll go away. The bug refuses, buzzing even more strenuously. Cookie tries a big cookie, but it still refuses. Cookie offers an almond cookie, a raisin cookie, a pistachio nut cookie, and a crunchy granola cookie. He realizes that the little bug doesn't like cookies. All he has left is a letter Z. The bug is excited, and buzzes off with the Z.
(First: Episode 1484)

Song
Joe Raposo sings "Take a Breath." (re-filmed version)
(First: Episode 2518)

SCENE 3
Oscar displays his unseen artwork to Hiroshi, starting with "Moaning Lisa."

SCENE 3
cont'd
His other paintings are "Venus on a Clam" ...

SCENE 3
cont'd
... and "Crumpled Soup Can."




SCENE 3
cont'd
What does Hiroshi think of Oscar's paintings? He loves them! But Oscar doesn't take kindly to Hiroshi's compliments about his rotten grouchy art. Hiroshi remarks, "Some artists are so touchy."

Cartoon
Number factory 1-10
(First: Episode 2541)

Muppets
Ernie & Bert — Bert tells Ernie not to open the locked door until he gets back from his shopping trip. After he leaves the apartment, however, he realizes he forgot his money, but no matter what he does, Ernie won't let him in the apartment because he thinks this is practice.
(First: Episode 1787)

Cartoon
A kid removes a manhole cover, out of which comes the word ABIERTO.
(First: Episode 2086)

Film
Footage of a Chinese noodle factory.
(First: Episode 0984)

Cartoon
Two hippie kids wonder how to make their droopy plant grow.
(First: Episode 1484)




SCENE 4
Oscar shows Hiroshi one more painting: "Whistler's Grouch Mother." Hiroshi loves this one too, so Oscar swears to give up painting. Hoots announces the sponsors, and plays the saxophone over the closing music.