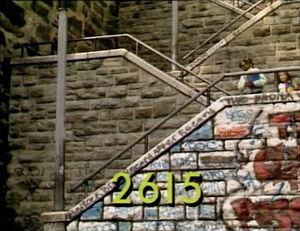 Picture
Segment
Description

SCENE 1
Big Bird wants to know if Maria's baby has arrived yet. If so, is it a boy or a girl? Does anyone on Sesame Street know yet?

SCENE 1
cont'd
Meanwhile, at the hospital, Luis tells Oscar to call Hooper's Store and update everyone on the status. He does so...




SCENE 1
cont'd
... but when the phone rings, there's no one to pick up. And when everyone realizes they should keep an eye on the phone at Hooper's, it stops ringing by the time they get there.

SCENE 1
cont'd
Meanwhile, Oscar has a conflict: the night before, he drove Maria and Luis to the hospital, which was a nice thing. And just now, he tried to call everyone at Hooper's, which would have also been a nice thing. He's confused, because Grouches aren't supposed to be nice.

Song
Joe Raposo sings "Little Things."
(First: Episode 2485)

Muppets
Ernie & Bert — Ernie and Bert play "the feelings game."
(First: Episode 2356)

Cartoon
The Bellhop has to bring 8 steamer trunks down 8 flights of stairs.
(First: Episode 2511)

SCENE 2
Telly walks by Susan and Gordon reading a book to Miles. He wonders how they can nonchalantly do this while everyone else on Sesame Street is excited about the arrival of a new baby. Susan explains that having a new baby around will change a few things, but many things will still be the same.

Muppets
The Two-Headed Monster takes turns reading itself a story.
(First: Episode 2590)

Cartoon
Letter B/b (bouncing circles)
(First: Episode 2222)
cut from the Noggin version

Film
Close-ups of animals. Kids try to guess what they are.
(First: Episode 0326)

Cartoon
A conductor conducts a choir to hum his music ("My Music").
Artist: Paul Fierlinger
(First: Episode 1207)

Muppets
Monsterpiece Theater: Grover is sitting on a hill, which moves to the sound of music.
(First: Episode 1814)

Video
Fay demonstrates addition by placing 3 balls on a table.
Artist: William Wegman

SCENE 3
The phone rings at Hooper's -- could it be Luis? No...it turns out to be someone who wants lunch.

SCENE 3
cont'd
While David talks to the customer, he ties up the line at the exact moment when Luis tries calling Hooper's himself.

SCENE 3
cont'd
Oscar tells Luis that he's embarrassed about doing nice things for Luis and Maria. He even admits that he's happy the baby is coming! Luis explains that babies make everybody happy, and tells Oscar to keep reminding himself that he's still a Grouch.

Cartoon
AMOR, amor, amor ... amoramor ... amoramor
(First: Episode 2116)

Film
A baby messes around (literally) with a chocolate cookie, as Cookie Monster (in voice-over) wishes it were for him.
(First: Episode 0407)

Cartoon
B for banana and ballerina
(First: Episode 2515)

Muppets
Kermit sings about his youth, or as he calls it, "My Polliwog Ways".
(First: Episode 1443)

Cartoon
How do frogs make more frogs? The birth and growth of a frog is documented. At the very end, the fully-grown frog hops in the middle of a field and calls out, "Hey, Kermit!"
Artist: Cathryn Aison
(First: Episode 1232)

SCENE 4
Someone calls Hooper's again ... but it's a wrong number. Then, Telly says it's quite exciting when a new baby is about to show up, and that pretty soon, Linda and Bob will get married and have a baby of their own! Gina gets excited, but Linda and Bob both vehemently deny that they have any plans. Telly responds "thank goodness." Bob is taken aback and asks what he meant. Telly explains that after Luis and Maria's baby, he can't handle any more excitement.

Cartoon
Dr. Annie Eyeball, PhD., looks at breathing.
Artist: Bruce Cayard
(First: Episode 2586)

Muppets
Muppet & Kid Moment — Grover and Zelda look above and below.

Cartoon
A lizard sings about how she likes to be "Above it All", as well as below.
Artist: Sally Cruikshank
(First: Episode 2559)
cut from the Noggin version

SCENE 5
Oscar, now back from the hospital and in his trash can, refuses to tell Gordon, David, and Bob whether or not the baby has been born yet. This makes them furious, and they reassure Oscar that he's still as grouchy as ever!

Video
Ann Marie DeAngelo and Skeeter Rabbit do their dance routine. The frame freezes whenever the word STOP comes on.
(First: Episode 2600)

Cartoon
Melvin the Moving Man
(First: Episode 0207)
cut from the Noggin version

Muppets
Ernie & Bert — Ernie tries to get baby Ernestine to say his name. It turns out she's much better at saying "Bert!"
(First: Episode 2586)

Cartoon
The Four Squares sing "It's Hip To Be a Square."
Artists: Vincent Cafarelli & Candy Kugel

SCENE 6
At the hospital, Luis tries calling Hooper's once again. No one answers. But suddenly everyone shows up behind him! Luis tells everyone... "It's a girl."

Muppets
Three Honkers teach a newly-hatched baby Honker to honk.
(First: Episode 1616)

Cartoon
The 8 Brothers Circus displays 8 elephants.
Artist: Paul Fierlinger
(First: Episode 1645)
cut from the Noggin version

Song
Joe Raposo sings "There's a Bird On Me."
(First: Episode 0416)

Cartoon
B for boats, bouquet, baby, bonnet, etc.
(First: Episode 1703)

SCENE 7
Everyone visits Maria in the delivery room. Maria recalls that the experience of giving birth was quite an adventure.

SCENE 7
cont'd
Everyone meets baby Gabriela for the first time.

Cartoon
Madrigal Alphabet
Artist: Jeff Hale
(First: Episode 0615)

Muppets / Celebrity
On a rainy night, the Count brings Susan Sarandon to a locked castle. He knocks on the door just for the sake of counting the knocks, until it's revealed that the castle is his own. He then proceeds to unlock the numerous locks, counting them in the process.
(First: Episode 2528)

Cartoon
A man counts 40 stars at night.
(First: Episode 2243)

SCENE 8
At night, Luis knocks on Oscar's trash can and tells him that the baby came, and that it's a girl.

SCENE 8
cont'd
After Luis leaves, Oscar gives Maria a call at the hospital to see how she and the baby are doing, as Gordon announces the sponsors. The nighttime credit crawl from Episode 2255 follows with the standard harmonica theme. So ends the 20th season of Sesame Street.
Notes
This was Northern Calloway's final episode as David. After the episode aired, Calloway left the show due to medical reasons with the explanation that David moved away to live with his grandmother and ownership of Hooper's Store was turned over to Mr. Handford. Calloway died the following year.
Scene 6 and a portion of scene 7 appear on 40 Years of Sunny Days.
Baby Gabriela is played in this episode by an infant boy: Dick Maitland's son Bryan Maitland.