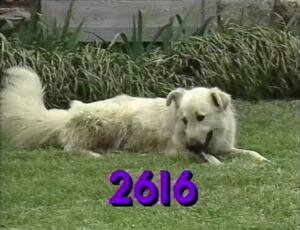 Picture
Segment
Description




SCENE 1
Everyone is out on the street having fun and saying hi to each other, when Big Bird notices a rabbit he doesn't know. Bob suggests they go say hi to him. The whole cast introduce themselves by singing "Hello, My Name Is," a spoof of "Iowa Stubborn" from The Music Man. The rabbit, who introduces himself as Preston, wants to thank them for the warm welcome by giving them a present--something that they don't have, and that will make them forget all their troubles. Gina says that they don't need a present--and they only have little tiny troubles on Sesame Street. This gives Preston an idea.....

Cartoon
Dr. Annie Eyeball looks at air.
Artist: Bruce Cayard
(First: Episode 2592)

Muppets
Waiter Grover: Mr. Johnson eats at an airport restaurant on his way to South America. When Grover learns about Mr. Johnson's trip, he gives a big lecture on South America, causing Mr. Johnson to miss his flight.

Song
Sesame Street Creature Feature: Joe Raposo sings "Goats."
(First: Episode 2366)

Cartoon
A door opens behind a mouse, who shrieks when she sees the E.
Artist: Bruce Cayard
(First: Episode 0616)

Muppets
Ernie & Bert — Ernie tries to put a pot on Bert's head. Bert asks Ernie why he's doing that, and Ernie says that he broke a cookie jar. Ernie had to put the cookies somewhere, so he put them in the sugar bowl – and put the sugar in the flowerpot, which meant that he had to put the flower in a milk bottle. He put the milk in the soda bottle, the soda into the fishbowl, and the fish in Bert's cowboy hat. Bert asks, "Now what am I going to wear when I want to play cowboy?" Ernie puts the pot on Bert's head and says, "Ride 'em, cowboy, Bert!"
(First: Episode 0305)

Animation
Rap #17
(First: Episode 2488)

SCENE 2
Since they only had small troubles on Sesame Street, Preston gives them a big "TROUBLE" that takes up the entire street. Preston and the cast sing a spoof of the song "Trouble" from The Music Man. Susan thanks Preston, but says that they can't accept his gift, because it's blocking the whole street. He goes off to find them a different present, something that they don't have.

Cartoon
Two men go birdwatching, while one of them tries to alert the other about the closed bridge.
(First: Episode 1972)

Film
Feet wearing all different types of shoes dance.
(First: Episode 2601)

Muppets
Sesame Street News Flash
Kermit, using a pull-down map, tries to give everyone directions to Little Red Riding Hood's grandmother's house. No one listens to Kermit. In the end, Red joins her grandmother, the Big Bad Wolf, and a cab driver for a picnic.
(First: Episode 1955)

Cartoon
Mi kat iz...gone
(First: Episode 1967)

SCENE 3
Preston Rabbit presents Sesame Street with a large stone inscribed with a word he thinks they don't have: "ABCDEFGHIJKLMNOPQRSTUVWXYZ". Elmo has no idea what it is and sings "ABC-DEF-GHI". Big Bird and the kids point out it's the alphabet, and they already have plenty of those on Sesame Street. Preston takes it away and goes off in search of a different present.

Cartoon
A schoolyard of gloves invites other gloves to join them.
(First: Episode 1481)

Muppets
Guy Smiley hosts "Beat the Time". In order to win a cookie, Cookie Monster has to bring in three things that rhyme with the word "rain" before the hand goes around the clock. They turn out to be an old man's "cane", a "chain" (to which Frazzle is attached), and finally a "train" which destroys the set.
(First: Episode 0446)

Film
A woman blows up a balloon and kids tell her when to stop.
(First: Episode 1088)




SCENE 4
Big Bird excitedly waits in his nest for Preston to drop by with a present, when Bob stops by to sing him a song. He plays the ukelele and sings about how he used to have to pronounce words "Until There Was a U" (a spoof of "'Till There Was You", from The Music Man), as some kids accompony him by holding up letter 'U's.' After the song, Preston shows up with a letter U as a gift, then retreats when he sees that nobody needs it.

Cartoon
Words that rhyme with BALL (voices of Bob Arbogast and Daws Butler)
(First: Episode 0773)




Film
A montage of the evolution of mechanical technology, from wind-up toys, to robots that can spell "SESAME STREET" with blocks, to satellite transmitters.
Music: "Portrait d'un robot", composed by Janko Nilovic
(First: Episode 2226)

Cartoon
A man (voiced by Jack Dodson) describes places that begin with U and what you can do with the letter U.
(First: Episode 0416)

Muppets
"Bein' Green," with Lena Horne and Kermit.
(First: Episode 0637)

Cartoon
A bully says the alphabet to a mild-mannered gardener, who hits him in the face with a pie at the end.
(First: Episode 0279)

Muppets
Ernie & Bert — Ernie buys a newspaper after hearing the newsboy yell out the headline: "Four People Fooled!" Ernie reads the paper, but finds no such news in the paper, making him the fifth person fooled.
(First: Episode 1164)

Cartoon
A man finds and eats five apples, counting the number left after each one.
(First: Episode 1578)




SCENE 5
While waiting for Preston to come back with a present, Count von Count counts the kids (and Big Bird) going into Hooper's Store to buy ice cream. He counts in song, "Seventeen Ice Cream Cones," a spoof of "Seventy-Six Trombones" from The Music Man. Preston then returns with a large number 17, which again becomes redundant. He sighs, "What kind of a present do you get for a street that has everything?"

Film
Flamingos
Music: Joe Raposo
(First: Episode 0450)

Muppets
Phil Harmonic hosts another evening at the Nestropolitan Opera, featuring a performance by Placido Flamingo, "The Telephone of Brazil," to the tune of "Finiculi Finicula."
(First: Episode 2457)

Film
A baby messes around (literally) with a chocolate cookie, as Cookie Monster (in voice-over) wishes it were for him.
(First: Episode 0407)

Cartoon
E for Erase
(First: Episode 0486)

SCENE 6
Preston is sad because he couldn't find anything they didn't already have on Sesame Street. However, Gina says they don't have a rabbit with big ears, a straw hat, and a striped jacket, who likes giving presents to people. It takes Preston a moment to realise that they want HIM, and Luis tells Preston that he is more important to them than any present he could give. They sing a reprise to "Trouble", about how "We got a Rabbit" on Sesame Street. This cheers Preston up immensley, and to show his gratitude, he rushes off to get them another present. Maria announces the sponsors.
Notes
The four songs in this episode that spoof those from The Music Man were principally written by Paul Jacobs (music) and Sarah Durkee (lyrics), with Norman Stiles co-writing the lyrics for both "Trouble" and "Seventeen Ice Cream Cones." Jeff Moss contributed "Hello, My Name Is."