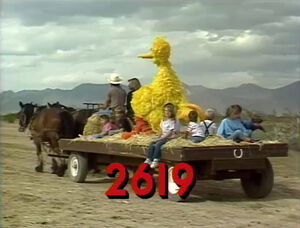 Picture
Segment
Description

SCENE 1
Hoots the Owl greets the viewer as night falls on Sesame Street and tells them they'll be staying up late to see what nighttime is like on the block. He says goodnight to Big Bird and Bob, who will be a guest later on his talk show. Hoots takes a break to take Athena to the night care center.

Cartoon
K for kangaroo
(First: Episode 2498)

Muppets
Cookie Monster sings "If Moon Was Cookie."
(First: Episode 1789)

Cartoon
Snacks on Parade - The Raisin
Artist: Bruce Cayard
(First: Episode 1171)
Cut from the HBO Max version

Song
"Old Button Hole"
(First: Episode 1727)

SCENE 2
Hoots and his band, the Owl-Stars, sing "Sleepytime on Sesame Street."

Cartoon
A man tries to get to sleep, but is woken up by a fly, a chicken and a drum-playing rabbit, all of whom call him on the phone after he throws them out.
Artists: The Hubleys
(First: Episode 0257)
Cut from the HBO Max version

Muppets / Celebrity
On a rainy night, the Count brings Susan Sarandon to a locked castle. He knocks on the door just for the sake of counting the knocks, until it's revealed that the castle is his own. He then proceeds to unlock the numerous locks, counting them in the process.
(First: Episode 2528)

Film
A zydeco band plays "Bayou Pon Pon" while people dance and the townspeople of New Orleans wave at the camera.
(First: Episode 2502)

Cartoon
Gerald is repeatedly kept awake by his dog Sparky, who does a dance and poses as an alligator through his shadow whenever his parents close his door.
(First: Episode 1519)

SCENE 3
Hoots listens to some of the sounds at night. Oscar the Grouch is also awake, enjoying some of the Grouchier sounds of the night and sings "A Little Grouch Music."

Cartoon
"Daddy Dear"
(First: Episode 0367)

Muppets
Ernie & Bert — Ernie tries to figure out what time it is at night. It's too dark to see the clock, so Ernie has a new solution: he pokes his head out the window and sings some loud, off-key opera ("O SOLE MIO, O SOLE YOU-OH") which causes everyone to wake up and yell at him to stop singing, and even mention what time it is. It's 3:00 AM.
(First: Episode 1153)

Cartoon
Is no one afraid of The Big Bad Wolf?
(First: Episode 2405)
Cut from the HBO Max version

Film
Saxophone factory
(First: Episode 1446)

SCENE 4
Hoots watches as Forgetful Jones tries to get some breakfast from Hooper's Store. He doesn't realize that it's not the morning.

Cartoon
The Ringmaster displays eleven purple pooches.
Artist: Jeff Hale
(First: Episode 1347)

Muppets
Mysterious Theater
Sherlock Hemlock is on the search for Lady Agatha's missing cat, knowing that it is under something that rhymes with "at", while Watson discovers the cat is under a mat, which leads into a big cat-and-dog fight.
(First: Episode 2569)

Film
Fay Ray subtracts four balls.
(First: Episode 2586)

Animation
D / d (drums and drumsticks)
(First: Episode 2188)




SCENE 5
On TV-OWL, Hoots hosts his late-night talk show, Live at 4 (AM, that is). He sings a special nighttime edition of "The People in Your Neighborhood," introducing the viewers some of the folks who work at night. Despite the angry yells from his sleepy neighbors, Hoots teases a break.

Cartoon
An army of ants gets to the bakery, only to find that it's closed.
(First: Episode 2088)

Muppets
Sesame Street News Flash
Kermit the Frog tries to find out what makes people angry, but everyone he encounters is too busy to speak to him, which ultimately causes him to lose his temper and yell at the camera.
(First: Episode 0537)

Cartoon
King Minus and the Disappearing Dragons
(First: Episode 0345)

Muppets
Muppet & Kid Moment — Grover asks Chelsea, What is love?
(First: Episode 2397)

Cartoon
A kitten is knittin' a kerchief, a kite, and a polka-dot mitten.
(First: Episode 0282)

SCENE 6
Live at 4 resumes with special guest Bob, who fields questions from owls over the phone about what Sesame Street looks like at the daytime compared to the night. When one caller asks what Bob usually does at night, he's fallen back to sleep.
Film
Flamingos walk around to classical music.
(First: Episode 2498)

Cartoon
Dr. Nancy Einstein shows how the brain works.
Artist: Bruce Cayard
(First: Episode 2607)

Song
Gina and Maria sing The Word is "No".
(First: Episode 2548)

Cartoon
A man learns that it's better not to pick the flowers.
(First: Episode 0416)




SCENE 7
As the sun starts to rise, Athena shows Hoots the drawing she made at night care. She wants to stay up and see the sunrise, but Hoots instructs her to go to sleep. He has to stay up to read an important message, but falls asleep before he can. Athena, still awake, reads the message - today's sponsors. She falls asleep right after, just as Big Bird wakes up. He reads the remaining part of the message (the CTW mention).
Notes
The HBO Max print of this episode uses the end credit sequence from the next episode.
Community content is available under
CC-BY-SA
unless otherwise noted.