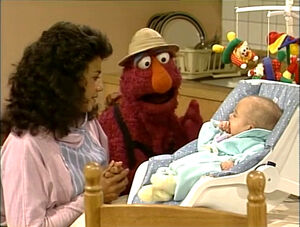 Picture
Segment
Description

SCENE 1
When Luis tells Telly he is writing a letter to Gabi, Telly reminds Luis that Gabi can't read. Luis says he is writing in a notebook about what Gabi does and what it is like to be her father. He will give the notebook to her when she is all grown up, and she be able to read about what she was like growing up. Luis writes that Gabi's favorite thing to do now is explore.

Cartoon
E for Elephant & Elk, the nominees for best E animal.
(First: Episode 0486)

Film
Various close-ups of a person are shown, as kids describe the parts, before it's revealed that this person is a clown.
(First: Episode 0428)

Cartoon
"Beginning, Middle, End"
Artist: Sally Cruikshank
(First: Episode 2556)

Muppets
Muppet & Kid Moment — Grover asks Lisa what "DANGER" means.
(First: Episode 1489)

Cartoon
The story of sheep, or where wool comes from.
Artist: Bruce Cayard
(First: Episode 1524)

SCENE 2
Telly appears at Maria's apartment with his backpack, tent, and sleeping bag, hoping to go exploring with Gabi. He suggests they climb the big rocks in the park. Thinking that Telly will be disappointed, Maria explains that Gabi is so little, she does most of her exploring right at home. Telly, however, is happy to show Gabi all of her neat toys.

Cartoon
Train #2
(First: Episode 0353)

Muppets
The Two-Headed Monster sounds out the word SHADOW, then sees one of itself projected behind it.
(First: Episode 2578)

Film
Lobster fisherman
(First: Episode 0966)

Cartoon
A man talks about how much he loves his bones.
Artist: Bruce Cayard

Muppets / Celebrity
Celia Cruz tells Big Bird about a hummingbird, and sings "Zunzun."
(First: Episode 2298)

Cartoon
C for Cap (oversized cap)
(First: Episode 0154)

SCENE 3
Telly has lunch all taken care of. He has packed two peanut butter sandwiches, two bags of carrot sticks, and two apples. Maria says that because Gabi is so little, she only eats her milk. Telly says he knows--the other lunch is for Maria, because she needs to eat healthy food, too. Maria has her hands full, so Telly feeds Maria while Maria feeds Gabi.

Animation
Teeny Little Super Guy finds his friend Jane giving up on learning to ride the egg beater. He tells her that it takes time and practice to learn things, and gives Jane some training beaters to help her keep her balance.
Artist: Paul Fierlinger
(First: Episode 1972)

Cartoon
A girl draws in her entire body.
Artist: Bruce Cayard
(First: Episode 1008)

Muppets
Kermit the Frog sings "Do-Op Hop".
(First: Episode 2071)

Cartoon
A Middle Eastern man narrowly avoids various forms of danger, then trips and falls in a hole.
(First: Episode 1387)

Insert
Oscar has prepared a special noise maker to deliberately play during Bob's music lesson. However, each time he's about to use it, Bob stops the kids from playing to give notes on their performance.
(First: Episode 2523)

Cartoon
E for Erase
(First: Episode 0486)

Film
A man carves a wooden horse.
Music: Joe Raposo
(First: Episode 2209)

Muppets
Hill Street Twos
A frustrated police chief tries to get officers Ernie, Grover, and others into groups of two for their beat.
(First: Episode 2359)

Cartoon
"Animal Elevator": 10-1 (subtraction)
(First: Episode 2523)

Insert
Bob's now ready to perform the whole piece and Oscar's ready to ruin it, only he finds his noisemaker is now busted from all the practicing he did.
(First: Episode 2523)

Film
The walrus
(First: Episode 0296)

Muppets
Marshal Grover and Fred the Wonder Horse spot a kitty stuck in a tree. Grover tries to find ways to get the kitty down such as shaking the tree trunk. He finally came to the conclusion that to get the kitty down, he would climb up the tree to bring it down. However, Fred has another idea to bring the kitty down by calling the kitty by saying "Kitty" and the kitty comes down. Now that the kitty is down, they now have another problem - how is Grover going to get down?
(First: Episode 1639)

Cartoon
C is for Cowboy
(First: Episode 0703)

Film
Kid voiceovers identify a horse's body parts (shown one at a time), then the complete animal.
Music: Joe Raposo
(First: Episode 0428)
Cartoon
"Signing Alphabet," an animated film by Steve Finkin. Music for voice and electronics by Joan La Barbara.
(First: Episode 1056)

Insert
Three of These Kids (upside-down girl)
(First: Episode 0413)

SCENE 4
Alice Snuffleupagus helps her big brother Snuffy show the letter C by spinning in circles.

Cartoon
What's missing? (parrot)
(First: Episode 2103)

Film
A variety of cat-shaped objects walk in front of the screen.
(First: Episode 1802)

Muppets
Sesame Street News Flash
Instead of a pea, this princess sleeps on things beginning with C.
(First: Episode 2527)

Cartoon
Various sounds are demonstrated, including an alarm clock, a baby crying, a telephone, a faucet dripping, and a boy sneezing.
Artist: Irra Verbitsky
(First: Episode 1483)




SCENE 5
Telly tells Luis that he had fun exploring with Gabi, and Luis writes about it in a letter to Gabi. Maria announces the sponsors.
Community content is available under
CC-BY-SA
unless otherwise noted.