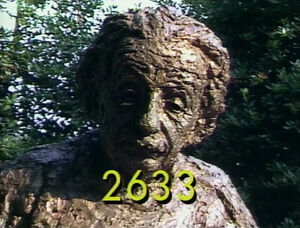 Picture
Segment
Description

SCENE 1
Telly Monster introduces the viewer to their special guest today, Richard Stoltzman, who plays his clarinet for Telly, Bob and the kids.

Cartoon
"Me Tarzan ... you parrot!"
Artist: Fred Garbers

Muppets
Pageant: Tooth
(First: Episode 1160)

Cartoon
How many legs does a horse have?
(First: Episode 1523)

Film
Joe Raposo sings "Dressed Up."
(First: Episode 0302)

Cartoon
Speech Balloon: A for Ape
(First: Episode 0006)

SCENE 2
Oscar the Grouch has a clarinet that's been taken apart. Richard shows Oscar and Telly that just playing the pieces doesn't produce a good sound -- but when you put all the pieces together, you can play it. He finishes the demonstration by playing Rhapsody in Blue for Oscar and Telly.

Animation
Three stripes form a jazz trio.
(First: Episode 2410)

Muppets
The Amazing Mumford sounds out the word MAGIC, then makes himself disappear.
(First: Episode 1075)

Film
A man and a little girl perform small aerobic workouts.
(First: Episode 1710)

Animation
Four genies carry the number 4 into a castle.
Artist: Ishu Patel
(First: Episode 2244)

Muppets
The Martians discover a radio. They tune into three different styles of music, none of which they like. Then they tune into some static, which they start joyfully dancing to.
(First: Episode 1329)

Cartoon
A mouse tries looking for his pet, describing to his friend what they did yesterday.
(First: Episode 0764)

SCENE 3
Bob and Richard demonstrate how wind instruments work, then hear a noisy sound coming from Oscar's can. Oscar reveals the sound came from a grouchinet, Fluffy, who is offered some lessons by Richard.

Cartoon
Zazu the Zebra feeds their pet Z.
(First: Episode 2525)

Film
Joe Raposo: On the beach (instrumental)
(First: Episode 0411)

Cartoon
A girl sorts everything she finds which is alive and not alive.
(First: Episode 1526)

Muppets
Muppet & Kid Moment — Herry Monster asks John-John if he knows the difference between up and down.
(First: Episode 0565)

Cartoon
The Alphabet Song (country, gospel, Mexican)
Artist: Paul Fierlinger
(First: Episode 1576)

Muppets
Waiter Grover has a new method of remembering orders: He makes up a poem to remember what is ordered and who ordered it. Mr. Johnson orders a cheeseburger with a pickle and French fries, which Grover interprets as "Round and tasty on a bun, pickles, French fries, yum, yum, yum!" However, he brings Mr. Johnson a grapefruit on a bun.
(First: Episode 2418)

Cartoon
A Spanish-speaking man falls into a hole, and a dragon helps him out.
Artist: Chris Hinton
(First: Episode 2211)

SCENE 4
Bob assists as Richard goes over the musical scales with Fluffy.

Cartoon
A for astronaut, airplane, airport and automobile.
(First: Episode 2250)

Film
As a boy plays with a tugboat in the bathtub, we watch footage of a real tugboat.
(First: Episode 0801)

Cartoon
A peasant tries to woo a pretty girl by reciting the famous "Roses are Red" poem. The lines are fed to him by a poet behind a bush, whom she eventually runs off with.
Artist: Irra Verbitsky
(First: Episode 2058)

Cast
Maria and Luis perform "You Say Hola and I Say Hola."
(First: Episode 2062)

Cartoon
Two orange balls perform "Twinkle Twinkle Little Star."
Artist: Fred Garbers
(First: Episode 2160)

Muppets
Ernie & Bert — Ernie and Bert build a snowman, but Ernie fears that the snowman will be cold if they don't dress him. Even though Bert tries to tell him that snowmen aren't alive and can't feel the cold, that doesn't stop Ernie from dressing the snowman in Bert's clothing.
(First: Episode 1824)

Cartoon
Z for zipper
(First: Episode 0025)

SCENE 5
Bob, Telly, and the kids watch Richard play "Fascinating Rhythm" on his clarinet.

Cartoon
"Up and Down with Captain Brown"
(First: Episode 2493)

Muppets
News Flash: Kermit reports on the London Fog, but keeps getting interrupted by The London Frog, a Grenadier Guardsman carrying the London Log, and the London Hog. The fog then evaporates, so they all dance the London Clog.
(First: Episode 2360)

Cartoon
HEN / PEN / TEN / MEN
(First: Episode 1881)

Film
Footage of a Chinese noodle factory.
(First: Episode 0984)

Muppets
"Zig Zag Dance"
(First: Episode 1567)

Cartoon
A girl uses her paint-by-the-numbers set to find an elephant in her picture.
(First: Episode 0510)

SCENE 6
Telly and the kids help Richard play the clarinet by pressing the keys as he blows.
Community content is available under
CC-BY-SA
unless otherwise noted.