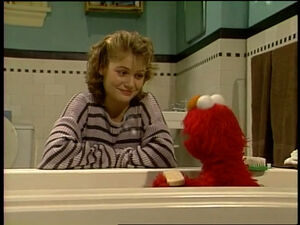 Picture
Segment
Description

SCENE 1
Gina welcomes the viewer while explaining it's nighttime on Sesame Street, which means that it's time for the kids to go to sleep. Tonight, she happens to be babysitting Elmo. It is time for his pre-bed bath, but he wishes to avoid it. He agrees to take one, but needs to get his toy turtle...which is in Cleveland.

Cartoon
Rap #15
(First: Episode 2567)

Film
Fay Ray gets on and under a rug.

Muppets
Bip Bippadotta and The Androoze Sisters sing "Everybody's Song."
(First: Episode 2064)

Insert
The Alphabet Dancers form the letter T.
(First: Episode 0454)

Cartoon
Three turtles present the letter T.
(First: Episode 1666)

SCENE 2
Gina lowers Elmo into the bath and begins to splash around, asking to play a game. Gina says he needs to be washed first. She then drops the soap into the tub and asks Elmo to feel around for it. This gives Elmo an idea for a game and dives into the "ocean."

SCENE 2 cont'd
Beneath the waves, Captain Elmo Cousteau searches for the treasure of the missing soap. He encounters a policeman fishy, who shows him the way to the treasure and back home.

SCENE 2 cont'd
Elmo emerges from the water with the soap. He had so much fun playing the game, he tosses the soap back in the water to play again.

Cartoon
A little girl tries to figure out why a dog is crying.
(First: Episode 0862)

Cast
Bob, Susan and Luis perform a round about counting to 3.
(First: Episode 2055)

Film
Ducks swim and fly.
Music: Chopin's Valse Op. 64, no. 2
(First: Episode 2510)




Muppets
Spaceship Surprise
The crew lands on the Planet CH, where they are greeted by Chunky Cheese.
(First: Episode 2414)

Animation
It's a monkey
Artist: Ishu Patel
(First: Episode 1767)

SCENE 3
Elmo is done getting washed, but, to prolong getting dried off, he starts a round of the Letter T Game, where he finds things in the bathroom that start with T. Gina spots one item - a towel, which she dries Elmo with.

Cartoon
T words
Artist: Cliff Roberts
(First: Episode 0020)

Muppets
While standing next to a tree being cut down, Professor Grover talks about the importance about listening... especially if the sound indicates some kind of danger.
(First: Episode 1789)

Cartoon
A chicken gets an idea to sit on a football and hatch it like an egg.
Artist: Dan Haskett
(First: Episode 2360)

Song
14 Karat Soul sings about what's "Down Below the Street."
(First: Episode 2556)

Muppets
Ernie & Bert — Lefty the Salesman wants to sell Ernie a painting of a tree, which he says is a picture of four elephants. Ernie doesn't see the four elephants, so Lefty offers to show him the elephants if Ernie will buy the picture for a nickel. Lefty points out the elephants, which are actually spaces in the tree's branches. Ernie shells out for the picture. Ernie wants to pull the same trick on Bert, but Bert notices the elephants right away.
(First: Episode 0292)

Cartoon
A little boy asks his big brother questions about what happens at school.
Artist: John Korty
(First: Episode 1877)

SCENE 4
Elmo is now in his PJs and Gina tries to get him to bed, but Elmo would rather play the Letter F Game. Gina gets him into bed by promising to read him a bedtime story about the letter F.

Cartoon
F/f (Gordon voiceover)
(EKA: Episode 2288)

Muppets
Cookie Monster does a taste test to compare square shaped cookies, triangle shaped cookies, and circle shaped cookies.
(First: Episode 1750)

Cartoon
The O in STOP bounces around, and the other letters ask it to stop.
(First: Episode 0149)

Video
Ann Marie DeAngelo and Skeeter Rabbit do their dance routine. The frame freezes whenever the word STOP comes on.
(First: Episode 2600)

Cartoon
Three little men climb up the three flower stems.
(First: Episode 0634)

SCENE 5
Now the next day, Susan leads Telly, Elmo, Gina and the kids in a game of "Everybody Wash."

Animation
A hand draws a ditch, and some kids try to figure out a way to get across it.
(First: Episode 2094)

Muppets
Sesame Street News Flash: Jack Be Nimble can't figure out how to jump over the candlestick.
(First: Episode 0723)

Cartoon
A pencil tries to write the word DANCE.
(First: Episode 1966)
Celebrity
John Moschitta, Jr. has a baby who has a name beginning with every letter of the alphabet.
(First: Episode 2048)

Animation
Slide puzzle - elephant
(First: Episode 0389)

SCENE 6
Susan notices bubbles coming from Ernie and Bert's apartment, which can only mean one thing...

Muppets
Ernie sings "Rubber Duckie." (opening dialogue cut)
(First: Episode 0136)

Cartoon
A girl tries to lure her cat out from under the chair so she can pick him up.
Artists: The Hubleys
(First: Episode 0187)




Muppets
Game Show: Bring That Thing
Stevie and Jonathan Martian need to find three things that help to see in the dark in sixty seconds. They bring a flashlight, a lamp, and the moon, (which they have to quickly zoom back into space to get). Their jackpot prize is a pot of lightning bugs.
(First: Episode 2460)

Cartoon
Number factory 1-10
(First: Episode 2541)

SCENE 7
Telly watches Susan give Slimey a bath using a toothbrush as a scrubber. Gina then announces the sponsors.
Notes
Community content is available under
CC-BY-SA
unless otherwise noted.